A perfect pie crust recipe, including a video how-to, for how you too can make a tender, flaky, no fail pie crust using #Crisco. These techniques will help you to make the perfect pie crust for your holiday feasts!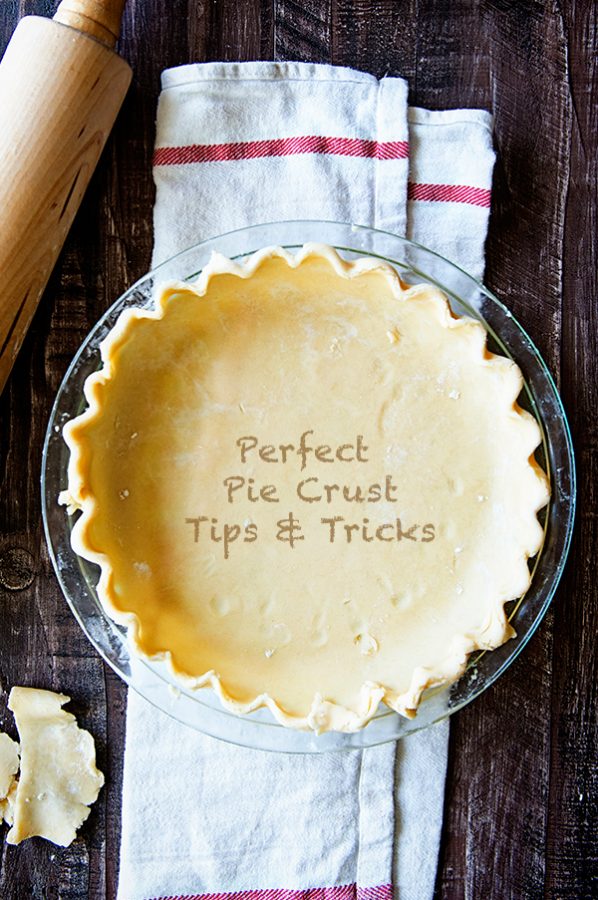 If you follow me on Instagram, you've probably witnessed my sheer excitement over my new pie crust recipe and pie making this past week! You see, I have struggled to make a good pie crust for as long as I've can remember. Nothing…I mean NOTHING…would get me cursing up a storm like pie crust making. (Ok maybe my supposedly "wireless printer" and the fact that it NEVER works when I need it to gets me cussing more, but pie crust has been a close second!)
That's why I thought it was rather comical when the folks at Crisco called me to be a part of their Crisco Pie and Baking hotline and blogger team. I literally laughed on the phone and remember saying something like "I can make the insides of pies that are amazing. I can make meringue with perfect peaks. I, for the life of me, cannot make a pie crust!" But then I said… "You know what would be cool? My friend, DeLynn, is a county fair champion pie making expert. She's been prodding me for years now to let her teach me how to make a great pie! Wouldn't it be fun to have DeLynn teach us how and then if she's successful, I could hopefully give hope to the pie crust making hopeless – like me?"
So pie challenged friends, thanks to my friend DeLynn, I am here to give you hope. That pretty pie crust up there? I made it myself. And since learning from DeLynn last week, I've made 4 more! I am officially in the it's "easy as pie" camp, and I think you can be too!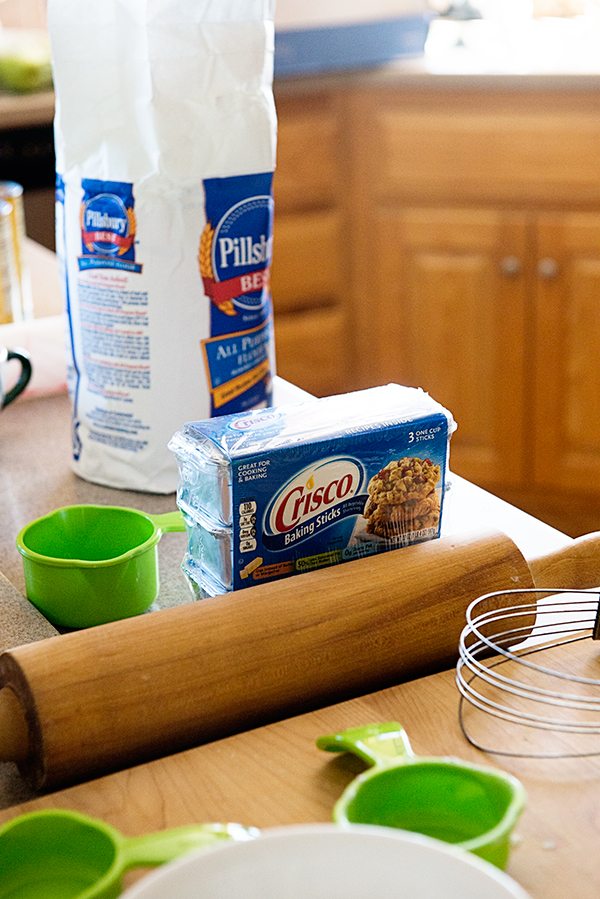 I'm going to start by sharing a video I took of DeLynn kind of last minute at our pie making party/class walking through the steps of making her perfect pie crust recipe. She's a whiz, and taught me so many little techniques I never knew for perfect pie crust making! The video is about 10 minutes long (and it was unplanned, so sorry for the oven timers going off and the distractions in the background here and there… we were baking tons of pies together that day!) 10 minutes is about how long it has taken me this week to make the pie crusts I have. So, watch the video…definitely do it…then look below for some of DeLynn's tips and tricks for making a perfect pie crust! Her pie crust recipe is at the very bottom of this post.
DeLynn's Tips for Perfect Pie Crust (and her Pie Crust Recipe)
DeLynn swears by Crisco for her pie crusts. In fact she took a pie making class years ago and her instructor said to not even use an off brand. Always use Crisco.
DeLynn prefers the older pastry blenders with the flexible wires to the stiff ones usually we find today. She'll hunt the flexible kind down at flea markets or places like Goodwill or estate sales.
You'll see in the video and the recipe below that DeLynn removes 1/3 cup flour from her initial 2 cups and then later adds ice water to that 1/3 cup and stirs it together to make a paste. I think this was KEY to me in making my pie crust form together nicely and be so tender and flaky!
You can get fancy mats and things for rolling out your pie dough to the perfect size, but they aren't necessary. DeLynn simply inverts her pie plate onto the floured surface before adding the dough, then uses her finger to draw a ring in the flour around the edge of the pie plate so she knows where to roll it out to. She typically rolls the dough just a tad bit past that drawing in the flour.
Roll your dough out in a clockwise motion…start at noon and then go around to each hour, then keep repeating. This helps your dough to roll out into an even circle.
Use your rolling pin to gently roll your dough off of the floured board, then use it again to roll the dough into the pie plate.
DeLynn uses the two knuckle, one knuckle technique for crimping her pies. I don't know why I have never tried it that way, but it was so easy!
Instead of buying a fancy pie ring to keep your crust edges from burning in the oven, simply cut a ring of foil out the size of your pie plate and place it around the crust edge during the initial baking time!
This was one reason I have had a horrible time with pie… I had all deep dish pie pans! Make sure you give yourself a little more dough or you buy a small, non-deep dish pie plate for perfect pie making! It was so much less frustrating when I had a pie pan equivalent to the amount of dough I had! No wonder I could never get it to work for me!
Make sure you watch the video for all of her tips and techniques, including how to work the dough, pre-paste, and how to work it afterwards. It makes a difference!
Now it's show off time! Look at the pies my friends Terri, Whitney and DeLynn made! I'll be sharing my pie and recipe this week… it's banana cream! You'll want to come back for that!

I want to thank my friends at Crisco for giving me just the push I needed to finally learn how to tackle pie crust making! I promise you, with the right pie crust recipe and DeLynn's techniques, pie crust making is not as hard as it seems. We're in this together… you CAN do it!
And if you need extra pie baking help, the Crisco Pie and Baking Hotline is now open for calls, with extended hours through the holiday season! I think it is so awesome that they have experts at the ready to help you with your baking questions. Even if you don't need help, you should still call in… you may, just may, hear a familiar voice!
Please oh please let me know how pie crust making is going for you this year. I know you can do it!
Now, here's the recipe!
Perfect Pie Crust Recipe
A perfect double crust pie crust recipe, including a video tutorial with tips on making the perfect pie crust!
Ingredients
2

cups

flour

divided (reserve 1/3 cup)

3/4

cup

Crisco brand shortening

1/2

teaspoon

Kosher salt

1/4

cup

ice cold water
Instructions
Place 2 cups flour into a medium mixing bowl. Remove 1/3 cup and set aside for later.

Add 3/4 cup Crisco and salt to the flour. Using a pastry blender, blend the Crisco and flour together until it starts to form small "pea" shaped pieces. This will take several minutes.

Using a fork, blend together the remaining 1/3 flour and ice water in a bowl. Scrape the "paste" into the dough mixture and combine together, using a fork. Once dough is able to form a ball, stop stirring and use your hands to create a ball.

Let the dough ball sit in the bowl for a few minutes so the Gluten can work it's magic.

Cut the ball of dough in half.

Place one half of the dough on a floured surface and shape into a round disc, using your hands. Sprinkle a small amount of flour on top of the disc. Using your rolling pin, roll out in a clockwise motion, starting at the center and then moving out (12:00, 1:00, 2:00, etc). Stop after two rotations and carefully flip the dough over, adding a small amount of flour to the top. Continue rolling until your dough is 2-inches wider than pie plate you are using. Transfer dough to pie plate. (See DeLynn's techniques in the video for this recipe).

For baking, follow pie recipe according to specific directions.
Disclosure: A special thanks to Crisco for sponsoring this post and for providing compensation and product for my pie crust recipe making party! Thank you for support the brands that help make Dine & Dish possible!
Also a VERY special thanks to my friend DeLynn and my friends Terri and Whitney for joining me in the pie baking fun!