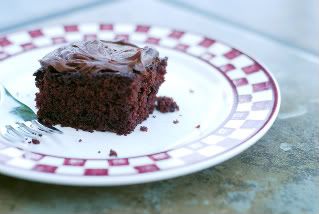 I try not to let too many things get to me… really I don't, but sometimes people just push a button one too many times and I get annoyed enough to say something.
I will probably get reamed for this, and that is fine, but if I see one more person flaming someone else about their choice to use convenience foods in their cooking, I am going to lose it. Why does it matter what someone uses when they are cooking for their OWN family in their OWN kitchen? Why do some people take that so personally?? Really? In my opinion, everyone has to start somewhere in the kitchen, and if people aspire to go beyond the Bisquick and Cream of Mushroom Soup, then that is their perogotive. The point is, they are cooking. They are trying to learn a new skill and are attempting to create meals at home for their family to enjoy. If it takes a short-cut for them to be able to do that, then fantastic. At least they are doing that and are forgoing the trip through the drive through. By spending time in the kitchen they are gaining the confidence to step out of that "box mixed mentality" and will someday, if they desire, move beyond. If not? Who cares??
OK – I feel better now… thanks for letting me vent.
For those of you who do want to go beyond the box cake mix to something that is seriously just as easy, put this recipe in your repertoire. Requiring no eggs or milk, this is one of those easy pantry cakes that tastes fantastic. You will be hard pressed to find a cake out there that is as moist and delicious.
One Pan Fudge Cake (from Recipezaar)
Ingredients
1 1/2

cups

sugar

1/2

cup

cocoa

1/2

tsp

baking soda

2

cups

flour

3/4

tsp

salt

1 1/2

tsp

vanilla

3/4

cup

vegetable oil

1 1/2

cups

water

1 1/2

tsp

vinegar
Instructions
Preheat oven to 350 degrees.In an ungreased 9 x 13 pan- yes UNgreased, sift all dry ingredients.Add the liquids and stir just until blended.Bake for 25 minutes.Frost with your favorite frosting, cake is extremely moist so care must be taken that you don't tear up the top of the cake.