I'm sharing my favorite Bullet Journal/Planner Embellishment Kit. A subscription for The Planner Society Kit would be an awesome gift for any Planner Girl in your life!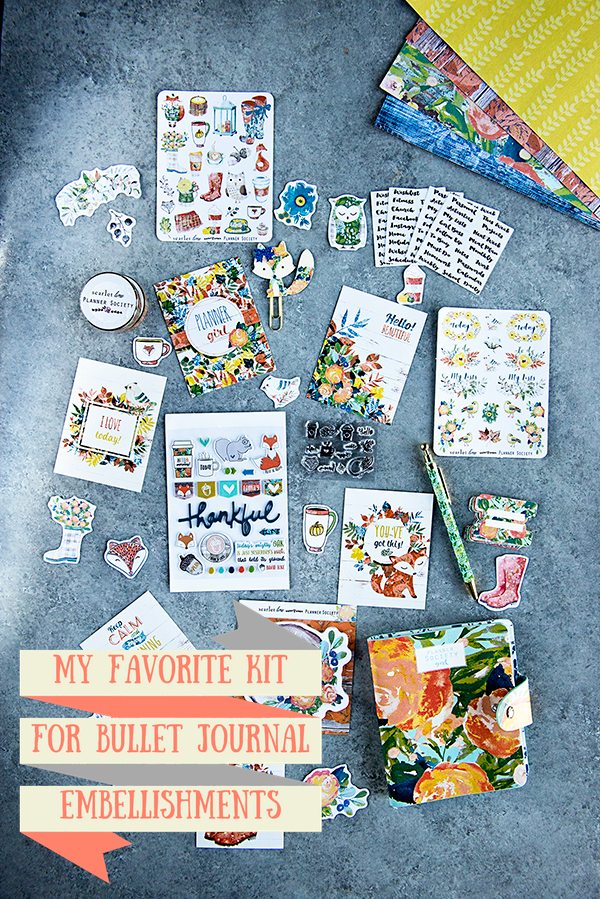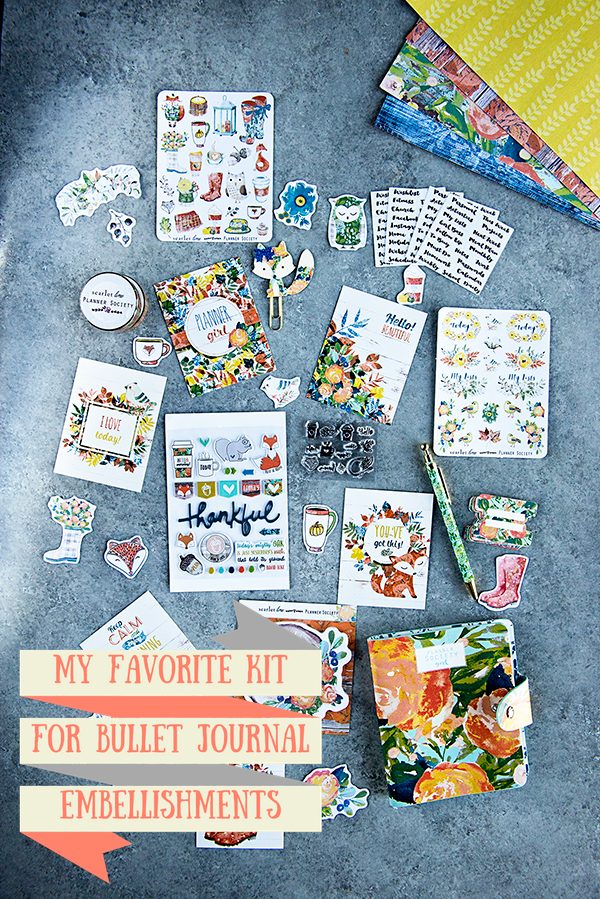 Those of you who know me well, know that I'm a huge sucker for anything packaged as a "kit". I just can't resist kits for some reason. That's why I was excited last year when my friend Kristan shared on her Snapchat story the unboxing of a kit for planner/paper/sticker lovers. The Planner Society Kit monthly subscription from Scarlet Lime was everything I had been looking for to embellish my Bullet Journal.
I've subscribed to this monthly kit subscription for most of the year and can't believe I've never shared about it with you! For those of you who love your planner but want a little more of an artistic touch to it (without having to be artistic), this is the best kit out there, in my opinion. 
This post shows what came in the mail most recently. Each kit has a central theme (this months seemed to be fall, foxes and just overall things I love). The Planner Society kits are always full of cute, whimsical, arsty, fun embellishments. I look forward to opening this package up each month to see the quality and care put into curating the perfect "planner girl" kit.
Most every kit from The Planner Society includes many of the following:
Decorative, high quality, 2 side paper
Acryllic Stamps
Sticky Notes
Cute paper clips and/or binder clips
Folder tabs
Note Cards
Stickers (puffy, flat, etc)
Zipper pulls
Pens
Pencil Cases
Washi Tape
and much much more!
Not only do I use the items I receive in my Planner Society kit for my bullet journal, I will often also stick an embellishment or two into a card or use the chip board note cards themselves as cards to put in the mail to people.
I've never been unhappy with anything I've received in my kits from The Planner Society – in fact, quite the opposite. I sometimes have a hard time using what they send me because their things are so cute! However, I know when I add the various touches to my Bullet Journal, they'll live on forever, just in a different way.
As you are choosing your planners for 2017, or if you decide to Bullet Journal (you know I highly recommend that!), remember The Planner Society monthly subscription kits from Scarlet Lime. They can turn any planner, scrapbook, notebook, etc. into just the style you are looking for!
Subscription information for the Planner Society kits can be found on their website, here.
(Note: I am not affiliated with Planner Society or Scarlet Lime in any way and I don't get anything for sharing this information with you. I just really, really love their products – they'd make a great gift for the Planner Girl in your life!)