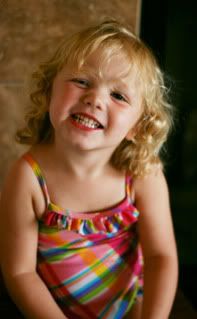 Ella loves to dance. An even stronger love she has is taking off her clothes. Ella can't stand to have clothes on. I know… quite the future she has, isn't it? Dancing and stripping.
If we are at home, Ella immediately takes off her clothes and either puts on a swimsuit or her PJ's. In fact, even when we are in public, Ella tries to take off her clothes. Just ask Shalee. We met for coffee yesterday morning and while we were there… smack in the middle of a public place, Ella proceeded to take off her clothes. Nice first impression, wasn't it Shalee?
The other day we were all at Splash Cove, an outdoor aquatic center in Shawnee. Rock music was playing and Ella was sitting at the picnic bench bopping her head to the music. She stood up and I said "Are you going to dance?" She nodded and then proceeded to find the nearest pole and began a lovely pole dancing routine.
So, dear readers, now my youngest is an accomplished pole dancing stripper. Let's just hope she is getting it out of her system now!