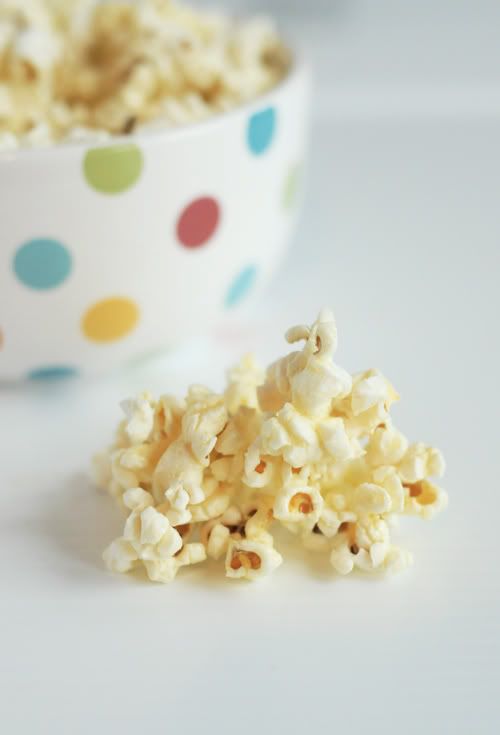 I hadn't planned on posting today…really I hadn't. I have a ton of stuff to do today and if I were going to actually post something, it certainly wouldn't be something I just made 30 minutes ago. No, surely if I was going to post something today, it would come from the backlog of recipes I have in queue waiting to be posted.
Guess what? I am posting something today and it is the very thing I just made and am eating while typing. It must be something outrageously good if it is getting to jump ahead in line, don't you think? Something like chocolate caramel covered cheesecake? Ooeey gooey cheesy lasagna? How about the most decadent homemade ice cream ever? Absolutely, not. Today, the food that has gotten me over the moon excited is Popcorn. Yes… popcorn! And not even an exotic flavored popcorn. Plain salt and butter popcorn.
I know, right? How could popcorn, even plain popcorn, be delicious enough to get this much attention from me? Well, it is…you have to trust me on this one.
We normally eat microwave popcorn around here, but two weeks ago I decided to buy some popcorn kernels and try to make popcorn the old fashioned way. Not quite sure what I was doing, I made my first batch of popcorn and it was good. Not great, but we liked it fine.
My girls were requesting popcorn today so I decided to Google stovetop popcorn to see what I could come up with. The first recipe that showed up was Elise's recipe for Perfect Popcorn. With 115 comments raving about the goodness of this plain, buttered popcorn, how could I go wrong? I will admit that I was skeptical that it could be that good, because, really…its popcorn, people. I am here to tell you that you cannot go wrong with this popcorn recipe. It is so buttery (but not grease on your hands and soak through a bag buttery), lightly salted and cooked to perfection…not a single kernel to break a tooth on either!
If you want to pop up a batch of Perfect Popcorn, you can find the recipe on Simply Recipes. I suggest running, not walking, to the nearest store to snatch up the ingredients today!
Like a little flavoring to perk up your perfect popcorn? Give these recipes a try: