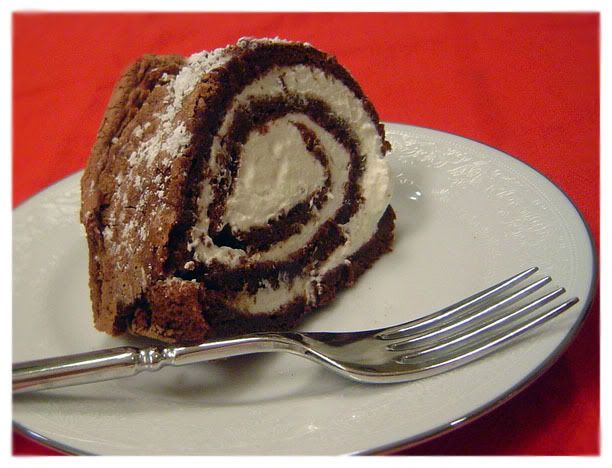 I am a marketers dream. I am the target audience that marketers go after when they are trying to entice customers merely by the power of suggestion. It will be 4:00 in the afternoon and a commercial will come on the television for a restaurant. I watch, get hungry, and can't get that restaurant out of my mind until I visit it. I hear a friend talk about a product, and if they are speaking favorably about it, I get to the nearest store and buy it to try it out for myself.
Yesterday I added a little widget to my blog from widgetbox.com. You can find the widget I added towards the bottom left hand corner of my blog. This particular widget is from epicurious and it shows a little slide-show of various recipes you can find on Epicurious.com. I installed the widget and then sat there watching the recipe slideshow flash tempting photos of enticing recipes. When the recipe for Lighter Than Air Chocolate Roll popped up, my mouth started watering. My stomach started growling. My craving for some chocolate goodness intensified. I had to try this recipe, and I had to try it ASAP. I slept on it, thinking that surely by the next day I wouldn't feel the urge to create this chocolate roll. Didn't happen… I woke up this morning and it was one of the first things I thought of. The Lighter Than Air Chocolate Roll and I were going to meet today… I couldn't avoid it.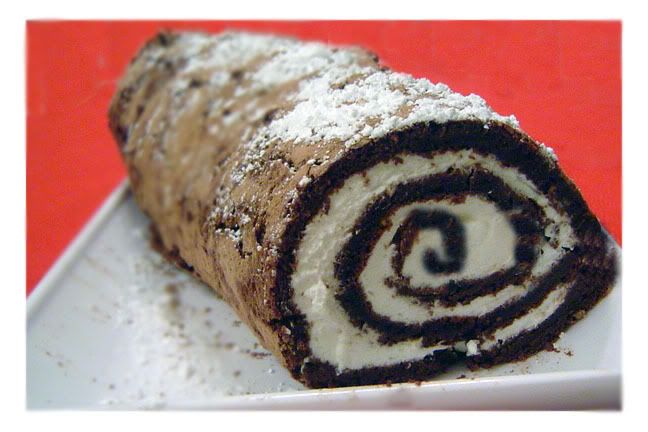 I must start by saying that I bake often, but I have never made a log or roll of any kind. I've always been intimidated by the rolling process, certain that it could only end in a crumpled up, broken log of a disaster. I was oh so pleased when that didn't happen. I made my first log/roll and it was a huge success!  The flavor of this chocolate roll is incredible. The chocolate is light, yet cures the craving. The Grand Mariner and orange zest in the cream gives this recipe a subtle yet rich flavor. For a dessert that is impressive and delicious, you should definitely give this one a try. Take it from me, the marketers dream… this is one suggestion worth following.
Addition – I've decided to use this as my entry for Sugar High Friday, hosted this month by the talented David Lebovitz. The chocolate I used was Ghirardelli. It is one of the only chocolate brands I use to get perfect results with every time. It has a rich flavor, but it doesn't over power the recipe.
Lighter Than Air Chocolate Roll
A delicious chocolate cake roll.
Ingredients
For cake layer

6

oz

fine-quality bittersweet chocolate

not unsweetened, chopped

3

tablespoons

water

6

large eggs

separated, at room temperature

2/3

cup

sugar

1/4

teaspoon

salt

1

tablespoon

Dutch-process unsweetened cocoa powder

For filling

1

cup

heavy cream

3

tablespoons

confectioners sugar

sifted

2

tablespoons

Grand Marnier

1

teaspoon

finely grated fresh orange zest

Garnish: unsweetened cocoa powder and confectioners sugar
Instructions
Make cake layer: Preheat oven to 350°F. Oil a 15- by 10- by 1-inch shallow baking pan and line bottom lengthwise | with a large piece of wax or parchment paper, letting paper hang over ends by 2 inches.

Melt chocolate with water in a small heavy saucepan over very low heat, stirring. Cool to lukewarm.

Beat yolks, 1/3 cup sugar, and salt in a large bowl with an electric mixer until thick and pale, about 5 minutes in a standing mixer or about 8 minutes with a hand-held mixer. Fold in melted chocolate until blended. Beat whites with cleaned beaters until they just hold soft peaks. Gradually add remaining 1/3 cup sugar and beat until whites just hold stiff peaks. Fold one third of whites into melted-chocolate mixture to lighten, then fold in remaining whites gently but thoroughly.

Spread batter evenly in baking pan and bake in middle of oven until puffed and top is dry to the touch, 15 to 18 minutes. Transfer pan to a rack. Cover top with 2 layers of damp paper towels and let stand 5 minutes, then remove towels and cool completely. Loosen edges with a sharp knife.

Sift cocoa powder over top of cake layer and overlap 2 layers of wax paper lengthwise over cake. Place a baking sheet over paper and invert cake onto it, gently peeling off wax paper lining. (Don't worry if cake layer breaks; it will hold together when rolled.)

Make filling: Beat cream with confectioners sugar and Grand Marnier with cleaned beaters until it just holds stiff peaks. Fold in zest.

Fill and roll cake: Spread filling evenly over cake. Put a long platter next to a long side of cake. Using wax paper as an aid, roll up cake jelly roll–style, beginning with a long side. Carefully transfer, seam side down, to platter, using wax paper to help slide cake. (Cake will crack but will still hold together.)

Dust cake generously with cocoa powder and confectioners sugar.