A super simple Slow Cooker Pulled Pork Recipe. Watch how we make this pulled pork recipe in our Crockpot once and enjoy several meals in a week from it!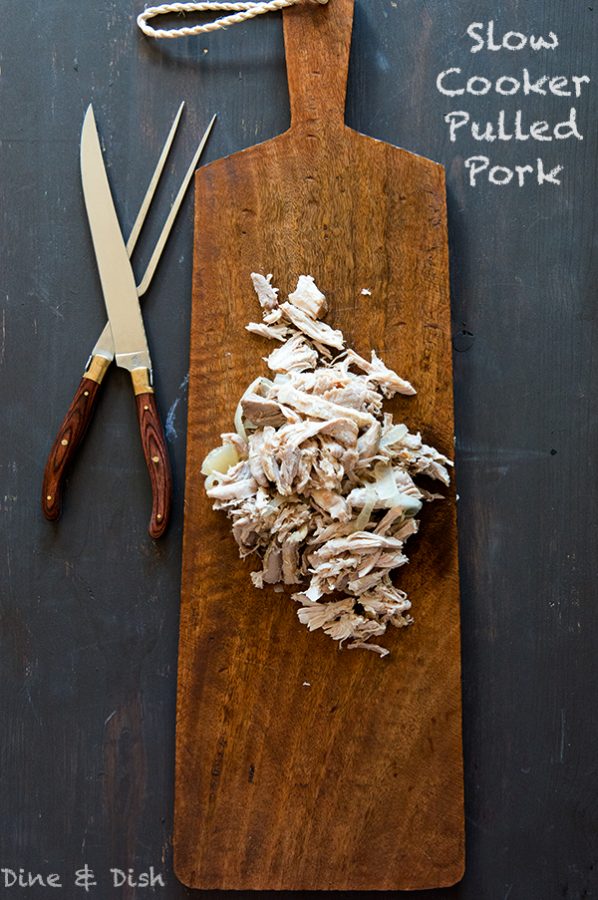 Autumn, to me, is almost like the New Year. In fact, my dear friend, Pamela, has told me before that she uses October as a kind of new year… a way to start fresh, set goals and get organized for the coming year. We're both Libras, which means we have October birthdays. Maybe that's why I feel the need to get my rear in gear a bit every autumn? 41 is approaching quickly… I can't leave 40 behind in a state of disaster that it currently is, can I?
Lately, I've been knee deep in trying to schedule things… making plans, of sorts, for my life and business. This includes getting back to menu planning. Remember when I used to share a weekly menu plan here on Dine & Dish? Those were the days! I don't know what's happened with my prior organization skills between then and now, but they seem to have flown out the window.
I'm Getting a Grasp on Mealtime with this Pulled Pork Recipe
In an attempt to get a grasp on mealtime, I am using our Slow Cooker a lot more. I love the ease of just throwing something in in the morning and coming home to a hot meal at the end of the day. I also love using my Slow Cooker to stretch meals… like this Pulled Pork Recipe… I make it one day in the week and can use it in several recipes the rest of the week.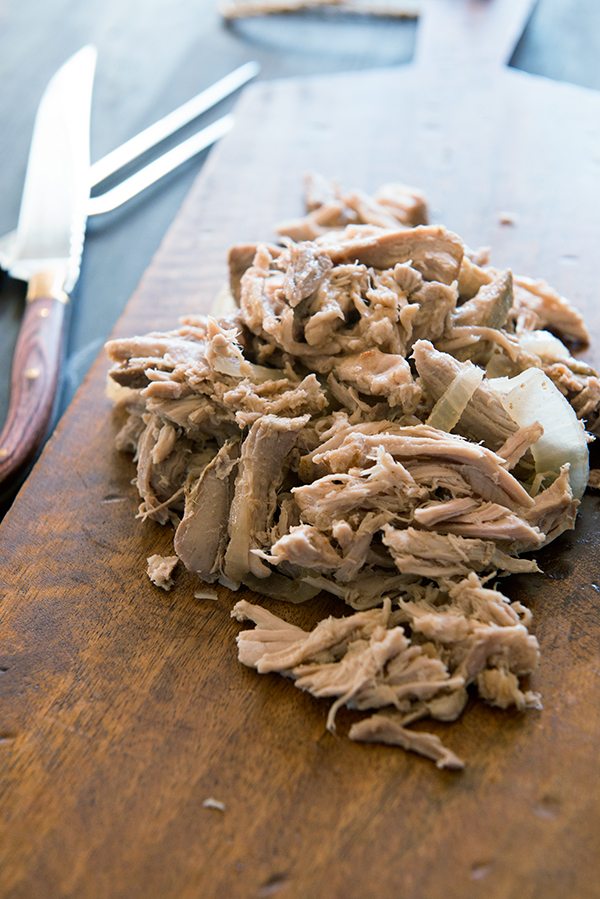 I decided this week I was going to actually share the way I make pulled pork in the slow cooker. I've been doing this for years, and it probably isn't a whole lot different than what other people do, but heck… why haven't I shared the recipe? I can make this one pulled pork recipe last our family of 6 through 2-3 meals. For busy people like us, it's such a time saver.
As this week goes on, I'm going to share with you 3 recipes for ways I use this pulled pork recipe after it's cooked. I'll be sharing:
Pork Carnita Quesadillas
Pulled Pork Chili
Buffalo Pulled Pork Nachos
Sounds good, right? For now, though, how about grabbing a nice big pork roast at your grocer and sticking it in your Slow Cooker. My directions below should give you a great starting point for whatever you want to make. Once the pulled pork is created, you'll have a gorgeous blank canvas of an ingredient to dress up however you'd like for the week! Then come back here and let me know what you made…I could always use ideas!
Let's get on top of this New Year the right way… together!
PS – Click here to see the Slow Cooker I use. If you're in the market for a slow cooker (so you too can make this awesome pulled pork recipe), this one's great!
Pulled Pork Recipe In the Slow Cooker
A super simple pulled pork recipe for the slow cooker.
Ingredients
3-4

pound

boneless pork roast

12

ounce

bottle Woodchuck Cider

for a non-alcoholic version use apple juice or cider - although the alcohol cooks off

1

large onion

sliced

3

cloves

garlic

1/4

teaspoon

onion powder

1/4

teaspoon

chili powder

1

teaspoon

Kosher salt
Instructions
Place 1/2 half of the onion slices on the bottom of your slow cooker. Add the pork roast then top with the remaining onion slices and garlic cloves.

Pour the Woodchuck Cider over the pork roast.

Sprinkle the onion powder, chili powder and Kosher salt over the pork roast.

Place the lid on your slow cooker and cook on low for 6-8 hours (Pork should be cooked at an internal temperature of 145°). Slow and low is the key.

Remove the roast from the slow cooker. Using the tines of two forks shred the meat until it is all separated. You can also use your hands to shred it, if you like to really dig in with your food!

Once shredded, pour 1-2 cups juice from the slow cooker over the meat.

Now season or sauce to your hearts content. People will often add barbecue sauce or other seasonings at this point depending on what they are using the pork for.

Enjoy!
Here are some more Slow Cooker recipes for quick, weeknight meals:
My family loves this Crockpot Meatloaf recipe from Julies Eats and Treats
These Slow Cooker Chicken Tacos from Tastes Better From Scratch are a staple in our house
This Healthy Slow Cooker Vegetable Soup from Sweet Phi is an absolute winner
Disclosure: This blog post contains affiliate links. As an Amazon Associate, I earn from qualifying purchases.