Pumpkin Pie Spice Popcorn is a quick and easy recipe for all your fall snacking needs!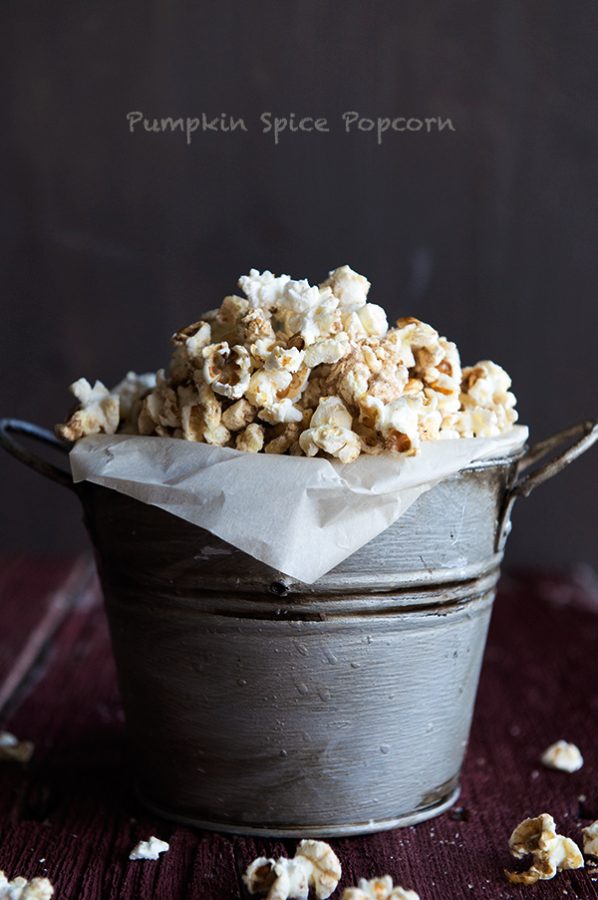 The season turned to fall this week, which means it's officially time to break out the pumpkin pie spice! The blogosphere is usually a little like Michael's and Hobby Lobby… it seems we are often several months ahead of appropriate when it comes to bringing things out for the season. Michaels has even had their Christmas decorations out for a month or two now. Are there really people out there already preparing for Christmas? (Please don't answer that… I don't think I really want to know). I love the holidays, and I absolutely LOVE Christmas, but I'm a "take things one day at a time" kind of gal and also usually a few steps behind. This is why it is only now that I'm sharing my first pumpkin pie spice recipe of the season, after fall has already begun.
Don't get me wrong… I've enjoyed my fair share of Pumpkin Spiced Lattes at Starbucks since they came back in August and have maybe even worn my brown fall boots once or twice already, even though it has been in the 80's still here. I love Fall and am so excited for it to be pumpkin season! I hope you are too!
This recipe for Pumpkin Pie Spice Popcorn was born out of a craving. You see, I wanted something with Pumpkin Spice in it so badly… I'd already enjoyed my latte for the day, my daughter had just made cookies, so I didn't really want to have any more baked goods around, tempting me… I needed something quick and easy. Popcorn!
Tips For Perfectly Popped Pumpkin Pie Spice Popcorn
I've written about how I follow the stovetop popcorn instructions from Simply Recipes before. The only thing I change from Elise's Perfect Popcorn Recipe is I pop my kernels in Nutiva coconut oil. It is the only way I'll make popcorn around here because nothing else even comes close to comparison in fully popped popcorn and flavor. I also only use Mushroom Kernels now… specifically this brand I have delivered from Amazon. The popcorn pops up perfectly plump every single time! If you love popcorn like we do, make sure to check out the mushroom kernels, coconut oil and Elise's instructions for perfectly popped popcorn!
OK, well let's get to the recipe so you can start snacking! Happy popcorn popping!
Pumpkin Pie Spice Popcorn Recipe
Pumpkin Pie Spice popcorn makes the perfect quick and simple fall snack time treat.
Ingredients
3

cups

popped popcorn

approx 1/3 cup mushroom popcorn kernels

1/3

cup

Olive Oil

1

Tablespoon

Pumpkin Pie Spice

2

Tablespoons

granulated sugar

1/4-1/2

teaspoon

Kosher salt

divided
Instructions
Preheat oven to 325° F

Place popped popcorn on a parchment paper lined baking sheet in a single layer.

In a small bowl, blend together olive oil, pumpkin pie spice, sugar and 1/4 teaspoon kosher salt.

Once blended, drizzle over popcorn until evenly dispersed. Stir the popcorn around on the baking sheet until popcorn is coated.

Bake for 8-10 minutes, stopping to stir at the 5 minute mark.

Remove from the oven, and if desired, finish with up to 1/4 teaspoon Kosher salt sprinkled over the completed popcorn.

Serve and enjoy!
Disclosure: This blog post contains affiliate links. As an Amazon Associate, I earn from qualifying purchases.