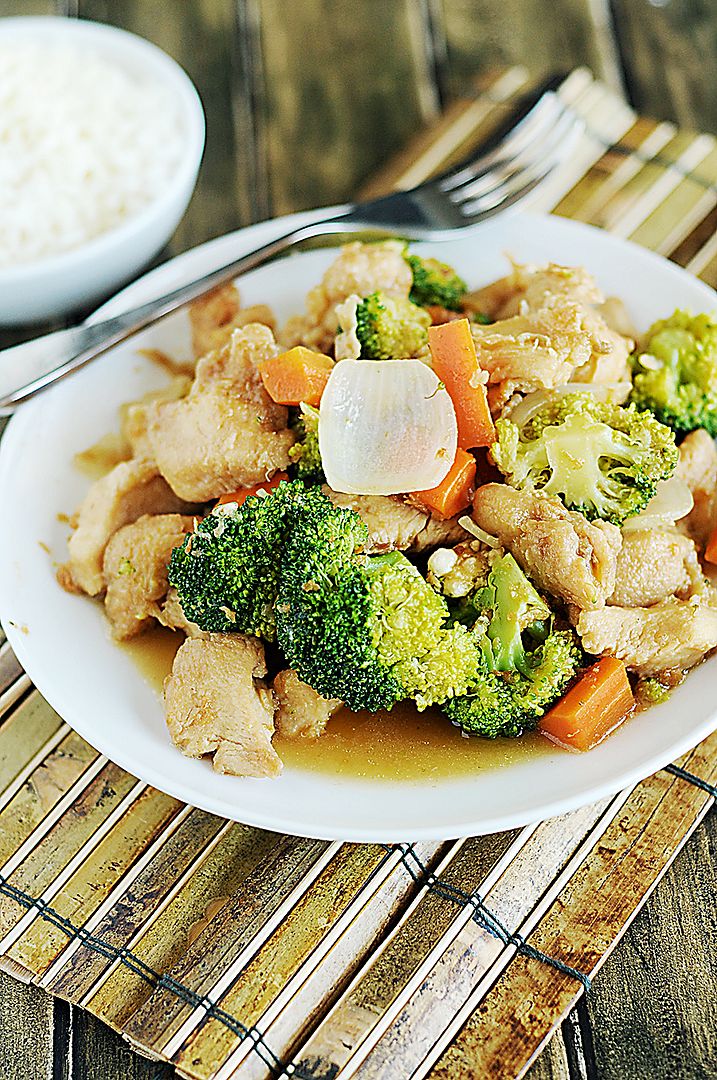 Have you ever taken a picture and then not realized until after wards that there was a detail totally off? I've taken pictures of my kids only to discover after I download them that there is a chocolate smudge on their face or stray hair in their eyes or a fly unzipped.
That is exactly what happened with the pictures of this Chicken Stir-Fry. I took the pictures, we ate dinner and when I downloaded from the camera onto the computer I noticed that big, glaring, piece of onion right in the middle of the plate. I can't even begin to tell you how much that big hunk of onion gets on my nerves. So much that I almost didn't post this recipe, but you know what? This is such a tasty and easy stir-fry recipe I just had to share it with you.
Excuse me if I never return to this post again… it is like forcing myself to listen to fingernails on a chalkboard. I do hope you can get past the hunk of onion and look at this recipe for what it is… a must have stir-fry recipe for a quick and simple weeknight dinner! Enjoy.
Chicken Stir-Fry (Adapted from Allrecipes)
4 (4 ounce) boneless skinless
chicken breast halves
3 tablespoons cornstarch
2 tablespoons soy sauce
1/2 teaspoon ground ginger
1/4 teaspoon garlic powder
3 tablespoons cooking oil, divided
2 cups broccoli florets
1 cup thinly sliced carrots
1 small onion, cut into wedges
1 cup chicken broth
| | |
| --- | --- |
| 1. | Cut chicken into 1/2-in. strips; place in a resealable plastic bag. Add cornstarch and toss to coat. Combine soy sauce, ginger and garlic powder; add to bag and shake well. Refrigerate for 30 minutes. |
| 2. | In a large skillet or wok, heat 2 tablespoons of oil; stir-fry chicken until no longer pink, about 3-5 minutes. Remove and keep warm. Add remaining oil; stir- fry broccoli, carrots and onion for 4-5 minutes or until crisp-tender. Add chicken broth. Return chicken to pan. Cook and stir until thickened and bubbly. |