A simple salmon recipe, for those nights when you need a good dinner on the table, fast!
As my kids get older, our after school activities get more spread out, and finding time for us to eat together as a family every night becomes more difficult. We have one night in particular right now where we are ships passing in the night. It's not ideal, but it's the season of life we're in right now.
Even though we may not be able to sit down as a family on nights like this, I like to be able to offer everyone at least a good, hot meal to eat when they are home. That's where these awesome Salmon Baked in Foil Packets come in. I simply prepare the salmon and topping ahead of time, place them in their little foil packets, put the foil packets in the refrigerator then bake them as needed.
It sure beats cold leftovers, a sandwich or eating out, right? And the best part of this recipe is that it's really easy to prepare as well. Chopping the shallots is the most extensive effort involved, and that's not difficult at all!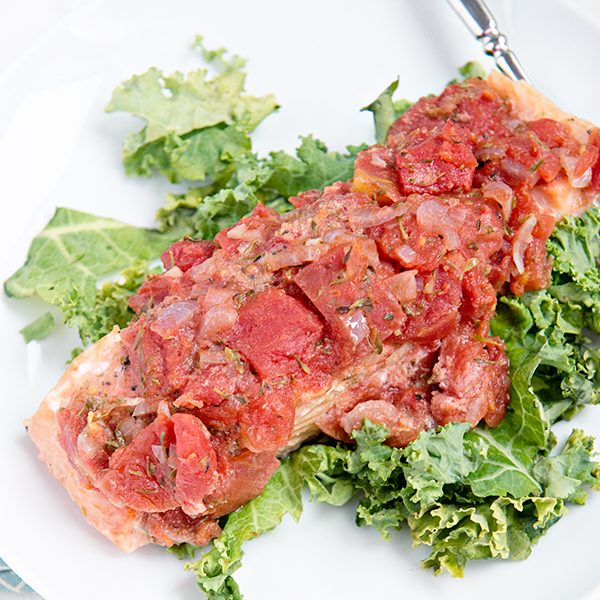 If you are looking for a simple recipe for those crazy busy weeknights, I hope you'll give this Salmon Baked in Foil Packets recipe a try. Even if you all can't eat together at the same time, it'll let your family know you cared enough to make something extra special for them to enjoy when they get home.
Simple Salmon Baked in Foil Packets Recipe
Ingredients
4

5 ounces each salmon fillets

2

teaspoons

olive oil plus 2 tablespoons

Salt and freshly ground black pepper

1

14-ounce can chopped tomatoes, drained

2

chopped shallots

2

tablespoons

fresh lemon juice

1

teaspoon

dried oregano

1

teaspoon

dried thyme
Instructions
Preheat the oven to 400 degrees F.

Sprinkle salmon with 2 teaspoons olive oil, salt, and pepper. Stir the tomatoes, shallots, 2 tablespoons of oil, lemon juice, oregano, thyme, salt and pepper in a medium bowl to blend.

Place a salmon fillet, oiled side down, atop a sheet of foil. Wrap the ends of the foil to form a spiral shape. Spoon the tomato mixture over the salmon. Fold the sides of the foil over the fish and tomato mixture, covering completely; seal the packets closed. Place the foil packet on a heavy large baking sheet. Repeat until all of the salmon have been individually wrapped in foil and placed on the baking sheet.

When ready, bake until the salmon is just cooked through, about 25 minutes. Using a large metal spatula, transfer the foil packets to plates and serve. (You can bake all of them at once, or one at a time, depending on your specific needs).
 Craving more salmon and seafood recipes? Check out these other great recipes from blogs I love: