Bacon and California Avocado Fries are a flavorful snack or appetizer when you are looking for something just a little bit different!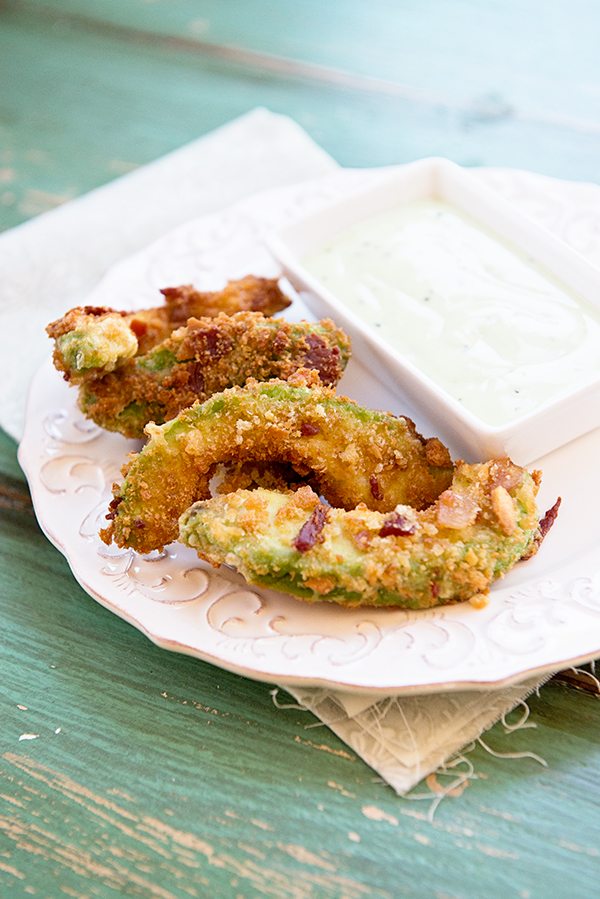 We are almost a week into summer break and my kids are already expecting me to feed them 3 meals a day, plus snacks. What's up with kids thinking they need to be fed all the time? 🙂
Seriously though, my biggest challenges during the summer revolve around keeping the children well fed. It seems like between the pool, sports activities and getting things checked off our Summer Bucket List, we are either on the go during meal time or popping in the house for a short bit before we head onto our next thing. My kids like to call the way I feed them during the summer "snackie summer meals". I'll admit it…feeding my kids great lunches during the summer isn't my forte. When they aren't home with me, I'm used to just grabbing an avocado, sandwich or bowl of cereal and calling it good! For some reason, that doesn't always fly with them! 
In order to make more of an effort this summer when it comes to mealtime, I've been turning to some old favorites. Remember a few years ago when I made Avocado Fries for the first time?  I love Avocado Fries but I always thought that particular recipe could use more of a flavor boost. When my most recent shipment of California Avocados arrived, I decided to experiment with some different flavors for the fries. What I came up with was freshly sliced California Avocados, dipped in a Garlic Butter Breadcrumbs and mixed with crumbles of bacon and lightly fried to perfection. This is a snack or a lunch, perfect for the kids this summer!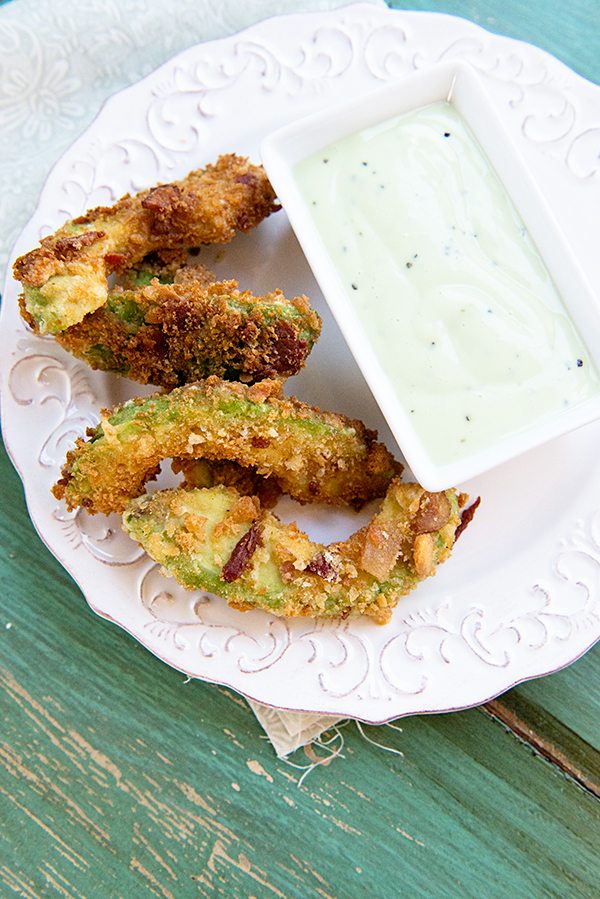 I'm trying to plan out our snacks and lunches a little more this summer and I know that this recipe will make repeat appearances. It's a great "snackie lunch" idea kids love. Enjoy!
Bacon and California Avocado Fries
Bacon and California Avocado Fries are a flavorful snack or appetizer when you are looking for something just a little bit different!
Ingredients
Vegetable oil for frying

1 5

oz

bag Texas Toast Garlic and Butter Croutons

8

slices

cooked bacon

crumbled

1/4

cup

all-purpose flour

1/4

teaspoon

kosher salt

plus more to taste

2

large eggs

lightly beaten

3

firm-ripe California avocados

sliced into thin wedges
Instructions
Pour 1 1/2 inch of oil into a deep frying pan or dutch oven. Heat to a consistent 350°F.

While oil is preheating, place Garlic and Butter Croutons in a food processor and pulse 3-4 times, until croutons are coarse crumbs. Pour into a shallow bowl and add bacon crumbles. Combine.

Place flour and salt in a separate shallow bowl and stir together.

Place beaten eggs in a 3rd shallow bowl.

Line up ingredients in this order: Sliced California avocados, salt/flour mixture, eggs, crouton/bacon mixture. Dip avocado first in the flour and shake off excess, next in the eggs and finally in the crouton/bacon mixture. Carefully place in preheated oil and fry for 30-60 seconds, or until avocado fries are golden brown. Drain on paper towels.

Sprinkle with additional salt or dip in ranch dressing when serving.
Disclosure: I am honored to have a long term, compensated relationship as a brand ambassador for California Avocados. All opinions expressed are my own! For more great recipes featuring California Avocados, be certain to visit the recipe section of their website.