A Chicken and Spinach recipe baked in a creamy, cheese sauce and the Dine & Dish weekly menu plan for the week!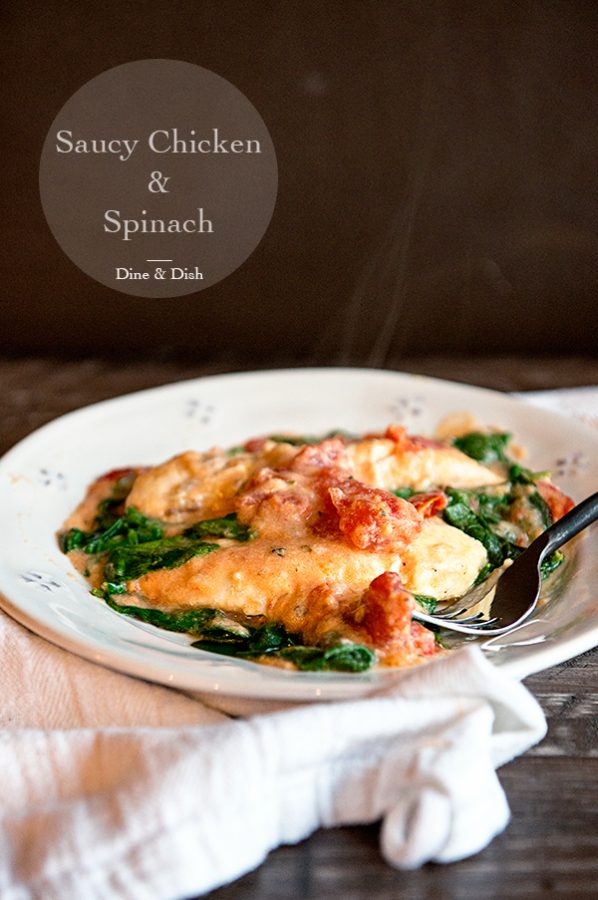 You know what I have a talent for? I have great skills at taking recipes that probably should be good for you and turning them into something not so much. Take this Saucy Chicken and Spinach recipe. The first time I made it my intention was to just do a simple baked chicken with tomatoes and spinach. Then the next time I decided that it needed a sauce of some sort, and of course, a cheesy sauce was absolutely what it needed. At least I didn't take it one step further and suggest it be served over pasta…(which would be really, really good, not that I'm recommending that or anything).
This Saucy Chicken and Spinach recipe is not the best for you, but it has some healthy elements… so don't give up on it! It's a tasty addition to your weekly menu plan and one of those recipes at least the grownups in your house will love. (2 out of 4 of my kids loved it…and my husband and I both love it). I think you'll love it too!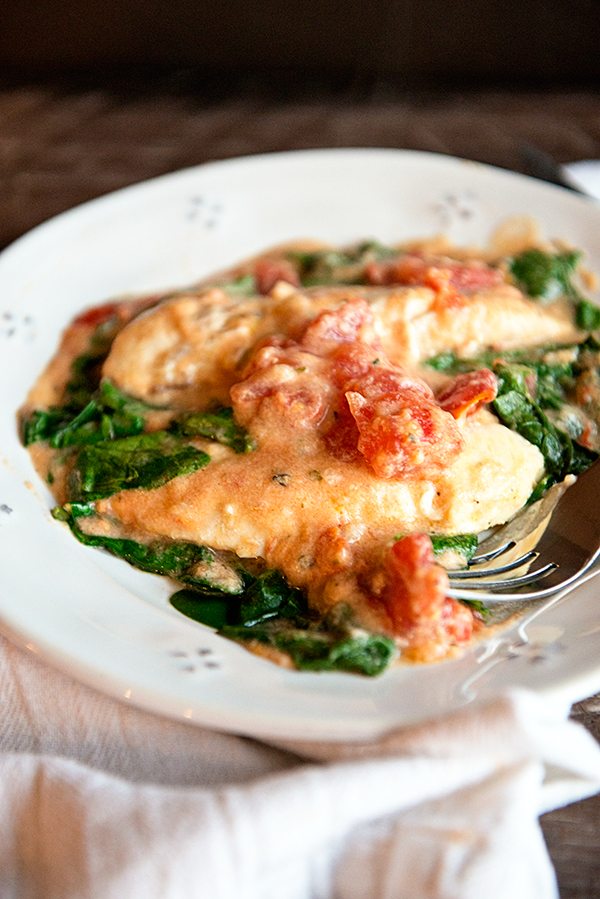 The menu plan for this week is a little shorter than normal because we are heading to Keystone Resort at the end of the week to go skiing for the first time! As someone who much prefers the snow from the inside of a warm house versus actually out "in" the snow, I'm a little nervous. I'm really excited at the same time though because it's doing something new and that's always fun! And we're going to Colorado, which is one of my favorite states. I think at the very least my kids will love it, and because of that I'll love it too! I'll let you know! If you have any tips for first time skiers, make sure to leave those in the comment section. Thank you!
Now, here's our menu plan for the week – skip below to see the Saucy Chicken and Spinach Recipe! (To see past Dine & Dish weekly menu plans, click here.)

Monday: Roasted Pork Tenderloin with Red Pepper Pesto from this cookbook (One of my favorite classics!)
Tuesday: Mini Meatloaf from Shugary Sweets
Wednesday: Taco Soup from Dine & Dish
Thursday: Easy Crockpot BBQ Ribs from Your Homebased Mom
Taking these goodies on the road… Puppy Chow Cookies from Cookies and Cups and Sweet & Salty Snack Mix from Land O' Lakes
That's it for this week's menu plan! Make sure to let me know what's being served at your house. I could always use the inspiration! Have a great week!
Saucy Chicken and Spinach Recipe
Spinach is topped with chicken and a creamy cheese sauce and baked to perfection!
Ingredients
1

cup

baby spinach

1

Tablespoon

olive oil

6

boneless

skinless chicken breast tenderloins

1/2

teaspoon

Kosher salt

divided

1/2

teaspoon

freshly cracked black pepper

divided

3

Tablespoons

butter

3

Tablespoons

flour

1 1/2

cups

milk

1

Tablespoon

Italian Seasoning

1

cup

shredded cheddar cheese

1 14

ounce

can diced tomatoes

drained
Instructions
Preheat oven to 425°F

Place spinach in a lightly sprayed 9x13" baking dish. Sprinkle with 1/4 teaspoon Kosher salt and 1/4 teaspoon pepper.

Heat olive oil in a large skillet over medium heat. Add the chicken tenderloins, and cook until no longer pink inside, about 8-10 minutes (turning over halfway through). Remove chicken from skillet and place over spinach.

In a clean saucepan, melt the butter. Stir in the flour until smooth; gradually add milk. Bring to a boil; cook and stir for 1-2 minutes until thickened.

Stir in Italian Seasoning, cheddar cheese, remaining salt and pepper. Stir just until cheese is melted and mixture is smooth. Add the diced tomatoes and cook for an additional 1 minute.

Pour the sauce over the chicken and spinach. Bake for 20 minutes, or until sauce is bubbly.

Serve alone or over pasta or rice.
Disclosure: This blog post contains affiliate links. As an Amazon Associate, I earn from qualifying purchases.