Creamy Mushroom and 3 Bean Soup is a zesty and flavorful bowl of comfort. When you look for fresh mushrooms for your recipes this month, you'll notice mushrooms will be sold in pink packaging in honor of National Breast Cancer awareness month recognizing the industry's commitment to breast cancer research. Thanks to The Mushroom Council and their partnership with City of Hope for sponsoring this recipe challenge giveaway and post.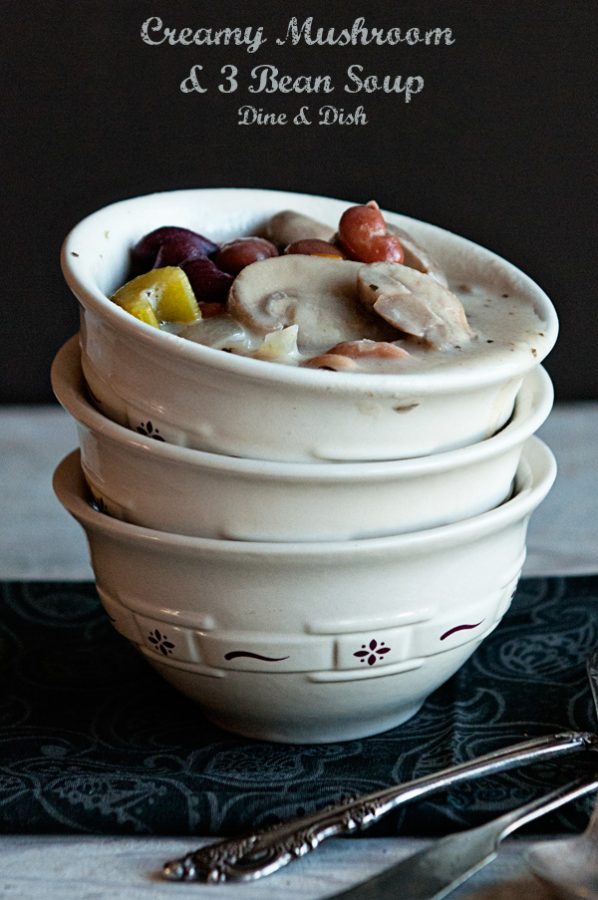 When you lose a friend or family member to cancer, you tend to step back and take inventory of how you live your life. Every product you use, every bit of food you eat gets scrutinized just a little more closely. You begin to wonder if there are things you, personally, can do to lessen your risk of cancer coming into your life again. You pay closer attention to companies supporting cancer research. You follow key messaging and hope…hope and pray… that a cure is on the way so no one ever has to face this horrible disease again.
If you know the story about us losing my brother, Larry, to cancer and the loss of my friend Ann to the disease, you probably understand why I wanted to share this blog post with you today. There are people out there working hard to find a cure and I'm lucky there are wonderful brands I work with who support those endeavors. For the month of October, The Mushroom Council and The City of Hope are teaming up to share important information with consumers about the quest for a cure.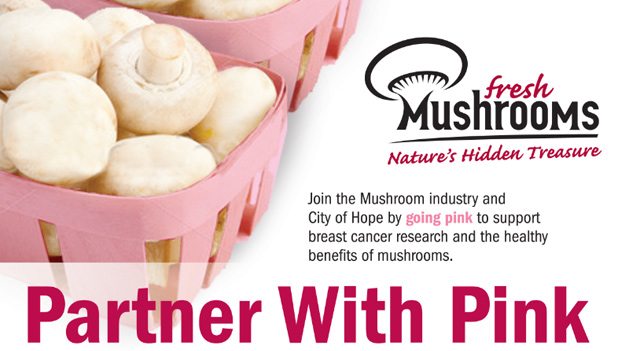 You may be wondering what fresh Mushrooms have to do with cancer research? Scientists at City of Hope (a leading cancer research institute) were some of the first to find a potential link between mushrooms and decreased likelihood of tumor growth and development in cells and animals. City of Hope researchers are now applying this research to human clinical trials.
I don't know about you, but that's evidence enough to make me want to incorporate more nutrient rich mushrooms into our diet! Luckily, we love mushrooms in the Dine & Dish house… you'll often find me swapping out meat in place of mushrooms in some of our beloved recipes…I love how this lessens the calories and adds a boost of vegetables to favorite dishes.  I also tend to use mushrooms as an added filler in a recipe, pumping up the volume to stretch a meal out a little more. In addition, as someone who is trying to incorporate more vegetables into our diet, I can easily add fresh mushrooms to so many things without compromising flavor.
–>Partner With Pink Giveaway<–
The Mushroom Council wants to give a lucky Dine & Dish reader the chance to win a $50 American Express Gift Card and an adorable Mushroom Print Apron from Etsy simply by sharing your favorite recipe(s) using fresh mushrooms in the comment section below. If you are a blogger, simply leave a link to your post(s). If you aren't a blogger, just leave the recipe itself in the comment section! Each person may share up to 3 recipes (please leave a separate comment for each). The giveaway will run from October 1st – midnight CST on October 17th. Winner will be chosen via Random.org and notified via valid email address.
For additional chances to win, share your favorite recipes over at  Savory Simple and Ingredients Inc. 
Thanks and good luck!
Creamy Mushroom and 3 Bean Soup
Our favorite creamy chicken soup gets a makeover with mushrooms instead of chicken! This is one soup recipe you'll want to hold onto. It'll quickly become a fall favorite!
Ingredients
16

ounces

Fresh Mushrooms

sliced

1

small yellow onion

diced

1

stalk celery

diced

1/4

cup

butter

cubed

1/2

cup

all purpose flour

48

ounces

chicken broth

1

teaspoon

pepper

1/2

teaspoon

white pepper

1

teaspoon

Italian seasoning

1/2 to 1

teaspoon

Siracha

1 16

ounce

can Bush's Mayocoba beans

drained and washed

1 16

ounce

can Bush's Pinto Beans

drained and washed

1 16

ounce

can Bush's Kidney Beans

drained and washed

3

cups

half-and-half cream

1

pinch

salt
Instructions
In a large stock pot, sauté the mushrooms, onion and celery in butter until tender. Stir in flour until blended. Gradually add the broth and seasoning and Siracha. Bring to a boil. Reduce heat; simmer, uncovered, for 10 minutes.

Stir in the beans and simmer for 10 minutes. Slowly add the cream and a pinch of salt; heat through but do not boil.
Disclosure: This post is sponsored by the Mushroom Council. All opinions expressed are my own.