A tasty breakfast wrap featuring California Avocado slices and a hash brown patty.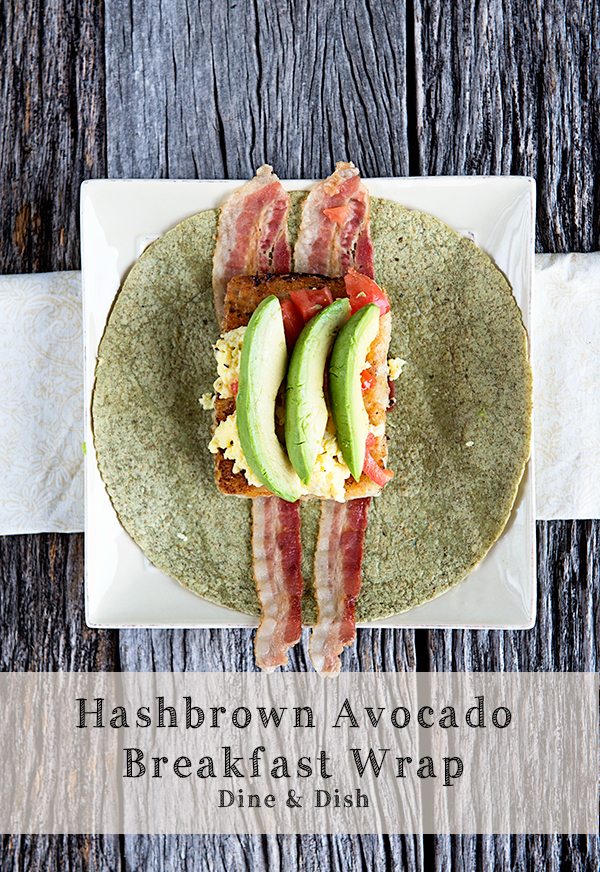 Inspiration strikes in the strangest of places sometimes. I'm one of those people who always keeps a notebook and pen by my bed because I can write the absolute best blog posts in my sleep. When I wake up I try to remember what my blog post idea was and jot it down in a notebook. Of course, what I wrote in my dreams is never as good as what I end up putting down on paper.
My second most popular place for inspiration is the shower.  Seriously, the one place I am during the day without pen and paper is the one place my most genius ideas pop up.  99% of the time my mushy brain can't remember my genius idea by the time my shower is over.  (Funny story… my old boss used to have dry erase markers in his shower and would write things down on the shower door when inspiration would strike! He'd also always write on his car windows when he'd be stuck in traffic. Random.)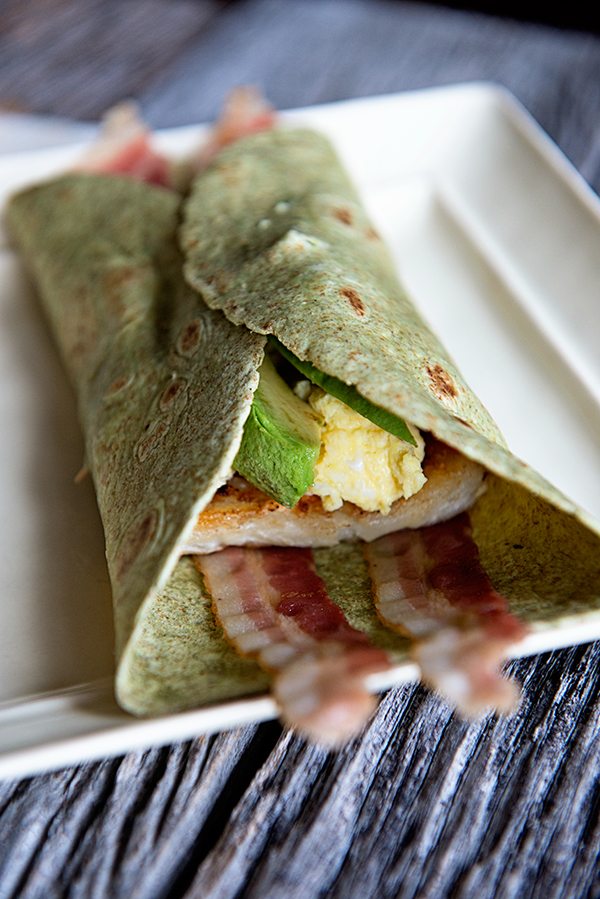 Inspiration for today's recipe came from the strangest of places… I was actually getting the oil changed in our van and I looked across the street at the Taco Bell restaurant and noticed a sign in their window that said they now serve breakfast! I was totally surprised because our Taco Bell is never busy…I'm wondering how they can keep enough customers coming through to justify staffing over the breakfast hour. But anyway, I then noticed that they had a breakfast "crunch wrap"…basically a breakfast burrito with a full hash brown, cheese and eggs inside . Kind of random, but totally worth a try. I'm all for shoving all the things in a tortilla and calling it breakfast. I would eat everything wrapped up in a tortilla if I could!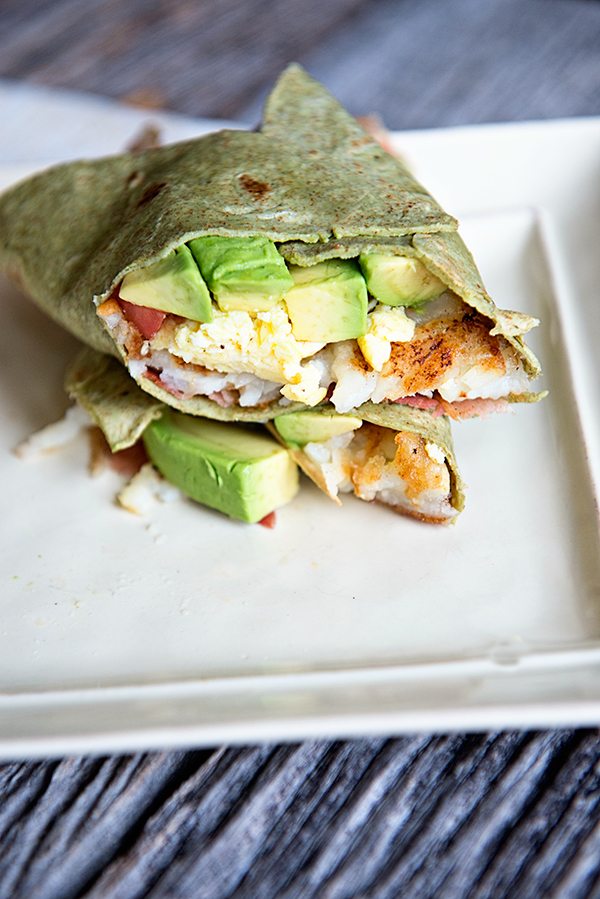 I came home after my inspirational Taco Bell sighting and decided to take their crunch wrap uptown a bit… I used a Spinach Herb flavored tortilla wrap and added some bacon and fresh California Avocados. I skipped the cheese (although it'd be a tasty addition if you wanted to add it) and added some diced tomatoes to my scrambled eggs. This little Taco Bell inspired creation was actually really, really good! I don't know why I'm surprised, but I kind of was a tad bit skeptical about the whole hash brown in the wrap.
Even though I refuse to talk about the end of summer and school starting again being just around the corner, this will definitely be a frequent grab it and go breakfast at our house once the "s" word starts back up. I hope you enjoy it!
Hash Brown Avocado Breakfast Wrap
Ingredients
1 6

or 8 inch Spinach and Herb Tortilla Wrap

2

slices

bacon

cooked and kept hot

1

hash brown patty

fried

1

egg

scrambled

3

grape tomatoes

chopped

3

slices

fresh California Avocado

Kosher salt and cracked black pepper

to taste
Instructions
Assemble the wrap in this order... lay the tortilla flat. Add the baconslices, cooked hash brown, scrambled eggs, tomatoes and California Avocado. Sprinkle with Kosher salt and cracked black pepper, if desired, to taste.

Roll up wrap tightly and cut diagonally in half. Serve and enjoy!
 Disclosure: This is a sponsored post on behalf of California Avocados. All opinions expressed are my own. For more great recipes featuring California Avocados, make sure to visit their website!