A healthy and simple granola recipe made in the slow cooker and an iStir™ Crock-Pot Giveaway.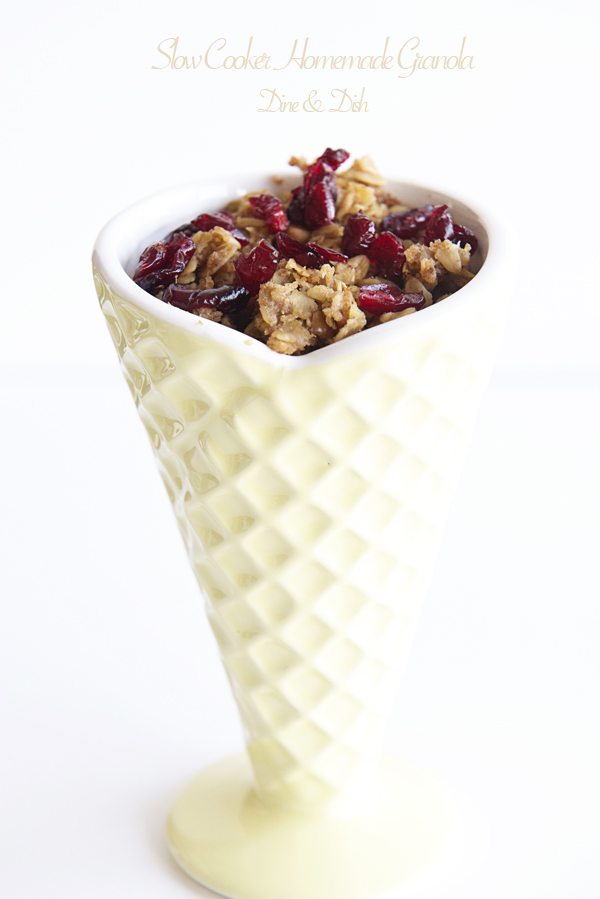 The giveaway is now closed. Congratulations to Ginger Riggins, the winner of the iStir Crock-Pot Giveaway.
Something strange has happened in our house. My "ice cream three times a day and a Snickers bar for breakfast" husband has turned health conscious. He's always looked healthy…but maybe the thought of turning 40 and the rumored to happen 40 year old slower metabolism has given him the desire to actually eat healthy as well. Either way, when he came to me the other day asking where our granola was to go atop his non-fat Greek yogurt, I may have asked him to repeat himself a few times. Then, I may have followed him to the pantry and stared at him while he ate, in complete disbelief.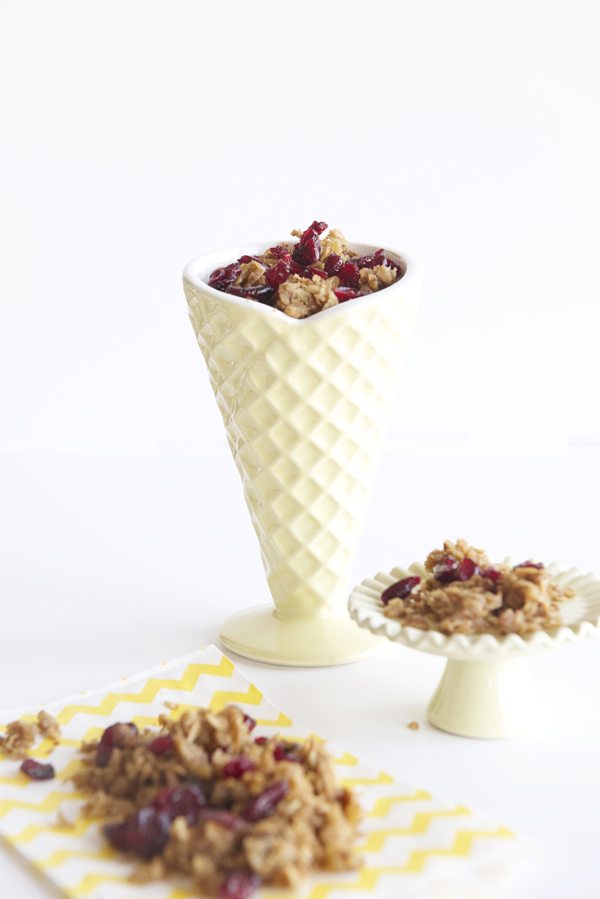 (Ice Cream Waffle Glass and mini Cake Stand pictured from the Wonderelle tabletop collection)
When my friends at Crock-Pot contacted me about doing a giveaway for one of their new Crock-Pot® 6-Quart Digital Slow Cooker with iStir™ technology, I knew I wanted to make something a bit different. Since my husband has turned into a big granola fan, I decided to give Slow-Toasted Crock-Pot granola a try. I discovered a recipe in the Skinny Slow Cooker magazine and adapted it to our tastes.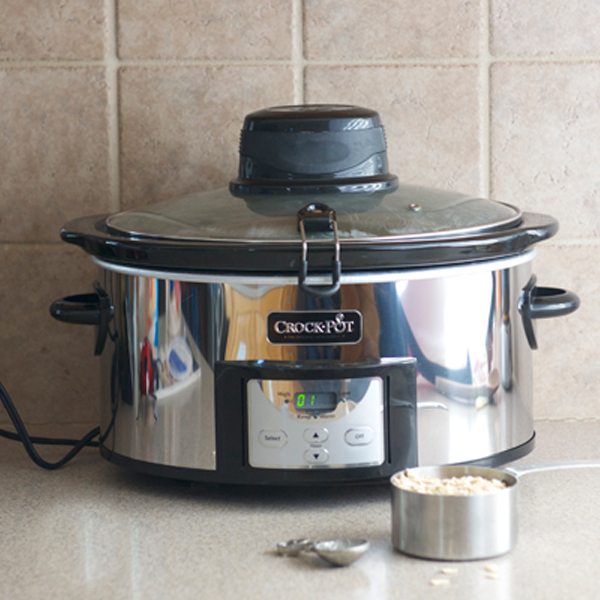 The recipe was so easy to make (especially with the iStir technology doing the stirring for me) and my husband is a thrilled, healthy breakfast eater now that he has his "custom made" granola on hand. I hope you enjoy the recipe and the giveaway for your very own Crock-Pot® 6-Quart Digital Slow Cooker with iStir™ technology.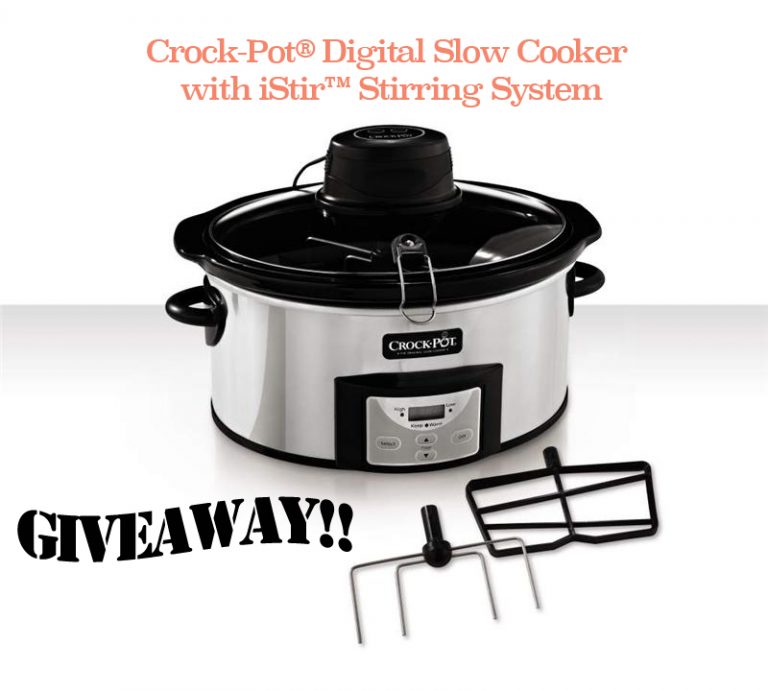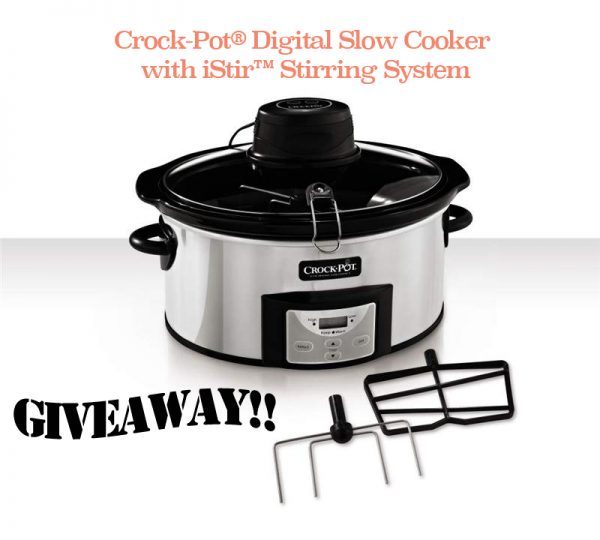 To enter the giveaway, simply leave a comment on this post telling me what your favorite thing to make in the slow cooker is! All comments must be received by midnight, CST, on February 2nd 2014. Winner will be picked via Random.org and notified via valid email address. 
Homemade Slow-Cooker Granola
A simple Homemade Slow-Cooker Granola recipe...custom made to my husbands favorite flavors.
Ingredients
Nonstick cooking spray

3/4

cup

honey

1/2

cup

applesauce

1/4

vegetable oil

1/4

cup

chunky peanut butter

1

Tablespoon

cinnamon

1

Tablespoon

vanilla

4

cups

regular rolled oats

1

cup

Rice Krispies cereal

1/4

cup

chopped walnuts

I prefer Diamond Nuts

1/2

cup

craisins

1

pinch

Kosher salt
Instructions
Lightly spray a slow cooker with cooking spray; set aside.

In a small bowl whisk together the honey, applesauce, oil, peanut butter, cinnamon and vanilla.

In the slow cooker, combine oats, Rice Krispies, walnuts and salt.

Stir in honey mixture until well combined.

Place the lid, slightly offset, on the slow cooker to vent it. Cook on high-heat setting for 2 1/2 hours, stirring every 30 minutes.

Spread oat mixture on foil to cool. Stir in craisins and toss gently. Store in an airtight container at room temperature for up to 5 days.
Notes
Recipe adapted from Skinny Slow Cooker Magazine
Disclosure: Thank you to my friends at Crock-Pot for providing this giveaway.