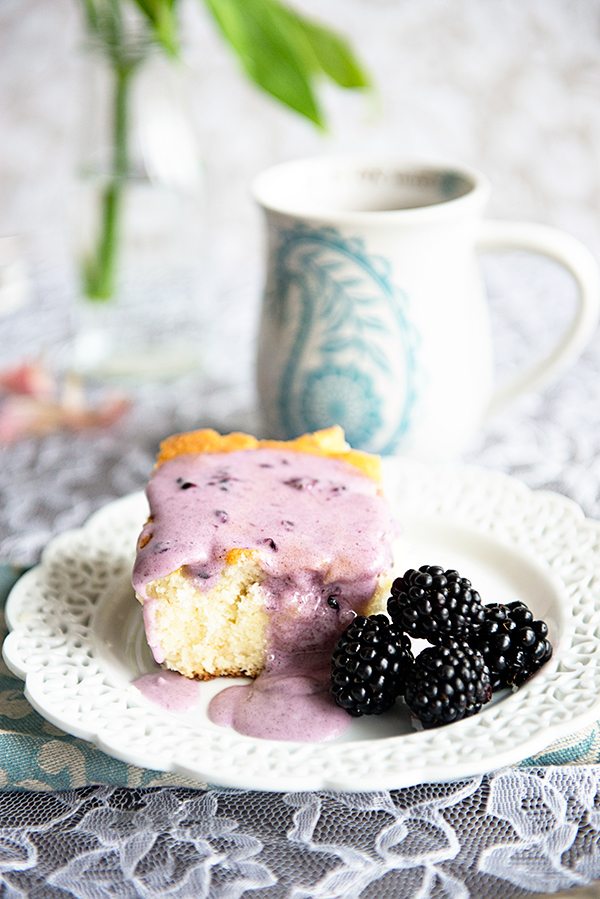 Three out of the four of my kids have started school as of today. My oldest starts tomorrow, which means he and I got to spend part of the morning together without any of his siblings around. That kind of one on one time rarely happens around here, so it's a pretty special thing.
Of course, I was about ready to duct tape his mouth shut about an hour into our morning when he decided now would be a good time to remind me just how little time he has left at home before heading off to college. SIX years. What the heck? Then he continued to do the math for the rest of my kids, which was absolutely unnecessary. His mention of 6 years had already thrown me into a tailspin of disbelief and after that everything he said afterwards was pretty much "blah blah blah blah" in my head. When it comes to my babies, I am in no way whatsoever even remotely close to prepared for thinking about the day I have to send them off to college. Denial is happily my middle name.
Since this past weekend was the final one before the 2014-2015 school year started, I decided to make an extra special treat for breakfast.  Does it get any more special than cake for breakfast? I don't think so!
This Best Coffee Cake with Blackberry Glaze recipe is so sweet and decadent, it's best saved for special occasions. Like Tuesday. Life is short, eat dessert first thing every day I believe is how the saying goes, right?
Truly though, this is supposed to be a breakfast coffee cake, but I really don't know what the difference would be between this and a dessert cake. I'm all for changing the name of something though if it means we can eat dessert for breakfast! Coffee Cake it is!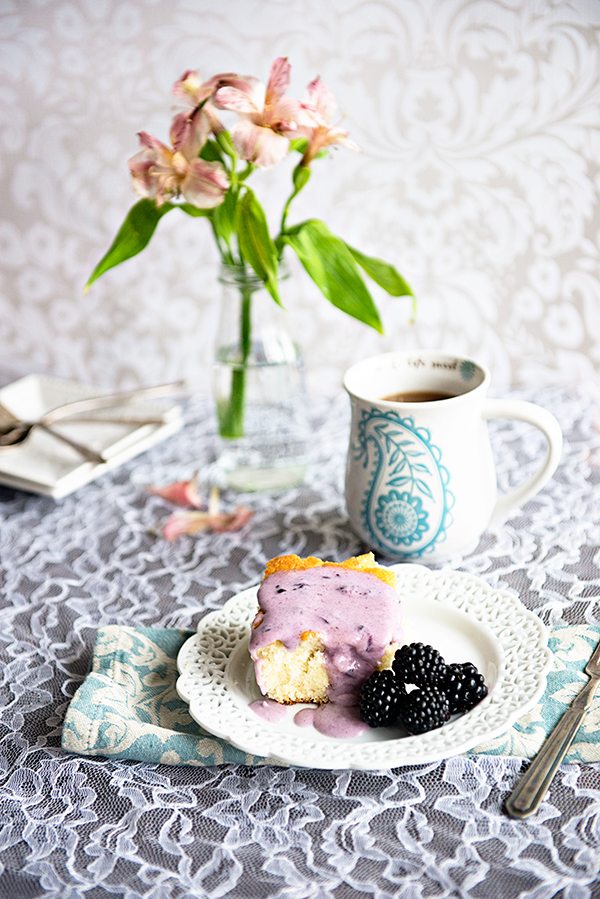 This recipe is a mash up of The Pioneer Woman's Best Coffee Cake recipe (without the topping and using whole eggs) and Heather Christo's blackberry glaze she uses on homemade doughnuts. The resulting recipe is a decadent coffee cake perfect for any special occasion, like Tuesday! Enjoy and eat up!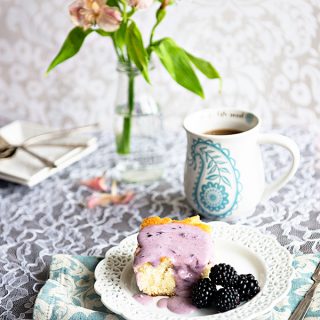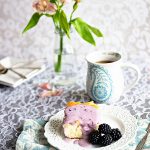 The Best Coffee Cake with Blackberry Glaze
A decadent breakfast of coffee cake with blackberry glaze makes any day a special occasion.
Total Time
1
hour
20
minutes
Ingredients
For the cake:
1 1/2

stick Butter

Softened

2

cups

Sugar

2

eggs

3

cups

Flour

Sifted

4

teaspoons

Baking Powder

1

teaspoon

Salt

1 1/4

cup

Whole Milk
For the glaze:
1/4

cup

heavy whipping cream

1/4

cup

blackberries

mashed

1

Tablespoon

corn syrup

1

cup

powdered sugar
Instructions
For the cake:
Preheat oven to 350°F. Prepare an 9x13 glass baking dish with a light coating of cooking or baking spray.

In the bowl of your mixer, cream together butter and sugar. Add eggs,1 at a time, and beat until light and fluffy.

Add flour, baking powder and salt and beat until incorporated.

Turn your mixer on low and slowly add in milk. Continue to beat just until mixture is well blended.

Pour cake batter into prepared baking pan and bake for 45 minutes to an hour, or until knife inserted into the center comes out clear.

Remove from the oven and cool.
For the glaze:
Whisk together whipping cream, mashed blackberries, corny syrup and powdered sugar until smooth.
To serve:
Plate cake slices and spoon blackberry glaze over each individual slice when ready to serve.