A tasty candy brittle loaded with toasted, Diamond brand, Pistachios.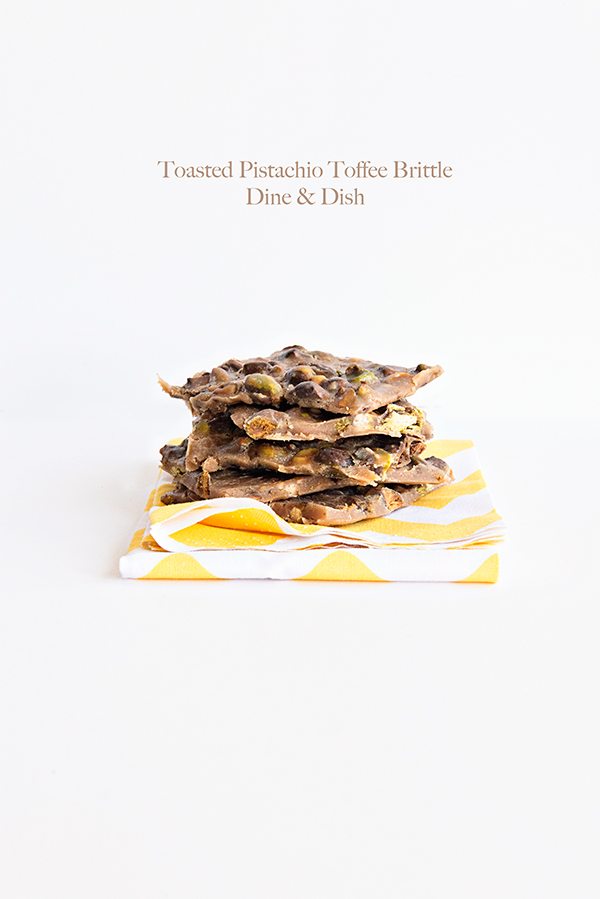 So, our house went on the market this past weekend and I'm already kind of over the whole process! In the last week I spent 2 days ticked off and not speaking to my husband (because I'm mature that way), 24 hours completely digging through every nook and cranny in our house de-junking, de-cluttering and cleaning, enlisting my best friend to clean out my pantry, and drinking lots of wine. We haven't even had our house on the market for 2 days yet and the whole process is already stressing me out!
We are absolutely in one of those no-lose situations as we love where we are, our neighbors and our home, and we love the house that we've been looking at. If we did move it would only be a few miles down the road, if we don't, we are totally happy. The house we have our eyes on has 2 acres of land (and a sunroom) which is something we've wanted for quite sometime. However, again, we have survived this long without land, and can survive even longer if things don't happen with that other house. So needless to say, we are in one of those chaotic states of flux right now!
I have been cooking and relying on things that are making my life absolutely simplified. The last thing I need right now is added complexity. That's why, when I found out that my friends at Diamond Nuts now carry raw, shelled, unsalted pistachios, I was thrilled. Anytime I have wanted to make something with Pistachios in it, I've had to go through the painstaking process of cracking each nut and shelling them myself. Diamond Nuts is the first company to do all that work for me with Pistachios! Day. Made.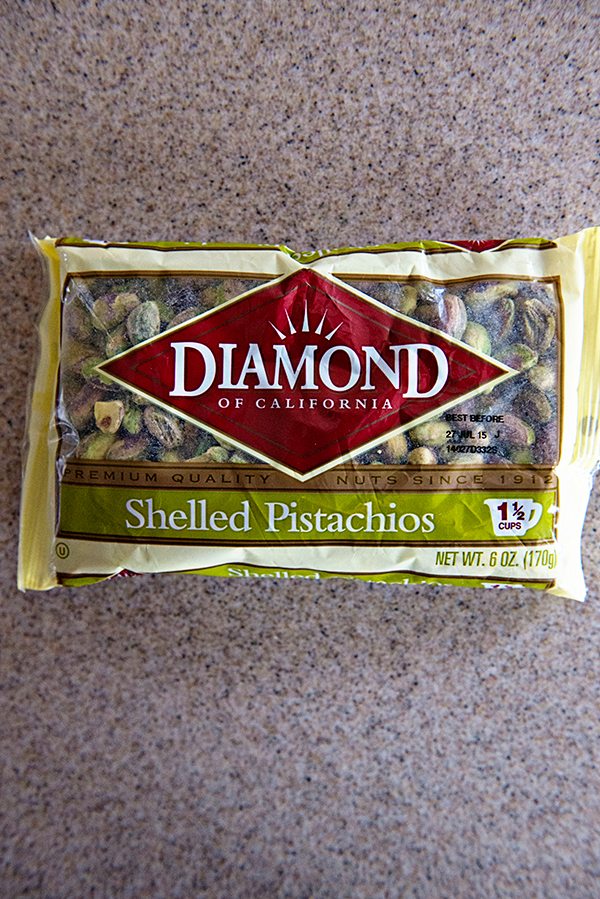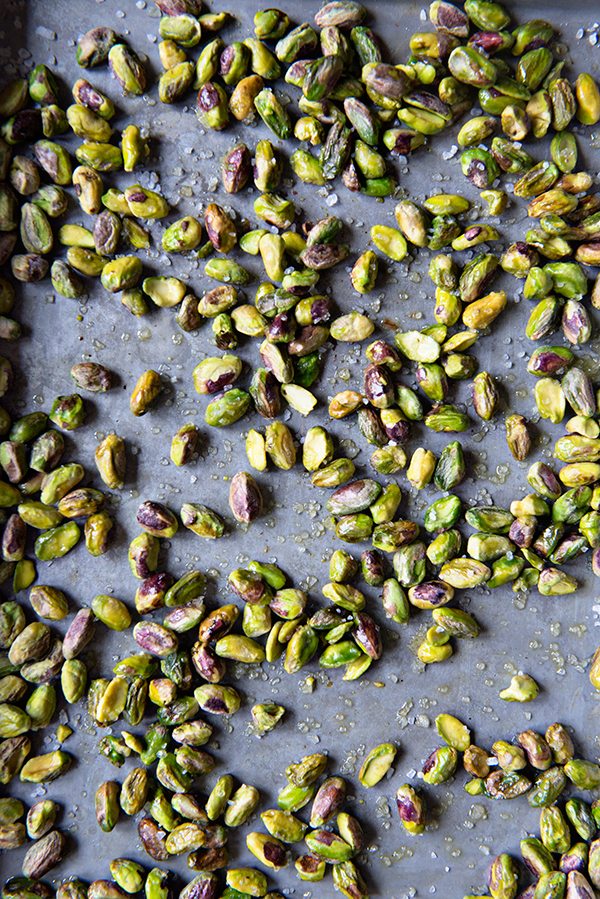 I bookmarked this recipe from Taste of Home forever ago it seems but knew that Pistachios were kind of a pain in the rear, and I didn't really want to go through the trouble to shell all the pistachios needed for the recipe. Thanks to Diamond Nuts, I was able to adapt this recipe and make it, without going through a whole bunch of trouble!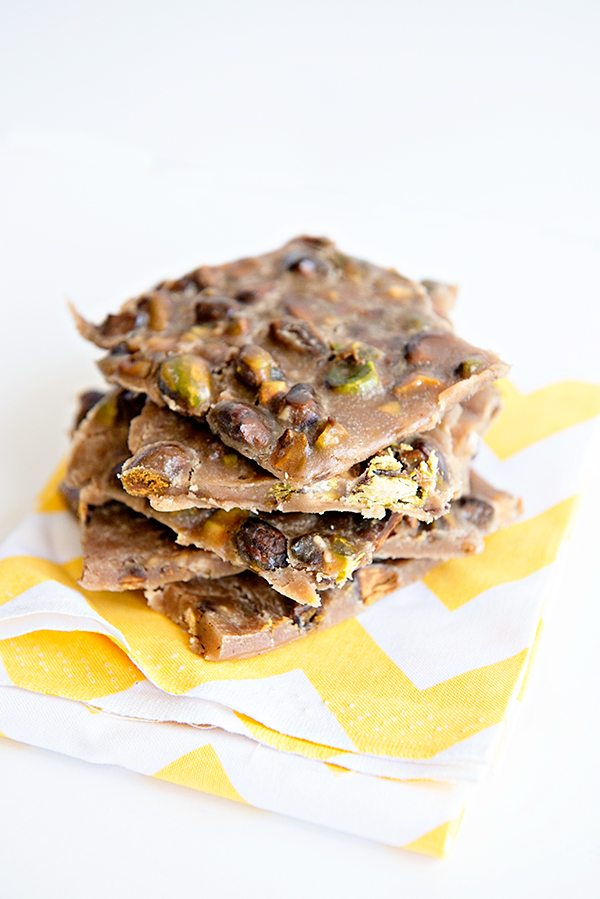 This Toasted Pistachio Toffee Brittle is one of those things where you'll politely say you just want one small piece, then when no one is looking, you'll go back into the kitchen and eat an entire half of pan worth of it…or so I've heard, ahem. It's sweet, salty, crunchy and delicious all in one. I hope you enjoy it!
Toasted Pistachio Toffee Brittle
A delicious sweet and salty Toasted Pistachio Toffee Brittle.
Ingredients
1/2

cup

Diamond Nuts Pistachios

1

Tablespoon

Olive Oil

1

Teaspoon

sea salt

1 1/4

cups

sugar

1/3

cup

water

1/3

cup

light corn syrup

1

teaspoon

salt

1/2

cup

butter

cubed

1

cup

Heath milk chocolate English Toffee bits

1/2

teaspoon

baking soda

1/2

teaspoon

vanilla extrat
Instructions
Preheat oven to 425°F

Place pistachios on a small cookie sheet, drizzle with olive oil and sea salt.

Place pan of pistachios in the oven for 5-10 minutes, until they turn a slight golden brown in color. Remove from oven, chop into smaller pieces if desired and set aside.

Spray a 15x10x1 inch pan with non-stick cooking spray.

In a large saucepan, combine the sugar, water, corn syrup and salt. Cook over medium heat until a candy thermometer reads 240°F (soft-ball stage).

Once temperature is reached, add butter, pistachios and English toffee bits. Cook and stir until mixture reaches 284° (soft-crack stage)

Remove pan from heat and stir in baking soda and vanilla. Immediately pour into the prepared pan. Spread to 1/4 inch thickness.

Cool before breaking into pieces.
I am honored to be a compensated brand ambassador with Diamond Nuts. All opinions expressed are my own.