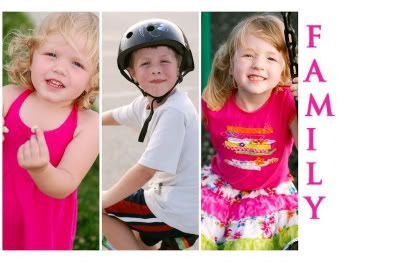 When I was in the 4th grade, I have a very clear memory of finding my baby book and opening it up only to find a hospital bracelet, a lock of hair and a few miscellaneous notes about my birth weight and length. As the youngest of five kids, I felt like I had been quite slighted. It was my general assumption that my siblings probably had baby books full of memories written in them. As a young child scorned, I took the matters into my own hands and proceeded to fill in the missing pieces of my baby book. I made up the adorable things I did when I was young… my first words (which according to my documentation was a big long sentence), my reaction to my first taste of baby food, even my first steps. In my best 4th grade writing (trying to make it look like my mom's, you know), I made up quite the fictional childhood.
For those of you who were with me over at my old blog on Squarespace, you might remember that I had a regular side blog going on, Dishing It Up Family Style. It was in that blog that I documented the life of my kids…their accomplishments, challenges, hysterical moments, etc. If you were a regular reader of that blog, you may also have noticed that my last blog post over there was at the very beginning of 2008… over six months ago.
I had so much fun fictionalizing my own baby book, that I am leaving that job up to my kids when they get older. I have been horrible about keeping those things updated, but seriously… with a purpose in mind. I did not do Jacob's because I didn't want the other two to feel cheated if I didn't get to theirs. So, instead, I've left the expectations really low so that none of them are too disappointed when they get older. (Plus, I contribute regularly to a therapy fund for them… with me as their mom, I guarantee they'll need it!) 😉
I do have a feeling though that when my kids are older, and are flipping through Mom's old photographs, that they may feel a bit miffed about the fact that I have more documentation of the food we ate together then their actual childhood. So, it is partly out of guilt, and partly out of a genuine longing to capture these moments, that I am re-launching Dishing it Up Family Style. The newest post will be up in the next couple of days. I hope you will join me there!