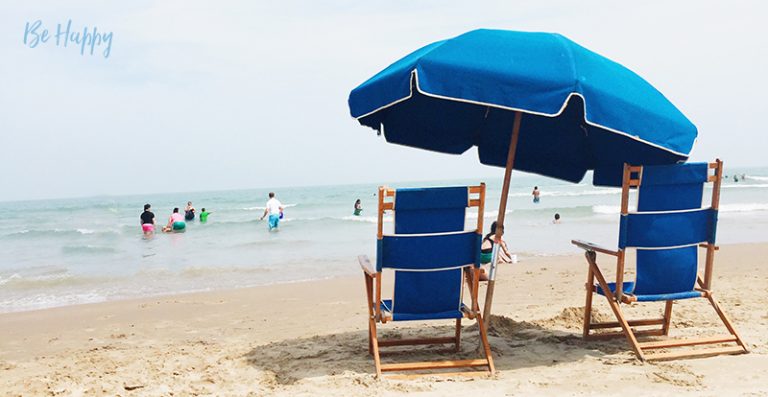 Happy weekend, everyone!
I'm especially happy this week because I've been in my happy place. Where's my happy place, you ask? It's anywhere where sun, palm trees and sand are abundant.
For spring break, we headed down south to visit my parents and aunt and uncle near South Padre, Texas. We have been making this trip yearly over spring break for the past ten years. The timing is always perfect, because it's this time of year when I am craving warm weather and sunshine, and Texas sure has plenty of that to go around!
While in Texas, I enjoy waking up every morning and sitting out on the patio, under the palm trees, drinking my coffee. I need to figure out a way to make palm trees something I see every morning. Just seeing palm trees lining the sky line puts me in an instant, happy mood. Unfortunately, we don't have that many palm trees in Kansas. Looks like we need to move!
Since moving isn't most likely in our future, I'm determined to make where I am my happy place. I jotted down some of the things that make me happiest in Texas (quality family time, slow mornings outside, walking more than driving, etc) and I am making sure that each day I add a little bit of Texas happy to make Kansas happy.
Where is your happy place? What are some of the things that make it your happy place? If it's not where you are every day, what are some of the things you can incorporate into your day to make your current place, your happy place? I'd love to hear some of your ideas!
Now, let's move on to things that made me happy this week!
This is my happy lunch. Seriously…I could eat it every, single day! Unless it's Easter…then I'll take a batch of these, please.
I had the most amazing time volunteering at this restaurant style soup kitchen last week. In fact, it was such an incredible experience, I've gathered up a group of friends to go with me next week, and plan on volunteering there several times each month. I definitely was able to Rock My Happy there!
This ad
is haunting, inspiring, and emotional all in one. Wow.
Esther may be 600 pounds, but she's the happiest 600 pounds I've ever seen!
We need more selfless people like this one in the world. What a gift!
My brother's wife (Ginger) finished her final radiation treatment this past week and our dear friend, Angie, has her last chemo treatment this week, then surgery. We're praying for clean scans for both. According to my notes from the universe, good news is coming their way. I believe!
Work has been very full lately, and because of it, I've had to nail this focusing technique down. It works!
This is a really great reminder (and a really neat idea for a store).
I have read SO many great books this past week! I'll get a blog post up about them this weekend, but if you want some good reading material for the weekend, check out my Goodreads recently read shelf.
A quick thank you to all of you who have sent me such nice messages about this weekly newsletter. It makes me happy that it makes you happy!
Well, that's it for this week, friends! I absolutely love hearing from you all each week! Hit reply and let me know how you are doing and what's making you happy!
I hope you have a great weekend!