10 great books to add to your to be read list today!
A few of the people over at 43 Things decided to join a challenge put on by Miz B of the Literary Cache Blog. This challenge is to read at least one book each month from your ever growing "To Be Read (TBR) Pile". You know… the stack of books sitting by your bed, on your night stand, on your coffee table, by your desk, etc. that keeps growing and growing because you keep finding more and more books that you want to read. You go into Barnes and Noble with every intention of just browsing, and come out with a sack full of books you just couldn't resist. Yes…. you, like me, have a compulsive book problem. Well, I'm going to finally do something about it and start making a dent in the pile. If you want to join me, go to the Literary Cache Blog and join in the fun. Come on and do it… you know you want to!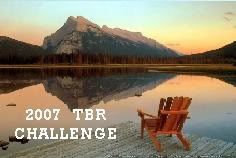 I went through my To Be Read pile this morning and picked out the following books for the challenge. I may change the order at some point (if that isn't against the rules), but for now, here's what I've come up with:
1) The Glass Castle by Jeanette Walls
2) The Tenth Circle by Jodi Picoult
3) The History of Love by Nicole Krauus
4) The Coal Tattoo by Silas House
5) The Ha-Ha Novel by David King
6) Vows: The Story of a Priest, a Nun, and Their Son by Peter Manseau
7) Things Unspoken by Anitra Sheen
8) Shadow Baby by Alison McGhee
9) A Private Hotel for Gentle Ladies by Ellen Cooney
10) The Emperor's Children by Claire Messud
11) After This by Alice McDermott
12) How to Be Lost by Amanda Eyre Ward
I'd love to see what's in your arsenal of books you want to read this year! Leave a comment and let me know.
This post contains affiliate links, which at no cost to you, helps me to buy even more books! For more of my favorite books and books I want to read, check out my Book Reviews category on Dine & Dish and let's become friends on Goodreads!