Comfort food in the form of this Baked Homestyle Mac and Cheese Recipe! Make up a batch today and feel comforted from the inside out!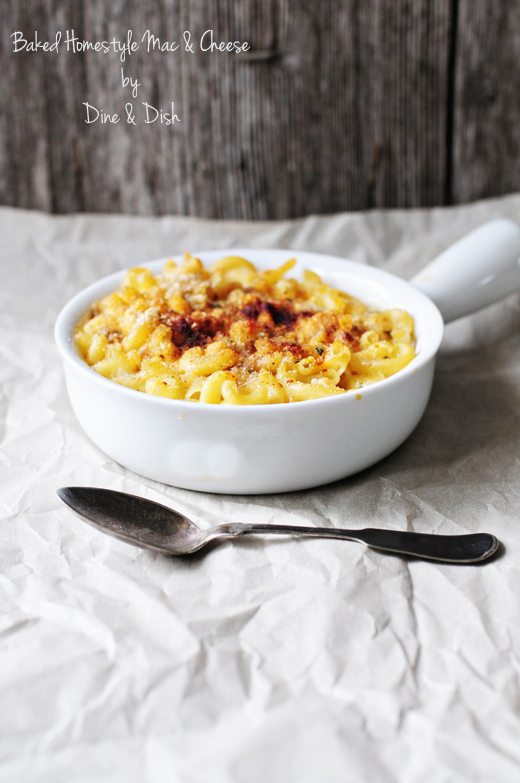 This giveaway is now closed. Congratulations to the winner, Erin from Erin's Food Files!
I know when you think of summer, and the hot temps we've been having, the last thing you think about is turning on the oven…but I'm going to change your mind with a dish that is well worth heating up your house for. This homestyle Baked Mac and Cheese recipe! Outdoor barbecues require kid-friendly fare and no matter how many pasta salads or veggie trays you have, kids want what they love and kids love Macaroni and Cheese!
I'm bringing this mac and cheese recipe to you as part of the Summer Braise Party with Tickled Red and In Sock Monkey Slippers. We thought it would be fun to share how we do barbecue and beyond in our various regions of the US. Make sure to check out Shari's Yogurt Vinegar Cole Slaw and Meredith's Chipotle & Lime Roasted Potatoes for other great side dish ideas!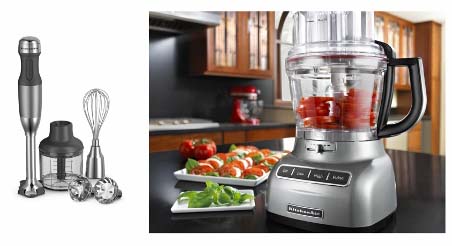 Our friends at KitchenAid wanted to get in on the fun and have generously partnered with Shari, Meredith and I to bring you an opportunity to win either ONE of TWO 5-Speed Hand Blenders  or ONE 13-Cup Food Processor.
5-Speed Hand Blender Blend, Puree, Chop, Shred, Mince Froth/Mix and Whisk/Emulsify/Aerate – Easily blend smoothies, chop nuts, froth cappuccinos, shred vegetables or whisk egg whites with greater control. The Industry's First Interchangeable Stainless Steel Bell Blade Assemblies and FIRST EVER Removable Pan Guards. Change easily between different types of blades with no hassles or tools. The removable pan guard attaches easily to the bells and helps prevent scratching on cookware.
13-Cup Food Processor features the first-ever externally adjustable slicing lever in a counter top food processor. It adjusts from thick to thin slicing and the optimized speeds help process soft to hard foods. The 3-in-1 Ultra Wide Mouth™ Feed Tube accommodates a variety of sizes of food.
Imagine how much easier these would make your summer sides prep! Thanks, KitchenAid!
KitchenAid Giveaway Details
RULES
(1) participant from In Sock Monkey Slippers, (1) participant from Tickled Red, & (1) participant from Dine & Dish will be randomly chosen to win one of the three KitchenAid items listed above. Once the giveaway has ended the three winners will discover which prize they have won. US residents only, please.
GIVEAWAY CLOSES 7-16-2012 at 12pm EST
TO ENTER

1. Leave a comment at the end of this post letting me know what your favorite side dish is that you make for a BBQ…is it a mac and cheese recipe or something else entirely? (Please feel free to add a link to your comment if you are a food blogger).
2. Tweet: Sharing my BBQ Side Dish w/@DineandDish @SMonkeySlippers & @iamtickledred – Enter Triple @KitchenAidUSA #Giveaway! http://bit.ly/NavmOV be sure to come back and let us know that you tweeted by commenting on this post.
That's it! If you do the same over at Tickled Red & In Sock Monkey Slippers you'll TRIPLE your chances of winning. Good Luck!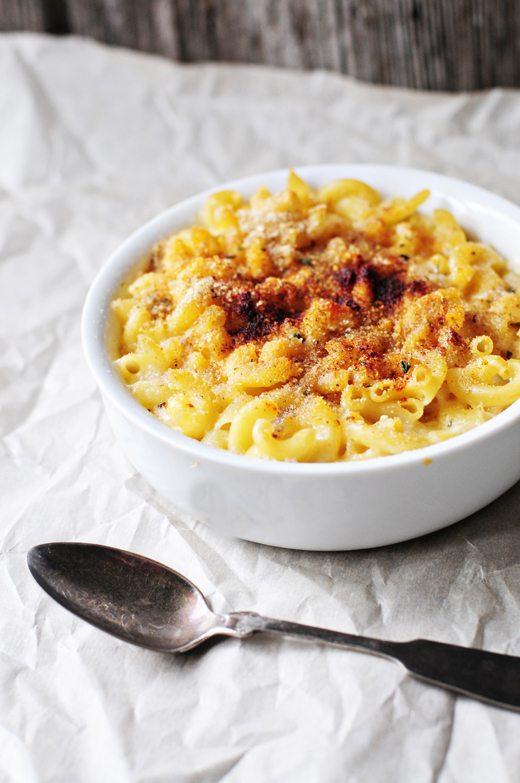 Now for the Baked Homestyle Mac and Cheese recipe….
Baked Homestyle Mac & Cheese
Adapted from the Sacred Heart of Shawnee Church Cookbook
Ingredients
• 8 ounces uncooked elbow macaroni

• 1/4 cup butter

• 2 1/2 tablespoons all-purpose flour

• 3 cups milk

• 1/4 teaspoon Kosher salt

• ¼ teaspoon cracked black pepper

• 2 cups shredded Cheddar cheese

• 1/2 cup grated Parmesan cheese

• 2 tablespoons butter

melted

• 1/2 cup bread crumbs

• 1 pinch paprika
Instructions
Cook macaroni according to package directions. Drain.

In a saucepan, melt ¼ cup butter over medium heat. Stir in flour to make a roux. Add milk to roux slowly, stirring constantly. Continue by adding salt and cracked black pepper.

Stir in cheeses, and cook over low heat until cheese is melted and the sauce has thickened. Place macaroni in large casserole dish, and pour sauce over macaroni. Stir well.

Sprinkle bread crumbs over the top of the macaroni and cheese mixture. Drizzle with melted butter. Sprinkle with paprika.

Bake at 350° for 30 minutes. Serve.
Disclosure: A special thanks to KitchenAid for providing the reader giveaway items for this event.