Here are my September 2018 book reviews, which includes a book by John Boyne that has pushed its way into my top ten favorites.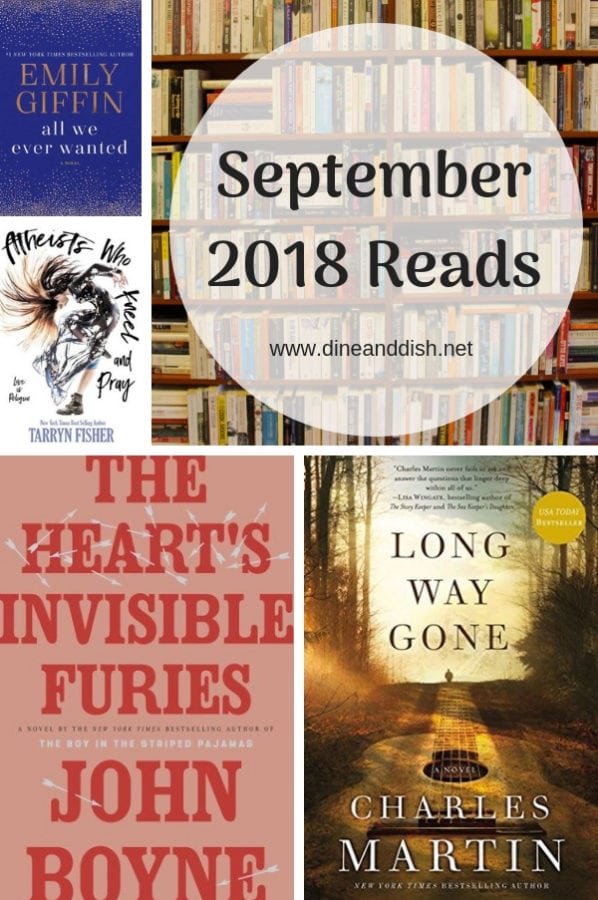 Hello! I'm here today with my monthly book review update. It was a slower reading month for me, simply because one of the books I read was huge.
If you know me at all, you know it's rare for me to have the attention span to be able to get through a large book. I really like my books to be average in size. If it's anything bigger, the thought of getting through the book overwhelms me.
With that said, I am so very glad my friend Kelley raved about this big book because it ended up pushing itself into my top 10 favorite books. Can you guess which one it was? Keep reading to find out!

Before we start, if you love chatting books…
Let's be friends on Goodreads! In addition make sure to follow my 2 Minute Book Chats on Instagram. Books are my favorite thing to chat about, so anytime you want to talk about what you've read, reach out! I'm always looking for recommendations from friends and willing to share what I love as well. Now, let's move on to my September reads.
All We Ever Wanted by Emily Giffin is so timely for what our nation currently experienced with the Kavanaugh hearings. I finished All We Ever Wanted the day before Christine Blasey Ford began her testimony and was shocked at the parallels between the book and our current reality.
In All We Ever Wanted, the Browning family is very affluent, with son Finch in a prestigious private school heading to Princeton upon graduation. Tom Volpe is a single father living "on the other side of the tracks". His daughter, Lyla, attends the same private school as Finch, but only thanks to a full ride scholarship.
The world of these two families collide when a inappropriate picture of a scantily clad, passed out Lyla is taken at a party and distributed around the school by Finch, with a racist caption included. As the story plays out, we find out just how much wealth and power can drown out assault allegations, especially when a less than affluent party is involved.
I gave All We Ever Wanted 3 1/2 stars. 4 stars for the first half, 3 stars for the second half. I really enjoyed this book but felt like it kind of fizzled out in the end. You can purchase this book on Amazon by clicking here or add it to your Goodreads by clicking here.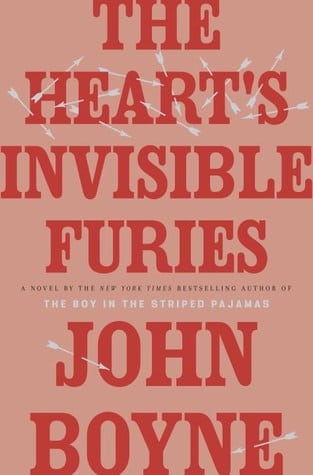 If you have read anything by John Boyne, then you know what a masterful storyteller he is. He has a way with words that grabs your heart and won't let go. The Boy in the Striped Pyjamas is one of his books that still sits heavy with me today.
In The Heart's Invisible Furies, John Boyne tells the story of Cyril Avery, an illegitimate child born in 1945 Ireland. Told from Cyril's perspective, we follow along from the events leading up to his birth through to when he is an old man. Near the beginning, we find out that Cyril is gay, but because of the persecution of gay's in Ireland at the time, he hides it from everyone he knows, including his best friend. He lives his life never able to truly be who he is.
Cyril's life is not an easy one, and as readers, we intimately live with the difficulties he faces in each chapter. This is a hard book to read but incredibly important. I found myself crying often, unable to suppress the emotions felt by John Boyne's storytelling. This story will give you a deep perspective on life and how you treat others. It will make you want to be a better human and when it's over, you'll grieve the characters as you say goodbye.
The Heart's Invisible Furies by John Boyne has moved up to one of my top ten favorite books ever. (If you have difficulty reading about gay men and are offended by language, this is not the book for you). You can purchase this 5 Star book on Amazon here or add it to your Goodreads shelf here.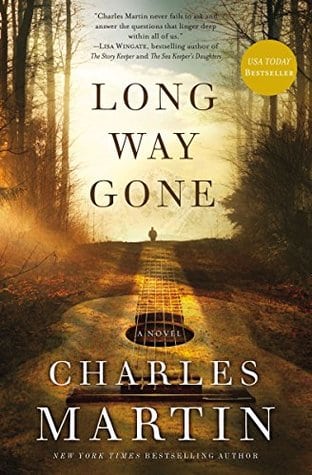 Are you surprised that I have another Charles Martin novel on my list this month? I found several of his books free on Hoopla, so have been devouring everything I can of his. He is one of my absolute favorite writers.
Long Way Gone is based on the parable A Prodigal Son, but is told in a more modern day way. Cooper O'Conner is the prodigal son and a gifted musician, destined for stardom. Against his father's wishes, teenage Cooper leaves his family behind and sets out in search of fame and fortune. Along the way, he discovers life can be more complicated than it seems, but is too prideful to return home. Overall, Long Way Gone chronicles Cooper's life of self discovery. It's a story of family, love, loss, and forgiveness, told in a way only Charles Martin can.
Long Way Gone takes place mostly in the Leadville, Colorado area, which is where we spent much of our vacation this summer. I love reading books and being able to picture the setting so clearly. It makes me feel like I'm there.
I gave this book a rating of 3 1/2 stars. It was a 3 at the beginning just because it was slow to get into. By the halfway mark it was definitely a 4. If you love Charles Martin, you'll definitely want to read Long Way Gone. You can purchase it on Amazon here or you can add it to your Goodreads shelf here.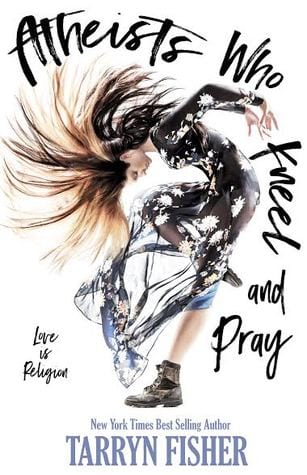 I discovered this book on Instagram when a user was talking about their favorite books with a band title. It was compelling enough, the reviews were strong and I the plot seemed like one I'd love. To be 100% honest, I only gave Atheists Who Kneel and Pray 2 stars but it followed the John Boyne book, so was at a disadvantage from the get go.
Atheists Who Kneel and Pray is about Yara, a 20 something who shies away from commitment. She doesn't believe she deserves to be loved. David, the lead singer of the band Atheists Who Kneel and Pray, comes into her life and convinces Yara that she is meant for love. He puts everything he has into loving her completely and they quickly marry, only for Yara to up and leave in a fit of jealousy after just a few months.
This story is good but there are too many gaps for me to love it. I never really connected with Yara and didn't understand why, when she loved David completely, she felt the need to run. With that said, this book has a lot of fans and if you love angsty love stories you will most likely love this one. Plus, Tarryn Fisher has a bit of a cult following, so I can wait to dive into more of her books. You can purchase Atheists Who Kneel and Pray on Amazon here or add it to your shelf on Goodreads here.
Leave a comment letting me know what great books you've read lately!
I already can't wait to share my October books with you. My month has started off with a bang of great reading.
Disclosure: This blog post contains affiliate links. As an Amazon Associate, I earn from qualifying purchases.