A simple and healthy bowl recipe featuring cauliflower rice, California Avocados and Chili Lime Chicken.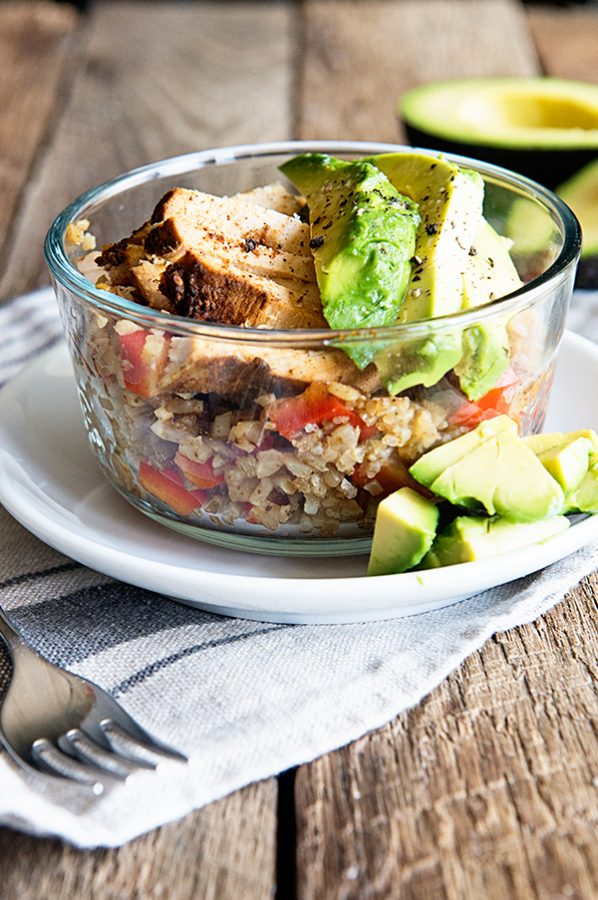 I can't remember if I told you all that early in the year I changed my eating to be a low carb, high protein, low sugar, no alcohol, plenty of good fat kind of thing. I always thought that limiting carbs would be hard, but it hasn't been too bad. I mean, don't get me wrong… there are days where a giant bowl of pasta would make me incredibly happy, but I've managed to resist carbs and sugar for the most part. Combined with a good exercise regimen, this new way of eating has helped me to drop those nagging pounds that have crept up on me since turning 40.
Through all of this I've also discovered that I'm very much an abstainer versus a moderator. If I know I can't have something, then I don't. If I was trying to just moderate, I know I'd be fixated on when I could have that food again and it wouldn't work for me. I've got to just completely eliminate to be successful. I truly think abstaining is best for people like me with zero self control 🙂 I'm not proud of that, but it's the honest truth.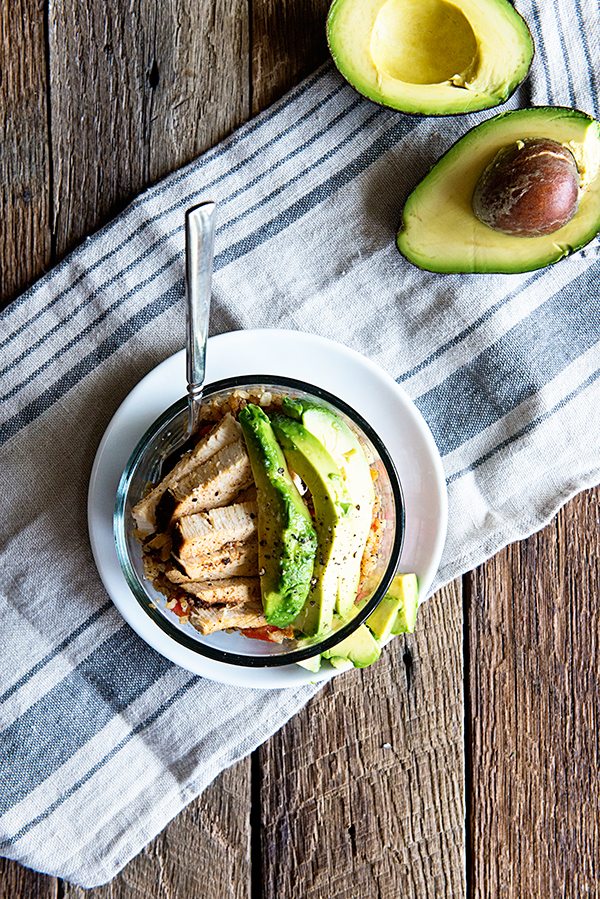 One food item I've discovered that has made my low carb life so much easier is cauliflower rice. I buy the fresh cauliflower rice in a package from Trader Joe's (but you can certainly make your own). Sautéed in a little bit of coconut oil, it makes a great base for any of my favorite seasonings and toppings!
In addition, one thing my nutritionist encourages me to eat every day is avocados, to get plenty of that good fat in. It's a good thing I love California Avocados as much as I do because they are a daily part of my life…whether for breakfast, a quick lunch or dinner, California Avocados provide the good healthy fat I need.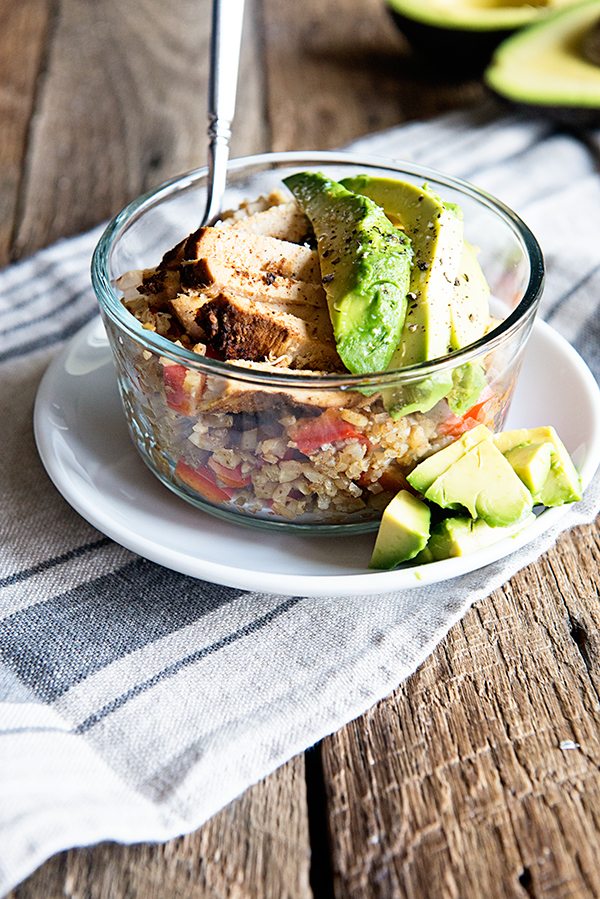 Since June is California Avocado Month, I should have no problem celebrating the great avocado with my meals! And hopefully simple meals like this Cauliflower Rice Bowl with Chili Lime Chicken and Avocado gives you ideas for how you can celebrate too.
The recipe I'm sharing today is a variation of what I have for lunch almost everyday lately. It's filling, healthy and tastes so good I never feel like I'm missing out.
The key to my success with eating this way has definitely been advance preparation. I know no one wants to hear that, but truly…having foods ready and on hand that I can fill up on is the number one reason I've been doing decent with eating low carb. Anyway, each week I try and make a big batch of chicken for salads, cauliflower rice bowls, lettuce wraps and more. This Chili Lime Chicken recipe from Carlsbad Cravings has been my go to now for awhile. I make it without the brown sugar and love how versatile it is!
I hope you enjoy this recipe, and incorporate it into your June celebration of California Avocado Month!
Cauliflower Rice Bowl with Chili Lime Chicken and Avocado
A simple and healthy cauliflower rice bowl with chili lime chicken and California Avocados - this recipe is for 2 but can easily be adapted to serve more!
Ingredients
1

California Avocado

sliced

1

teaspoon

coconut oil or olive oil

2

cups

fresh cauliflower rice

1/2

cup

red bell pepper

chopped

1

teaspoon

chili powder

1

cooked and warm Chili Lime Chicken Breast

cut into slices (recipe here)

Kosher salt and fresh black pepper

to taste
Instructions
In a medium skillet, heat coconut oil to medium heat. Add cauliflower rice, red bell pepper and chili powder. Stir together and sauté for 6 minutes, or until bell pepper is tender.

In two medium bowls, assemble cauliflower rice mixture topped with sliced chicken and sliced California Avocados. Sprinkle with Kosher salt and fresh black pepper, to taste.
Disclosure: This is a sponsored post on behalf of California Avocados. For additional recipes and cooking tips featuring California Avocados, please visit their website.