A simple pasta side dish tossed in a tasty California Avocado Cream Sauce.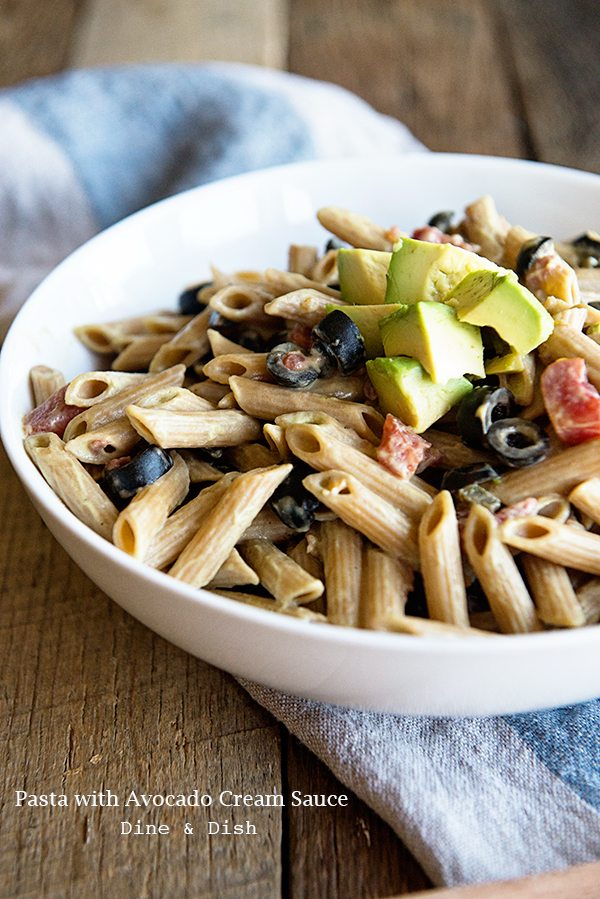 I struggle BIG TIME with side dishes. I can plan the main dish or dessert, but the side dish is often a second, absentminded thought at our dinner table.
I can open up and heat a can of green beans, toss a salad together, or steam some rice, but after all of the effort put into the main dish, I really don't want to think much beyond that. Surely I'm not the only one, right?
It was only recently after seeing Gaby from What's Gaby Cooking do some really simple "cook, open, toss" side dishes on Snapchat (I'm having a ball over there join me…I'm dineanddish) that I decided to up my side dish game a bit. In fact, lately I've been making some pretty awesome side dishes that could also easily be a main dish too! This Pasta with California Avocado Cream Sauce recipe is one such side dish super star.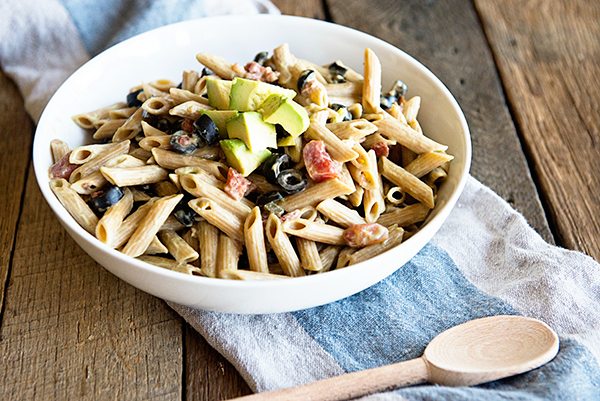 The secret to this yummy side dish recipe is the California Avocado Cream Sauce. It's the only part of the recipe that requires any effort besides opening a can, and even this amount of effort is do-able. I promise!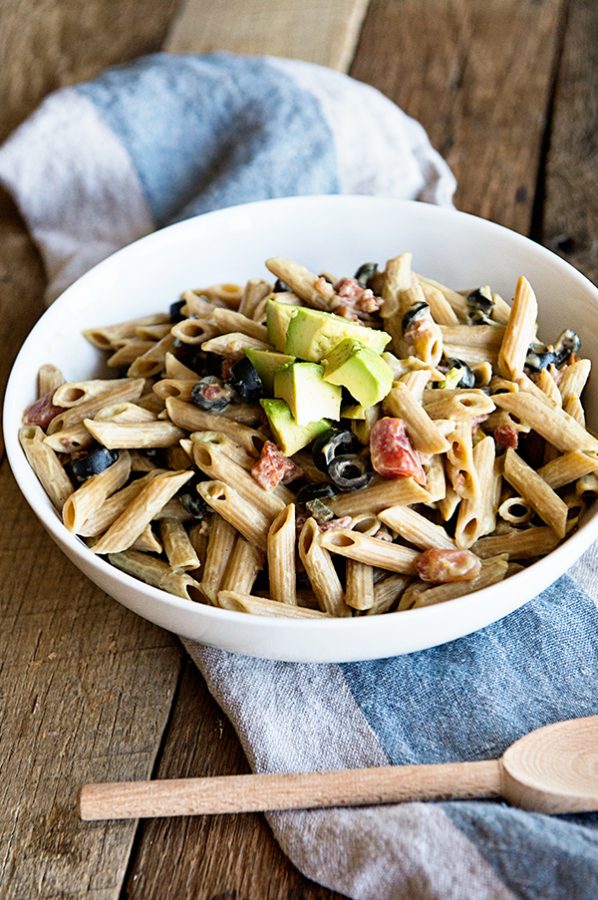 In addition to the sauce made from fresh California Avocados, I tossed in a can of Rotel diced tomatoes and chilie's as well as some sliced olives. The result is a pasta dish good enough to stand on its own, or to step aside as an amazing side. I hope you enjoy it!
Do you need a main dish to go with this awesome side? Try these:
Pasta with California Avocado Cream Sauce
A simple side dish recipe easily comes together when you toss a creamy California Avocado sauce together with whole wheat pasta, olives and diced tomatoes and chilies.
Ingredients
1

ripe California Avocado

peeled and seeded

1/4

cup

light sour cream

1

teaspoon

lime juice

2

Tablespoons

extra virgin olive oil

salt and pepper to taste

1

pound

whole wheat penne pasta

10

oz

can Rotel

diced tomatoes and green chilies, drained

2.8

oz

can sliced black olives

drained
Instructions
Place California Avocado, sour cream, lime juice, olive oil, salt and pepper in a blender and blend until smooth and creamy.

In the meantime, cook pasta according to package directions.

Once pasta is done cooking, drain immediately and toss with creamy avocado sauce, Rotel tomatoes and green chilies and sliced black olives. (Do not rinse pasta or allow pasta to cool before tossing).

Serve hot.
 Disclosure: This is a sponsored conversation on behalf of California Avocados. All opinions expressed are my own. For more side dish recipes or other fresh recipes featuring California Avocados, please visit their website recipe page.