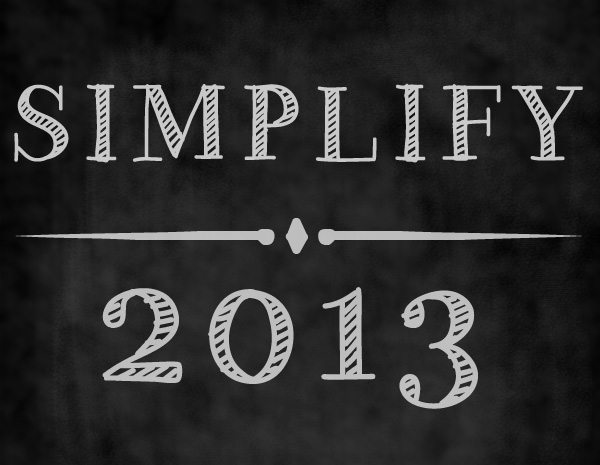 Happy New Year! What? I'm a week behind? The new year actually started last week?
Oh, I know, but I'm counting today as my new year. You see, the kids went back to school today and I always feel like I can't really get started with all my new year plans until they are out of the house. So, cheers to you! Raise a glass and let's celebrate the start of 2013!
Each year, I've blogged about my "word" for the year. A couple years ago it was "HAPPINESS", last year it was "CONNECT" and I've decided that this year, my word is going to be "SIMPLIFY".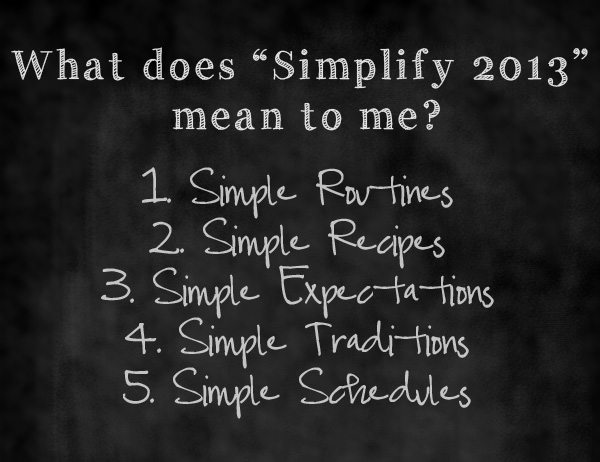 I chose the word "SIMPLIFY" this year because getting back to basics and eliminating the physical and emotional "crap" in my life is important. I know that when I keep things simple, I'm happier and therefore my family is happier. Simplify in 2013 means:
Simple routines: Getting back to basics with FlyLady… not feeling like I need to do it all, but doing enough to keep things maintained. Simplifying means returning to simple cleaning routines, exercise regimens, regular menu planning, and family routines, etc. This includes regular de-cluttering and organizing times – which I need to implement desperately.
Simple recipes: As a food blogger, I often feel like I need to go all out with the recipes I create. I need things to be "blog worthy" and "pinteresting" for Dine & Dish content. Because of that, I find myself forgetting about family favorites… simple recipes that we've enjoyed for years now, and moving towards more elaborate recipes that will make my readers happy. Well, I'm sorry if this disappoints you, but in 2013 you are going to see more basic recipes… less pinteresting and outrageous recipes, more simple and my family friendly recipes.
Simple expectations: I tend to have expectations of people and things that are fairly unrealistic. This year, I'm focusing on keeping my expectations of others in check, deepening relationships with people who are important to me, and bidding farewell to those who drain me.
Simple traditions: While we were sick over the Christmas break, I discovered how my kids don't need a lot to feel entertained. Board games, books, a shake up in meals (eating in front of a movie one night), etc….simple things like that made them really happy. Inspired by my friend, Amy Clark's, new book, "The Good Life For Less: Giving Your Family Great Meals, Good Times and a Happy Home on a Budget", I've decided that simple things done together as a family are so much more important than elaborate. I look forward to establishing more traditions, like family game nights or Friday pizza nights… simple traditions that are certain to bring about a lot of happiness.
Simple schedules: For the past 5 years or so, I feel like I've kind of flown by the seat of my pants. Working from home, I never really established a schedule. Well, I know that a schedule will help me to simplify my life and will also make me happy, so I'm going to try implementing a simple schedule into my work day. I am also going to continue learning the fine art of saying no to things that don't fit into my schedule or don't fit in with simplifying my life. Choosing discomfort over resentment is a motto I love and want to live by.
I feel like time is slipping by so quickly, so I'm hoping that by simplifying my life some, I can have a better focus on the things that are most important to me… my family and friends.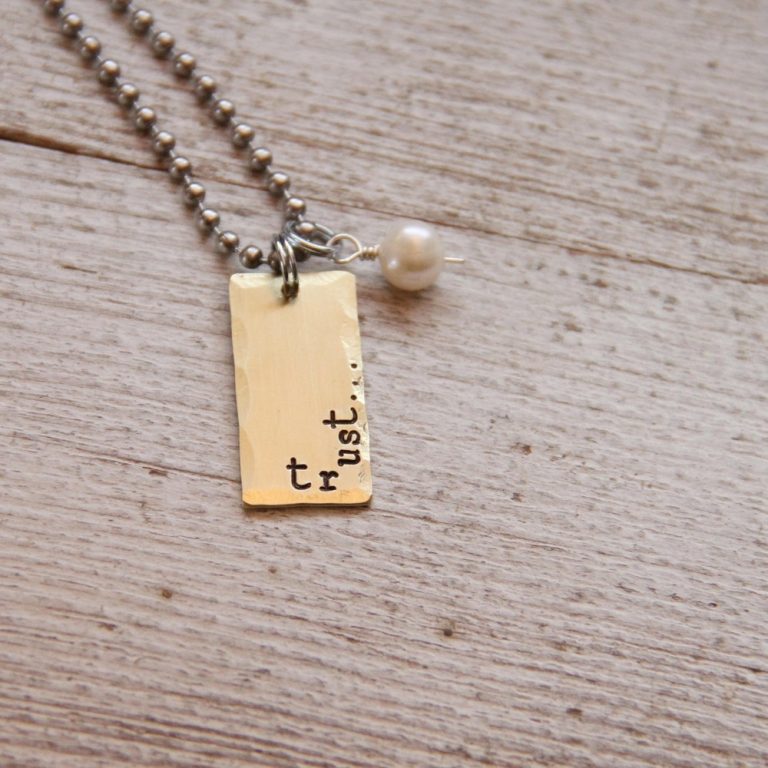 So, enough about me… let's talk about you! What is your focus for 2013? Is there any one word that you hope will guide your year? If so, would you like to have a gorgeous necklace from The Rusted Chain to commemorate and remind you of your focus? Last year I had a "Connect" bracelet… it was such a nice, subtle reminder for me of what my focus was. This year, my friend Beki offered to send me a "One Word" necklace with my word for the year. It's so gorgeous and I'd like to give you one too!
First, can you stop by and follow The Rusted Chain on Facebook? I'm sure Beki would love to have you! She has giveaways all the time I'm sure you'd love to know about!
Rusted Chain "One Word" Necklace Giveaway Details:
Now, to enter this giveaway for (1) "One Word" necklace in gold or silver from The Rusted Chain, simply leave a comment on this post letting me know what your word or focus for 2013 is going to be.
For additional entries share a link to this post on your favorite social media sites (Twitter, Facebook, Google+, Pinterest). For each share, leave an additional comment on this blog post letting me know what you've done.
Giveaway will end at midnight, CST on Monday, January 14th. Winner will be chosen via Random.org and notified via a valid email address.
Thanks for entering and happy new year!
Disclosure: This blog post contains affiliate links. As an Amazon Associate, I earn from qualifying purchases.