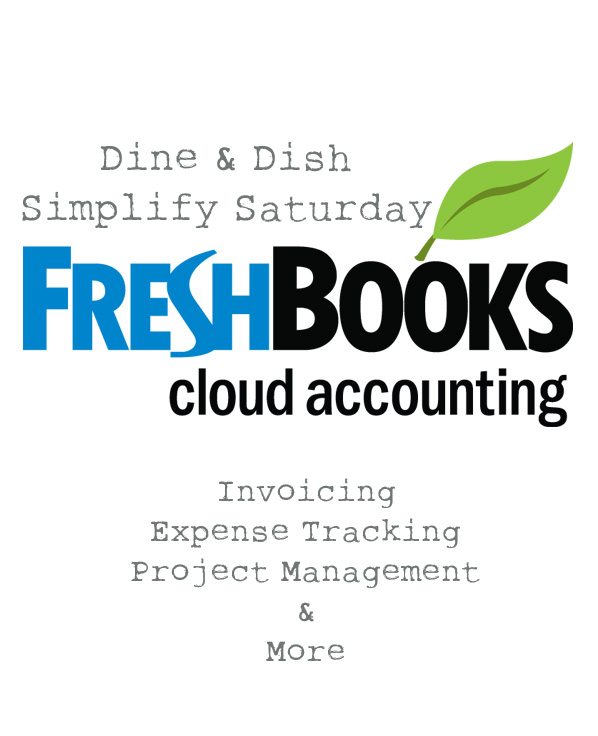 Today's Simplify Saturday post is for all of you knee deep in getting your expense and income stuff together for dreaded tax day. It's not a task I love at all, but thanks to FreshBooks, I finally have found a simple cloud based system that works for me.
Small business owners, freelancers, bloggers, photographers… those of you who need a professional, affordable system for invoicing, expense tracking, reporting and project management, I'm happy to introduce you to Freshbooks.
I'm not a numbers oriented person and have never been very good at record keeping. As my freelance writing and photography business grew, I knew I needed to find an invoicing and tracking system that was user friendly and easy to use. I tried several things from Quickbooks to a simple excel spreadsheet, but the only one that seemed to provide everything I was looking for at a price I could afford was FreshBooks.
Here are some of the things I really like about FreshBooks:
I like that the invoices can be customizable – so for me that means I can send something professional (and pretty) out to my clients.
I can send my invoices through Freshbooks as an email, attached to an email as a pdf file or snail mail. There are options for whatever your clients prefer.
Freshbooks offers an "invoice autobiography". This is probably one of my most favorite features. When you are in your portal on FreshBooks and have an individual invoice open, you can scroll down to the history and see when you sent the invoice, when the invoice was opened and viewed by the client, if they forwarded the invoice on to someone else, when it was paid, etc. It is a level of reporting that I couldn't find with other systems. Let's face it, clients get busy and sometimes forget to pay you. If they give you the excuse that they never received your invoice, you can go into the invoice and let them know exactly when it was sent and viewed (and re-send it again if they need it). I love that!
Clients can pay you by check, or within each invoice you can set up the option for them to pay you online, via PayPal.
Until Freshbooks, I had a really hard time keeping track of business expense receipts. Now, using the Freshbooks iPhone app, I simply take a picture of a bill (say, post lunch meeting), and then save to expenses in my FreshBooks account. Then, I attach it (and all my other captured expenses) to the invoice(s) when it's billing time. This is such a simplify my life feature – I love it so much!
Since my Freshbooks account is in the "cloud" I can access it anywhere I have a computer and internet connection. I also have the Freshbooks iPhone app, which means I can do all of this on the go!
Reporting…. Freshbooks has so many great options for reporting (see above for a sampling). I love that at tax time, I simply create an annual expense report for my accountant, attach it with my receipts and just like that, I have all my ducks in a row for him to prepare our taxes.
One look at the Dashboard when I log into FreshBooks gives me a great overview of where things stand with outstanding payments, payments received, expenses, etc. FreshBooks has a beautiful, easy, user friendly interface.
Customer service is a number one priority at FreshBooks. If you have a question or need a problem solved, there is always someone there to help you along.
Freshbooks is affordable. There is a free trial and for up to 3 clients Freshbooks is free. I pay roughly $25 a month, and to me, it is worth every penny to keep the accounting side of my business in order.
FreshBooks Snippets:
This is not a sponsored post. The folks at FreshBooks have no idea who I am… I just really like and appreciate how their product has simplified my life and wanted to share it with you!

Disclosure: This blog post contains affiliate links. As an Amazon Associate, I earn from qualifying purchases.