Put that boxed brownie mix away…you won't need it anymore after trying this Skip the Mix Brownie Recipe!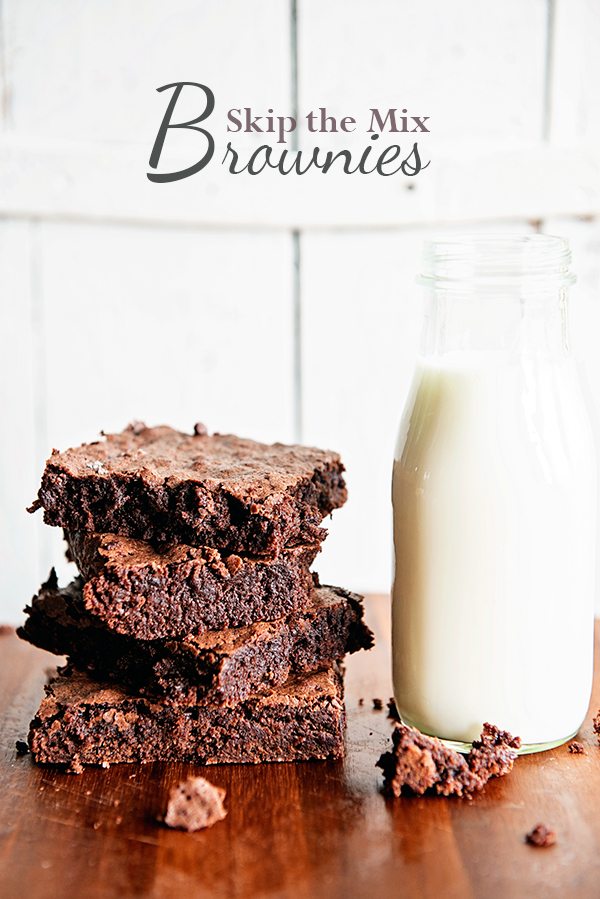 I've told you all before that when I first got married 15 years ago, I didn't really know how to cook. Frozen cookie dough, Hamburger Helper, etc. was pretty much the extent of things I'd attempt in the kitchen. Man, was I so proud of myself when my husband would compliment me on my exquisite skills with box mixes! In fairness, I was working 60+ hours a week in a highly demanding job and really didn't care to devote the time to cooking. I was perfectly happy with my slice and bake cookies and not so fancy convenience meals.
Then I had kids, and the continuous demand of my job went away as I decided to work from home part-time. Having kids opened up a desire in me to try a little harder to be domestic and to work on improving my skills in the kitchen. Slowly and surely, I tried different recipes and discovered that not only did I really like to cook, I was pretty good at it! And, as they say, the rest is history!
One of my favorite things to eat is brownies. But I am super picky about how I like my brownies! The tops need to have the perfect, light crust and the center needs to be just a little gooey…not really cakey, but not overly fudgey either. The perfect blend of the two is what I'm looking for in my ideal brownie recipe. Oh, I also like them to be sweet, not bitter… I can't stand bitter chocolate brownies. Those are the most disappointing things to bite into! And my final requirement? They MUST be easy… if it is any harder than opening up a box mix and preparing it, I want nothing to do with it. Brownies are meant to be quick so that your chocolate cravings can be fulfilled ASAP.
I made this brownie recipe for the first time right after Jacob was born. It was my first time attempting a brownie recipe instead of a mix. The awesome thing is, this is the first brownie recipe my daughter has made all by herself too! It certainly fits all of my requirements for a perfect, no fuss, delicious and easy brownie.
Next time that chocolate craving hits, skip the mix and give this brownie recipe a try! I promise, you'll love how quick and easy your chocolate craving gets fulfilled. Enjoy!
Skip the Mix Brownie Recipe
Skip the boxed mix and let these brownies cure your chocolate cravings!
Servings
12
large brownies
Ingredients
1

cup

vegetable oil

2

cups

sugar

2

teaspoons

vanilla

4

large eggs

1/2

teaspoon

baking powder

2/3

cup

cocoa powder

1/2

teaspoon

salt

1

cup

all purpose flour
Instructions
Preheat oven to 350°F

Prepare a 9x13 pan by spraying with non-stick cooking spray (I use PAM Baking Spray with flour).

In a large bowl, stir together the vegetable oil, sugar, vanilla and eggs with a wooden spoon until well incorporated.

Add the baking powder, cocoa powder, salt and all purpose flour to the bowl, stirring continuously until the batter is well blended.

Pour into the prepared pan and bake for 30 minutes, or until the sides of the brownies start to pull away from the pan.

Cool, then cut into squares and enjoy!
 Do you want more chocolate? Check out these awesome chocolate recipes from friends around the web: