This Slow Cooker Apple Butter Recipe cooks low and slow all day, making your house smell divine!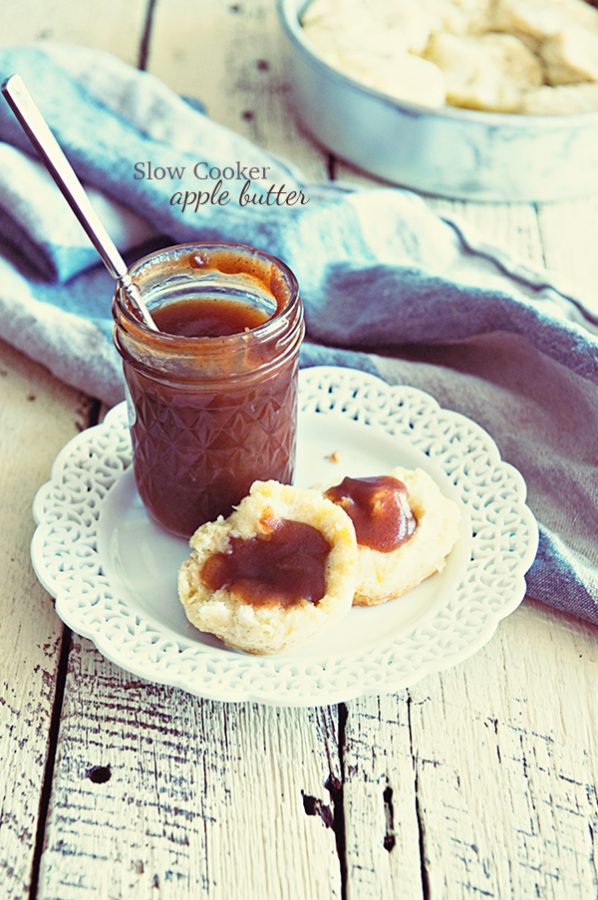 I absolutely love holiday breaks. I don't know what it is about them, but every day during winter break is like a Sunday… my family is home under one roof, no school or sports practices to rush off to. Mornings are slow, without the normal hustle and rush of needing to get out the door by a certain time. Evenings are leisurely, without the stress of spelling tests to study for and homework.
We all settle into our own activities, returning to hobbies that have been neglected, or binge watching shows that we haven't had time to see. I swear I also read more books in the few weeks of the holiday break than I do all year. Besides summer, Christmas vacation is my favorite time of year!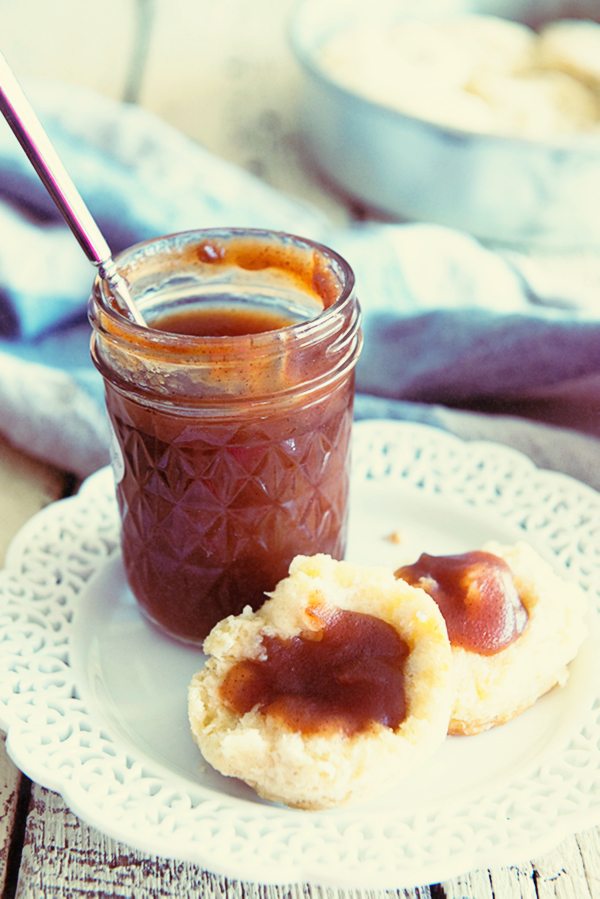 My cooking during winter break also takes on the tone of our slower days. I tend to get out our slow cooker more or make recipes that are more involved than normal. The joy of cooking returns when I take the time to appreciate and get back to my roots…not worrying so much about following recipes, but relying more on my instincts. It's a glorious thing!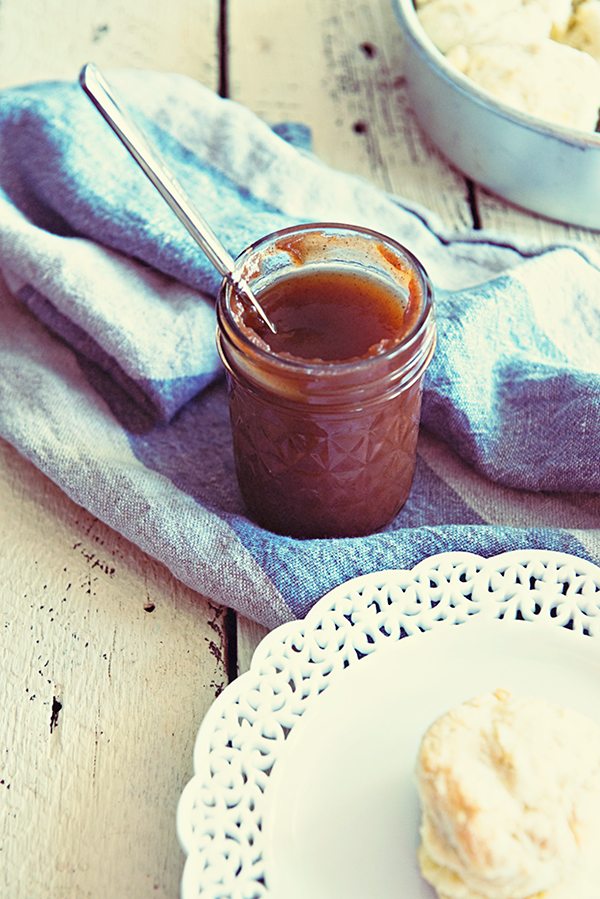 This leisurely morning I gave the Mile High Biscuit Recipe from Something Swanky a try, and pulled out a jar of homemade apple butter from the pantry. It was then that I realized I still haven't shared this awesome slow cooker apple butter recipe with you!
It's a gem of a recipe that is perfect to try when you have a little more time to spend in the kitchen…such as holiday break. My friend Julianne shared this recipe with me in the fall and I knew it was a keeper immediately. If you love homemade apple butter like we do, you'll love making this slow cooker recipe and savoring it on those rushed and not so rushed mornings! Enjoy!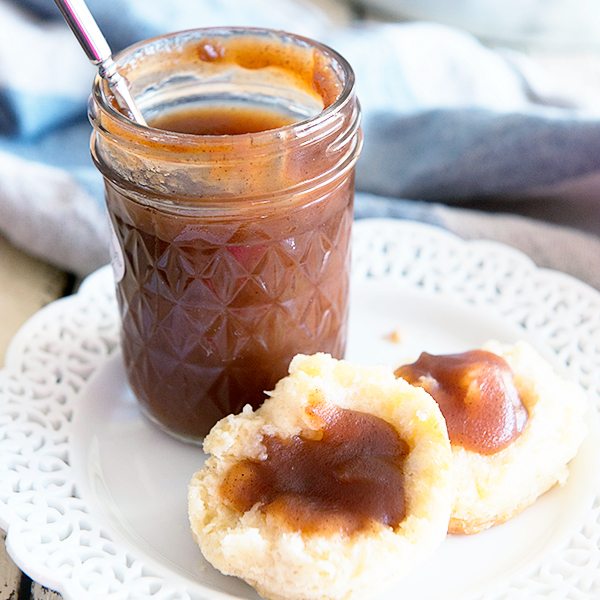 A few tips about this slow cooker apple butter recipe
When you make this slow cooker apple butter recipe, adjust the sugar content to your own desire for sweetness. We love sweet apple butter, but some people prefer more tart apple butter. The sugar amount can definitely be adjusted so feel free to cut back on the sugar some if that suits you.
Also, many people freeze the apple butter and then get it out when it's ready to be used. Freezing is just one additional way to make this apple butter goodness last all year long!
Slow Cooker Apple Butter Recipe
Make a batch of this slow cooker apple butter to share, but keep some for yourself as well. It's so good!
Ingredients
5 ½

lbs

Golden Delicious

Fuji or Red Rome Apples

3 ½ - 4

cups

sugar

2 -3

teaspoons

ground cinnamon

¼

teaspoon

ground cloves

¼

teaspoon

salt
Instructions
Peel and finely dice the apples. Place in a slow cooker.

Combine sugar, cinnamon, cloves and salt.

Pour over apples and mix well.

Cover and cook on high for 1 hour.

Reduce heat to low and cook for 9 – 11 hours until thickened and dark brown.

Use a hand held blender until smooth or pour into blender and blend until smooth.

Can be placed in containers and frozen or put in jars.
Notes
I take canning jars, place them in boiling water, take them out, place a funnel over the jar, ladle the hot apple butter into funnels until to fill the jars (leaving ¼- ½ inch gap ), place canning lids on the jars (making sure the rim of the jar is clean and no apple butter has gotten on it which will prevent it from sealing) and then tighten the bands over it. About an hour later, I hear a pop and know the jars are sealed.
If you love this slow cooker apple butter recipe, you might also like these recipes from around the web: