There seems to be two distinct camps when it comes to milkshake / frozen ice cream drinks. There is the one camp who thinks a milkshakes should be easily slurped through a straw, with just the right amount of effort, but not so much that you struggle. Then there seems to be the camp of people who firmly believe milkshakes are not something you drink… they are to be spooned out of their glass, no straw required.
I'm in the straw camp. My husband is in the spoon camp.
For me what it comes down to is this…I really don't want to have to work to drink my milkshake. It shouldn't be an exercise for my cheeks to try and pull the deliciousness through the straw… it should be an effortless experience. In short, I'm lazy.
If you are in the spoon camp (like most of the people who joined in on this conversation), I'm going to assume you love a good Wendy's Frosty. Am I right? No matter how hard you try, it is impossible to drink a Frosty with a straw… you must use a spoon! Spooners rejoice!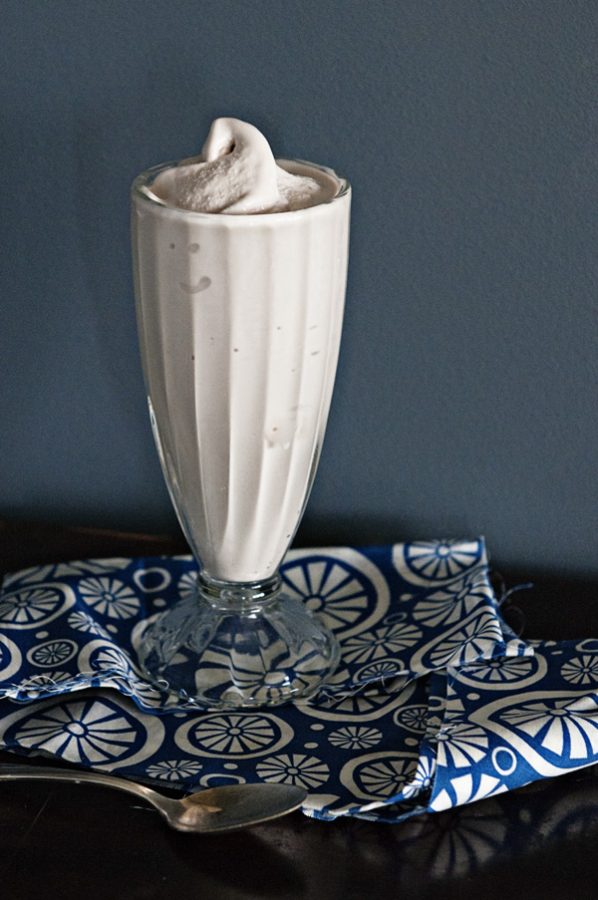 I got this recipe from Becky Austin over at Food.com. Becky made her version in one of the giant ice cream freezers. I just have one of those handy Cuisinart Ice Cream Freezers, so adapted it to fit what I owned.
If you love a good Frosty from Wendy's and are a spooner when it comes to milkshakes, this is one recipe you'll love! Enjoy!
Wendy
A special summertime treat. Adapted from
Food.com
Ingredients
6

ounces

Cool Whip

thawed

7

ounces

Sweetened Condensed Milk

1/2

gallon

chocolate milk

you may need a little less...just pour to the fill line on your ice cream maker
Instructions
Add Cool Whip and Sweetened Condensed Milk to the freezer bowl of your ice cream maker. Stir together until smooth.

Pour in chocolate milk, until up to the fill line on your ice cream maker. Stir together.

Turn on your ice cream maker and freeze for 30-45 minutes, or until Frosty is at desired consistency! Serve frozen, with a spoon.
Disclosure: This blog post contains affiliate links. As an Amazon Associate, I earn from qualifying purchases.