The months have been flying by and it seems to be leaving me with less and less time to do one of the things I love… which is to look through the blogs and photos of others and check out all of the awesome work out there.
I usually do this on my Facebook page, but I thought it would be fun to start a monthly favorites post here on Dine & Dish. I want it to be a place where we can share the work we are most proud of in the past month… whether that is a blog post, a photograph (even an Instagram) or something you've created.
If you aren't a blogger, but have read something that someone else did that you think is really fantastic, I'd love to see that here too!
So, in case I missed it over the past month, please share a link (or more!) to the work you are most proud of from the month of July. Ready? Great! I look forward to seeing what I may have missed. You can either leave the links in the inlinkz below or just leave a regular comment with the link.
Here are a few of my favorites from this past month: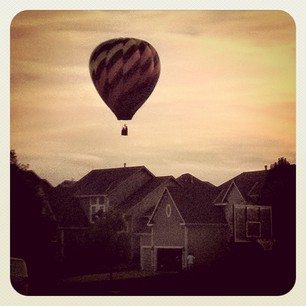 This was from just last night. The girls and I were hanging out in our front yard when this beautiful hot air balloon went directly over our rooftop! Freaked us out at first, but then we were all squealing in delight! Taken with my iPhone, I'm thankful to have been able to capture this moment.
The opening picture to this post is of my 2 year old and my parent's dog, Dolly. They are pretty much joined at the hip when visiting (much to Dolly's dismay). I love that I was able to capture Leah's love for her favorite dog, Dolly.
Although definitely not my favorite pictures, I would say I liked my post about the black book full of recipes the most from July. Sometimes I get away from the story telling and get too focused on just sharing the recipe. In that post, I was able to get back to sharing a story, and I hope it moved you all in some way!
Now it's your turn. Don't be shy. Click on the "Add Your Link" button below which is under the thumbnails of the ones already submitted (or just leave a comment in the comment section) and show us what you are most proud of from the past month! I can't wait to see it.