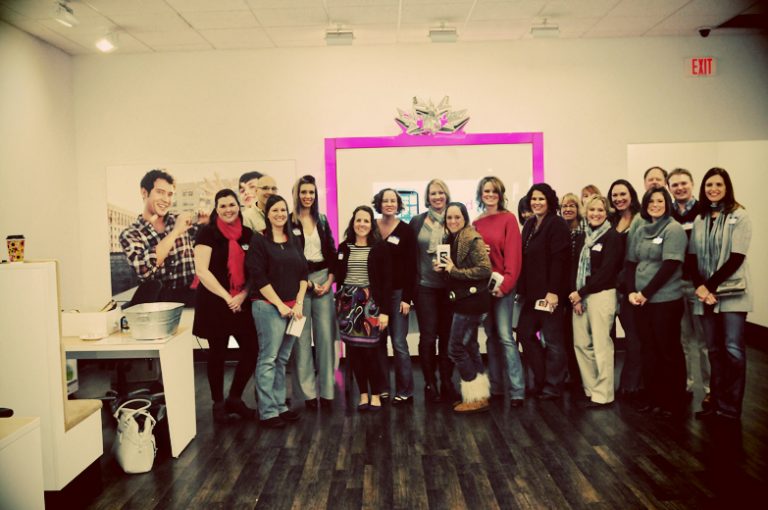 The fun group of guests at the T-Mobile Kansas City Holiday Event
This past Thursday I had a really fun opportunity to host a holiday event at a T-Mobile store location in Mission, KS. I was assigned to bring the food and the guests and T-Mobile was in charge of the fun… and boy did they deliver! We had a fun, delicious, information packed evening!
To start with, we had plenty of delicious food and drink. These festive cookies were created by my friend Ashley from My Cookie Affair. My friends at Green Mountain Coffee provided plenty of hot beverages for everyone to enjoy, which was nice because it was our first truly cold night of the season.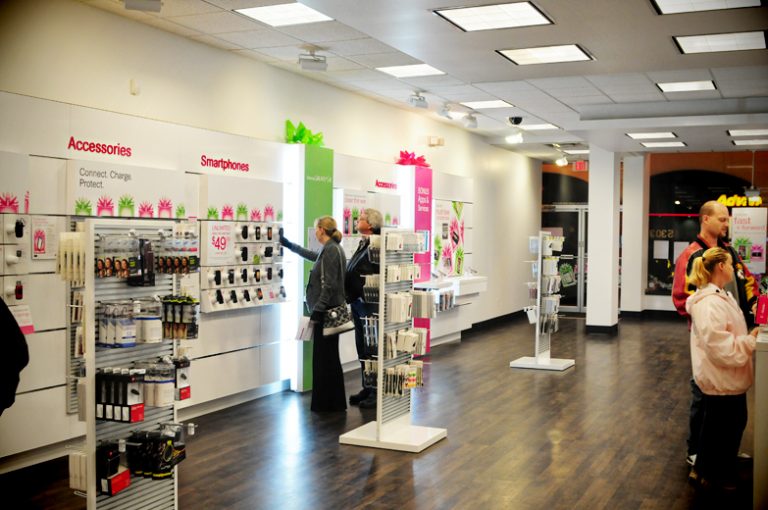 New T-Mobile concept store in Mission, KS – open, bright and comfortable!
As part of our night, the T-Mobile experts shared helpful tips on how to shop for mobile devices for those on your list. Selecting the right mobile device for someone can be difficult, but T-Mobile takes the guesswork out of shopping by asking important questions about the person you are buying for. With some simple information about your gift recipient, the T-Mobile "elves" can find the perfect device to match your needs.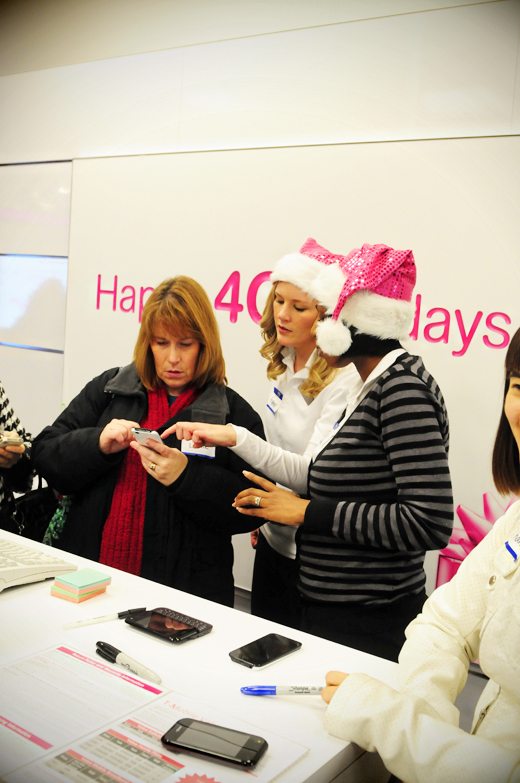 T-Mobile Elves take the mystery out of shopping for mobile devices!
One of my favorite plans I found out about at the T-Mobile event was their $15 a month, no contract, unlimited texting plan. If you have a teen who doesn't need a phone for calls but is a texting fool, this is a great plan for them! I also discovered by playing around with the MyTouch phone how great of a starter smart phone it is.. feature rich, yet perfect for a beginning smart phone user.
Courtney, Kris and Tracie strike a pose before the flying monkeys game!
It was a fun night and I am so glad to have had the chance to come together with other Kansas City friends to discover the great things T-Mobile has to offer. Oh – and no one left empty handed to our event. The winners of the games we played won the 5 MyTouch and MyTouch Q phones and the rest of us got to take home Holiday Survival Kit swag bags!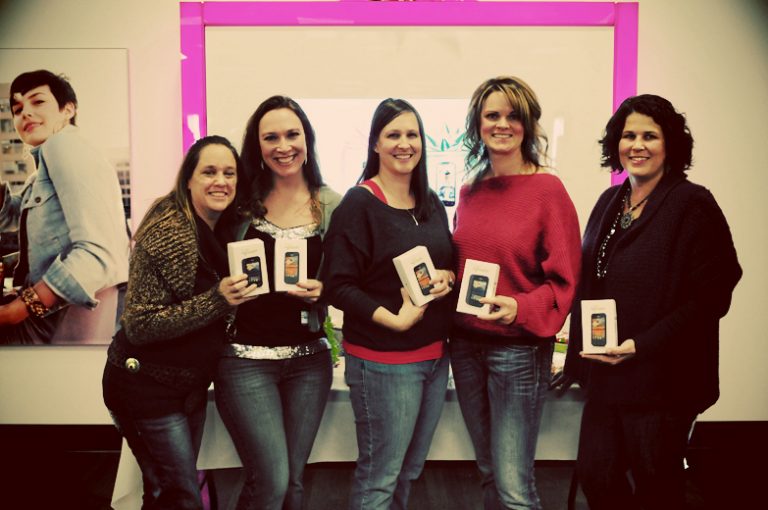 Michelle, Farrah, Carrie, Kelly and Jennifer show off their new T-Mobile phones!
A special thanks to T-Mobile for all the great shopping tips, the fun games and the giveaways! If you have a mobile device to buy, hopefully you'll consider stopping by your local T-Mobile to see if their experts can help mark one more person off your holiday shopping list.
This is a sponsored post on behalf of T-Mobile. I was compensated for my time in coordinating the T-Mobile Holiday event. All opinions expressed are my own.