A very special Sweet Harvest Pumpkin Tea Latte recipe, inspired by my visit to the Celestial Seasonings Headquarters in Boulder, Colorado. Read all the way to the end for an incredible $100+ value Tea Lovers Giveaway!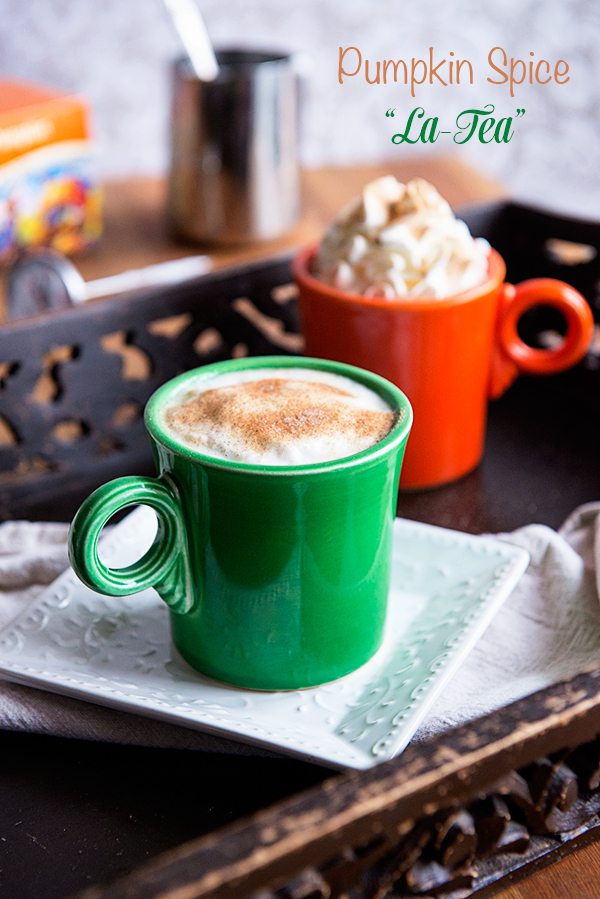 This past week I had the chance to visit the Celestial Seasonings Headquarters, one of the largest specialty tea manufacturers in North America. One of my favorite things about my job is getting to see the "behind the scenes" of brands I love and use everyday. Opportunities like these…to meet the people and see the hard work and dedication that goes into bringing my favorite cup of tea to life is something I really love. I could never imagine all the thought and effort that goes into something that gives me my most simple of pleasures each day, like tea time.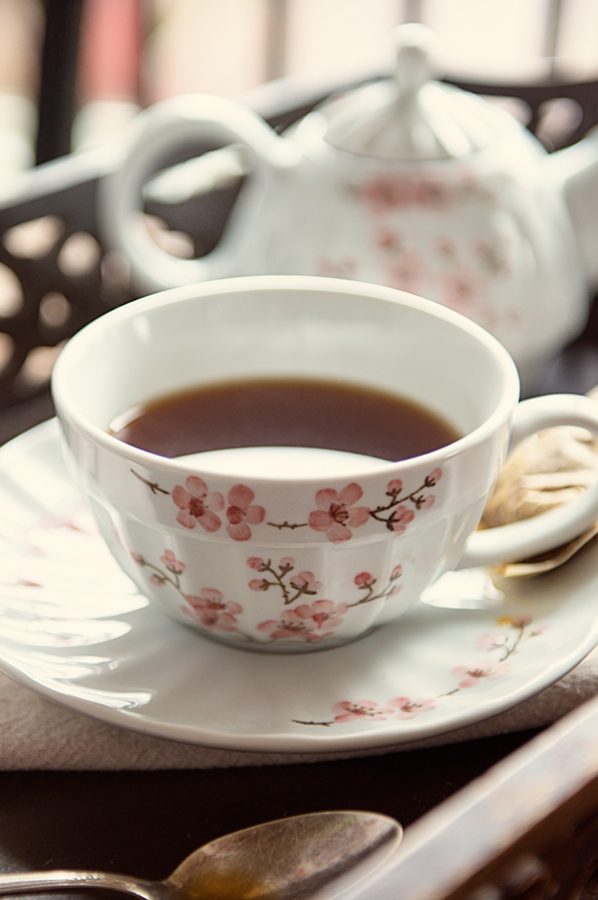 The people at Celestial Seasonings were as warm and welcoming as their tea… they made us feel so comfortable and appreciated. Driving up to the facilities was especially humbling as the entire company was standing outside, holding signs and cheering our arrival. I was so touched and I know the other bloggers I was with felt the same way. For a corporation this big to stop their production line to welcome us is a pretty big deal.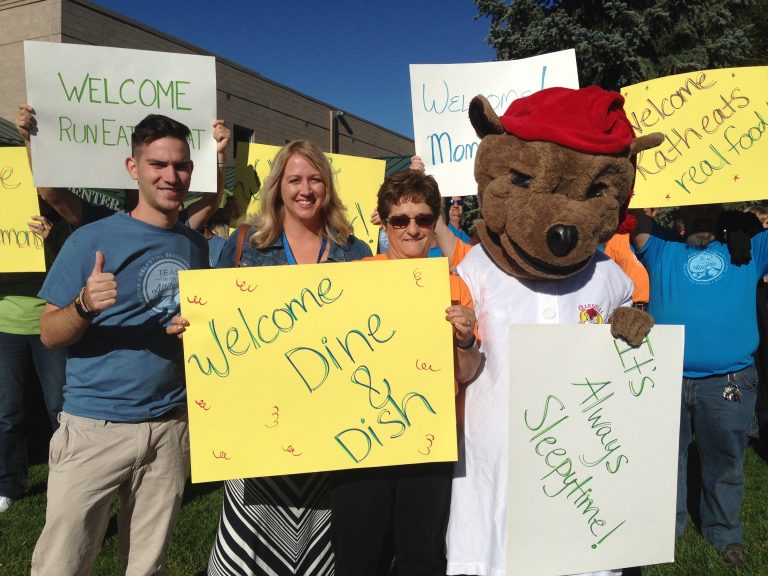 We took in a lot of great information during our day, but I'd like to share 5 fun facts I learned while on my tour. I hope you can learn a few things about Celestial Seasonings and you just might learn how you've been making your tea wrong all these years, like me!
Top Five Fun Facts About Celestial Seasonings Tea
1.  We had the chance to do a tea tasting while at the Celestial Seasonings Headquarters. Did you know there is such a thing as a "Super Taster"? Well Celestial Seasonings very own blendmaster, Charlie Baden, has been the expert hand behind Celestial Seasonings Teas for over 30 years. I was fascinated to learn that Charlie can blindly taste teas and can tell you everything that is in his cup and can even tell you what region the blend came from… all from taste! Isn't that incredible? Needless to say, I was not nearly as successful with taste testing as Charlie is!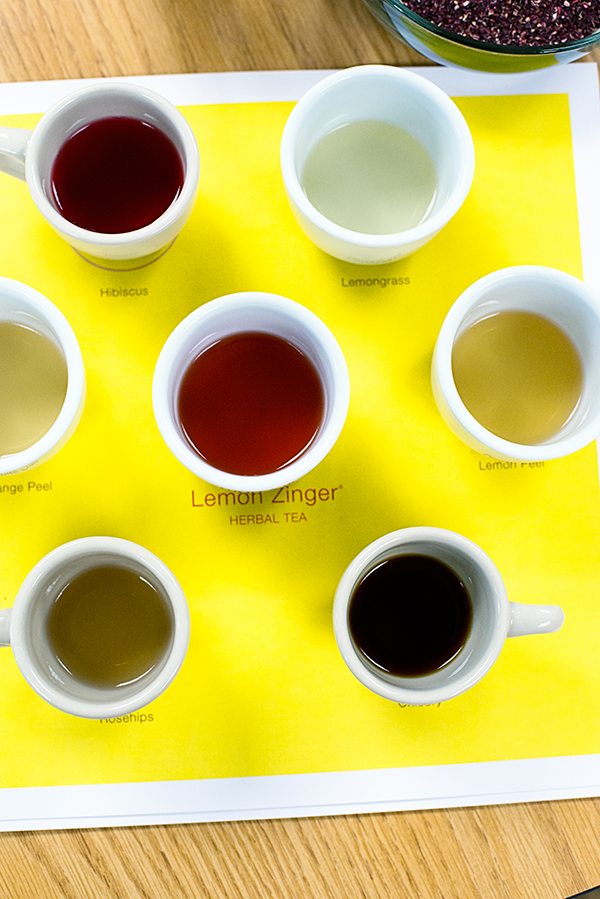 2.  Tea is one of the most popular beverages in the world, second only to water.  In many cultures it has become a vital part of everyday living. In some, serving tea is wrapped in ceremony and ritual, while in others, sharing tea is a time for fellowship or refreshment. I know for me, tea is a part of my special mid-day chill out time and part of my bedtime routine. I love a cup of Sleepytime Extra before going to bed. How about you?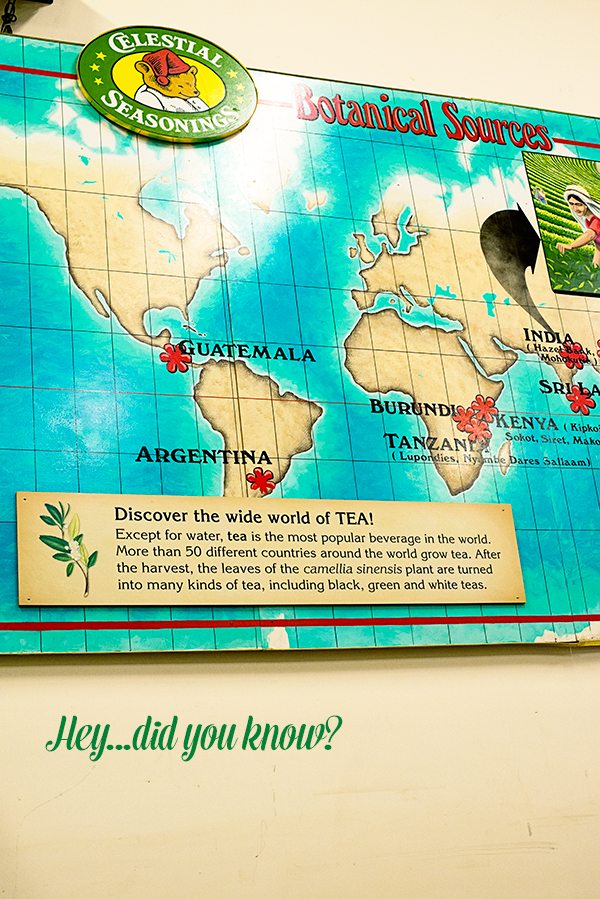 3.  The use of tea in the culinary world is quickly gaining popularity. We had the pleasure of enjoying food created by chefs using Celestial Seasonings as an ingredient. Towards the end of the day we  also enjoyed very special "tea cocktails".  My friend Amy shared the recipe for my favorite cocktail we had over on her blog..check out the Jammin' Lemon Ginger Drop recipe!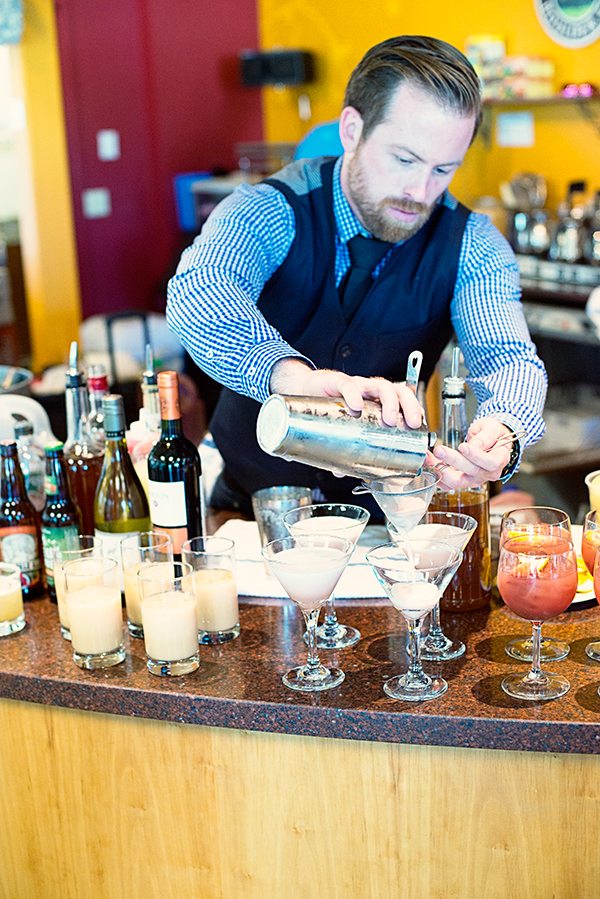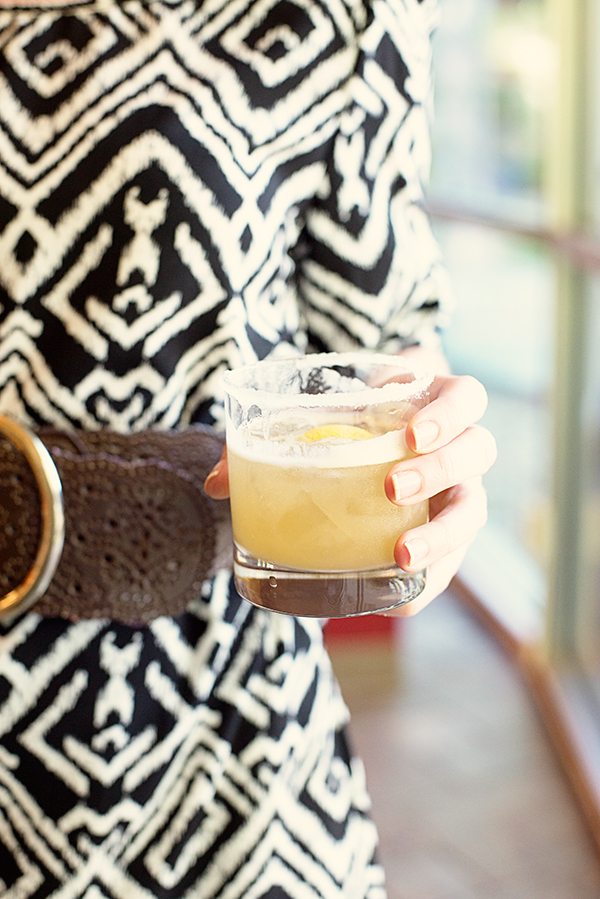 4. Celestial Seasonings cares deeply about working with those who use sustainable farming practices. They also have made the environment and future of our planet a priority… Celestial Seasonings uses natural fiber, chlorine-free tea bags that are biodegradable and compostable – making them better for you and for the planet. The unique pillow-style tea bag doesn't need a string, tag, staple or individual wrapper, which helps save 3.5 million pounds of waste from entering landfills every year!
5.  I love Celestial Seasonings packaging, don't you? We had the opportunity to learn how each box of tea comes to life through artist illustrations. The original paintings from the Celestial Seasonings tea boxes are displayed in the front lobby of the Celestial Seasonings visitors center. Did you know if you are in Boulder, you too can take a tour and learn all the great things I did? I highly recommend it! It's a fascinating company to see the behind the scenes of.
Bonus fact…I am one of those people who always just kept my tea bag in my tea, even while I drank it. I just assumed the longer the bag was in the hot water, the more flavorful it would be. I was completely wrong. Here's how the folks at Celestial Seasonings (who you know, know a thing or two about steepology) suggest we do it. 
Watch the clock, not the color. Never brew tea by color if you want the perfect cup. Some teas brew light, others dark. Always brew by the clock — Celestial Seasonings recommends three to five minutes for green and black teas, four to six minutes for herb teas and six minutes for wellness teas.

Squeeze the bag. Some people have debated — to squeeze or not to squeeze. Celestial Seasonings recommends squeezing the bag. Why? Tea leaves can absorb up to seven times their weight in water and compressing the bag enhances color and flavor. So, give a gentle squeeze to the tea bag before removing from the cup.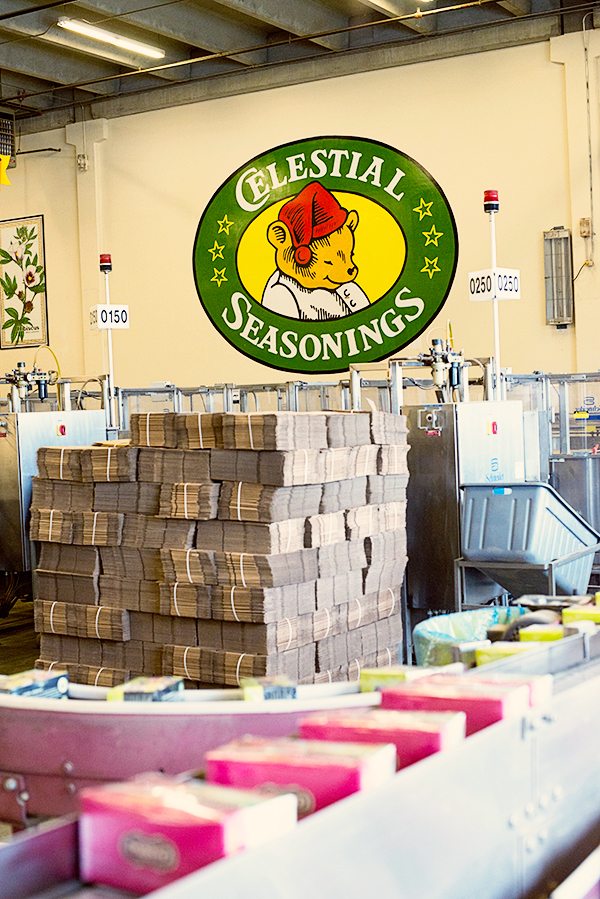 You made it to the end of the post! I hope you learned some things and found the things I got to experience at Celestial Seasonings informative! I have an extra special giveaway Tea Lovers giveaway for you today! I think you are really going to love what I have in store for you. Thanks to my friends at Celestial Seasonings, I was able to go on a mega shopping spree for you and me at the Celestial Seasonings gift shop! Look what I have for you!
To enter the giveaway for a collection of goodies from my Celestial Seasonings trip, fill out the giveaway widget below the recipe!
Also, I bought myself an espresso machine for my birthday and used it this week to make the most delicious Pumpkin Spice "La-Tea". The recipe was from the Celestial Seasonings recipe page, but you'll want to check it out below as well!
Pumpkin Spice Tea Latte Recipe
A spicy full bodied fall flavored tea latte from Celestial Seasonings.
Ingredients
• 2-3 bags Celestial Seasonings Sweet Harvest Pumpkin Tea

• 1 cup milk

• Pinch cinnamon
Instructions
If you have an espresso machine: Clean your machine's coffee basket thoroughly. Cut open 3 tea bags, pour tea into basket and compress as if it were coffee. Brew a single "shot" and pour into coffee mug. Steam milk using wand and pour over brewed tea. Sprinkle with cinnamon.
Without espresso machine: In a medium saucepan, gently heat milk over low heat until very warm but not boiling. Add 2 tea bags and simmer 5 minutes. Remove from heat, remove tea bags. Using a whisk, beat milk until it foams. Pour into coffee mug and sprinkle with cinnamon.
Thanks for going on this journey with me! And a special thanks to Celestial Seasonings for being a sponsor of Dine & Dish. As always, all thoughts and opinions are my own!