The walk home from school is always full of some kind of drama. My friend Kathy's kids often walk home with us as well. Her oldest daughter is the same age as Jacob so it never fails that there is some kind of 3rd grade boy / girl banter going on. Heaven forbid you act like you are friends with a girl when you are a 3rd grade boy. Nooooo…. you have to make every attempt to distance yourself and make sure the entire world knows that there is no love between you two whatsoever.
Yesterday was the typical day… walking home, Jacob and Molly were arguing about something, I'm sure very important. The entire way home their intense banter was volleying, back and forth. Back and forth.
An interesting thing happened when we all got to our house. I corralled all 6 kids into the kitchen to cook with me. I had some kid friendly recipes to try and decided now was as good of time as any to put the oldest two in charge. Six kids, one kitchen, all assigned different tasks. Believe it or not, in that crammed little kitchen, magic began to unfold. There was laughter. There was cooperation. There was NO 3rd grade boy / girl arguing! Just a whole lot of fun and getting things done.
Unilever brands, the name behind kitchen staples like Skippy Peanut Butter, Hellmann's mayonnaise, Ragu Pasta Sauce, Lipton Recipe Secrets and Knorr Sides, is teaming with families across the nation to encourage them to not only make dinnertime a priority, but to get everyone in the kitchen cooking as a way to reconnect as a family.
As a part of their initiative, Unliever invited me to host friends in my home to cook up some recipes using their products. After flipping through the Fun Family Cooking cookbook, we chose Rayna's Nutty Marshmallow Topped Chocolate Cake and a variation of Dan's Chipotle Rice Burritos. We also made my mom's Spaghetti and Meatballs with one of her secret ingredients coming from a Unilever brand product (I'll share that recipe next week!).
I am passionate about family mealtime, and teaching kids the valuable life long skill of cooking. As part of the effort to encourage Dine & Dish readers to cook with their friends and family, Unilever is providing 4 lucky readers with the Family Dish Fun Family Cooking Cookbook and coupons for one free package / jar of each of the following:
Ragu  Pasta Sauce
Hellman's/Best Foods Mayonnaise
Skippy Peanut Butter
Knorr Rice and Pasta Side
To enter, all you have to do is leave a comment telling me the very first thing you ever remember cooking. All entries must be received by midnight CST on Monday, November 22nd. The four winning comments will be chosen by Random.org and the winners will be notified shortly after.
I think it is so important to spend time with your family in the kitchen and sitting around the dinner table. The nice people at Unilever sent me a gift card and Unilever products to try out some of their recipes as well as prizes for my readers. The views expressed in this post are my own.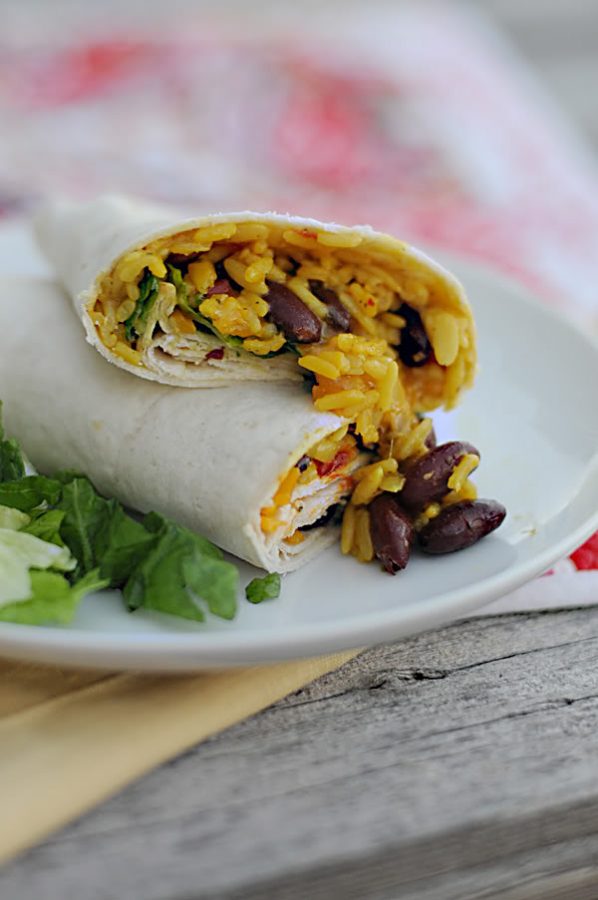 Recipe: Knorr Fiesta Rice and Bean Burritos (adapted from HERE)

1 package Knorr® Rice Sides™ – Chicken or Knorr® Fiesta Sides™ – Spanish Rice
1 can (15 to 19 oz.) red kidney beans (I use Bush's Kidney Beans)
1/4 cup chopped romaine lettuce
6 medium flour tortillas, warmed
1/2 cup shredded Monterey Jack or cheddar cheese (about 2 oz.)
Prepare Knorr® Rice Sides™ – Spanish Rice according to package directions. Stir in beans and warm through.
Evenly spoon rice mixture onto warm tortillas; top with cheese and lettuce. Fold in sides, then roll up. Serve, if desired, with sour cream. *For a dinner version, simply add warm cut-up cooked chicken or steak to rice mixture!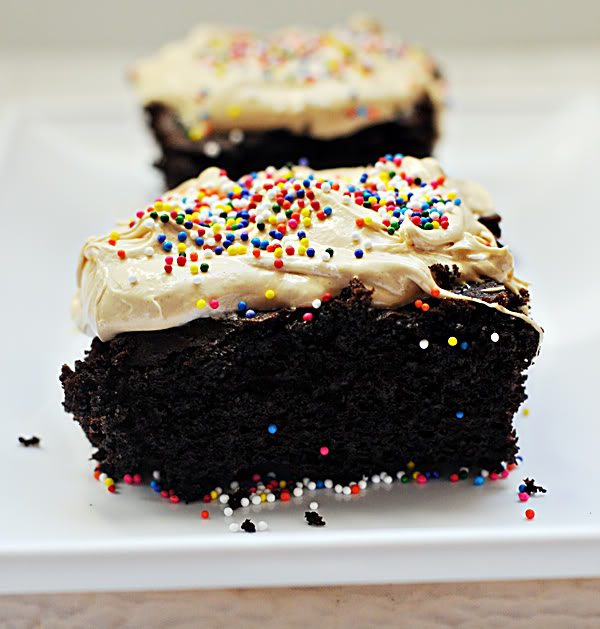 Recipe: Rayna's Nutty Marshmallow Topped Chocolate Cake
1 box (18oz) chocolate cake mix
1 cup Hellmann's or Best Foods Real Mayonnaise
1 cup water
3 eggs (I only used 2)
1/2 cup Skippy Creamy Peanut Butter
2 jars (7.5oz each) marshmallow creme
1 cup frozen whipped topping, thawed
Sprinkles for decoration (optional)
Preheat oven to 350 degrees. Lightly spray a 13/x inch cake pan. Set aside.
Beat cake mix, mayonnaise, water and eggs in a large bowl with electric mixer on low speed 30 seconds. Beat on medium speed, scraping sides occasionally, 2 minutes. Evenly pour into prepared pans.
Bake 35 minutes or until toothpick inserted in center comes out clean. Cool completely.
Meanwhile, whisk together the peanut butter, marshmallow creme and whipped topping in a medium bowl. Frost cake with peanut butter frosting. Decorate as desired.