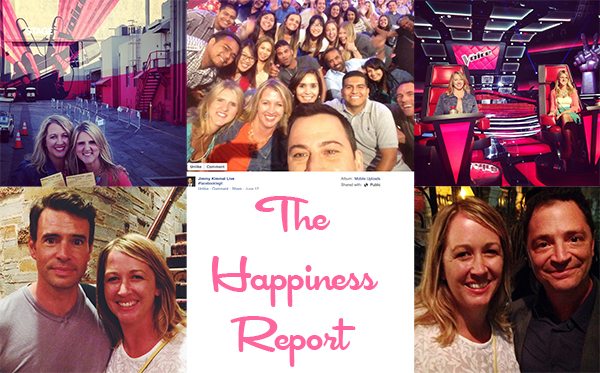 I've been meaning to sit down and write this happiness report out for a few weeks now. It's a good one 🙂 I'll start out by saying it includes meeting and touching Adam Levine, being in a Jimmy Kimmel selfie, hugging and chatting with Scott Foley and Josh Malina and more! I'm calling it the Happiness Report – Celebrity Edition! (This is the longest post, ever…but I'm writing it all out for posterity so that when I'm old and gray I can remember this great three days!)
Last month my friend Amanda sent me a text asking if I wanted to go to Los Angeles with her. Her friend (and my new friend), Harrison, the founder of CliqueMe, had tickets to go backstage to The Voice and tickets for Jimmy Kimmel Live. Amanda, knowing how mildly obsessed I am with Adam Levine and The Voice asked me to go. I am so glad she did because it was honestly one of the most fun few days I've ever had. It was like we had some kind of magic wish granting dust sprinkled on us… everything we wanted to happen (even if we didn't know we wanted it) happened!
But first, some real talk…
I have to share something though…over the past year and a half I have gained a lot of weight. I went from being the thinnest I've been in a long time, to an injury then complete lack of motivation and gaining 30+ pounds. I absolutely can't stand how I look and feel like 40 has been really hard on me and not so fabulous. So, there were some doubts in me about going and I almost said no. Luckily I got on the phone with my best friend and she talked me out of any nonsense I was thinking. "If only I could do this when I'm skinner" "I hate all my clothes and look so fat in everything…there is no way I will fit in in LA" "You know there will be pictures, which will show off the fact that I've gotten fat…Ugh."
Obviously, I am so glad I went… imagine all of these AMAZING things I would have missed out on had I said no because I was feeling insecure about the way I looked? You need to just LIVE LIFE no matter what your size. Be happy, confident and don't wait for your perfect body to make things happen. Embrace the now, love yourself how you are now, and you will find happiness within that. I truly don't believe it will happen until you are at the place where you love yourself anyway, weight and all. I'm still not there, but trying…
OK…let's get to the fun stuff…
Meeting (and Touching) Adam Levine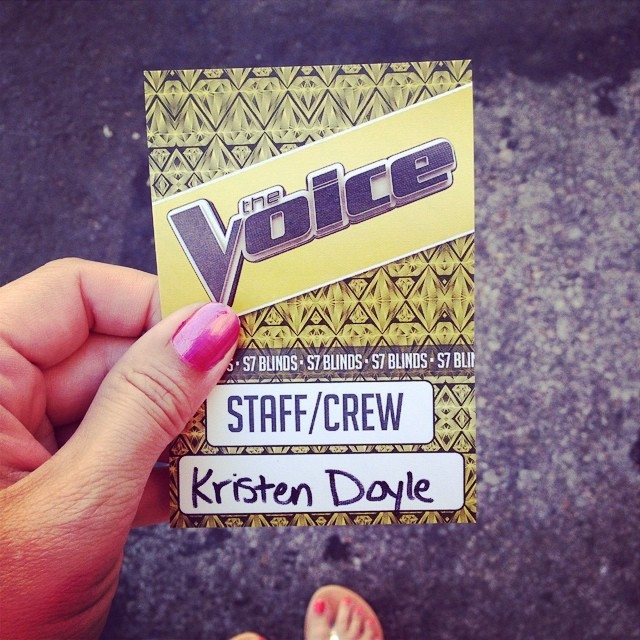 So, did I tell you about the time I met Adam Levine? I can't believe that is something I can actually say to people now 🙂 As you all know, I've made it no secret that I'm a fan of American's Sexiest Man Alive. Live tweeting during The Voice is one of my favorite things to do during the TV season and I could listen to Maroon 5 all day long, every day.
When we got to the set of The Voice they were filming the blind auditions. Harrison took us behind the studio to an RV where his friend worked as a sound engineer. It was so cool because the RV was tricked out with TV monitors and sound boards all over. There were three different sound feeds coming in…the producers, judges and contestants. As a huge fan of the show, it was really cool to listen to all the things that go on behind the scenes and to see the ins and outs of the way the show actually works versus the edited version we see on TV. Also, hearing the judges talk when they weren't being filmed was pretty cool too. I was fascinated and just so happy to be there! This is going to be a GREAT season and I can't wait to share with you all who my favorite contestant is so far!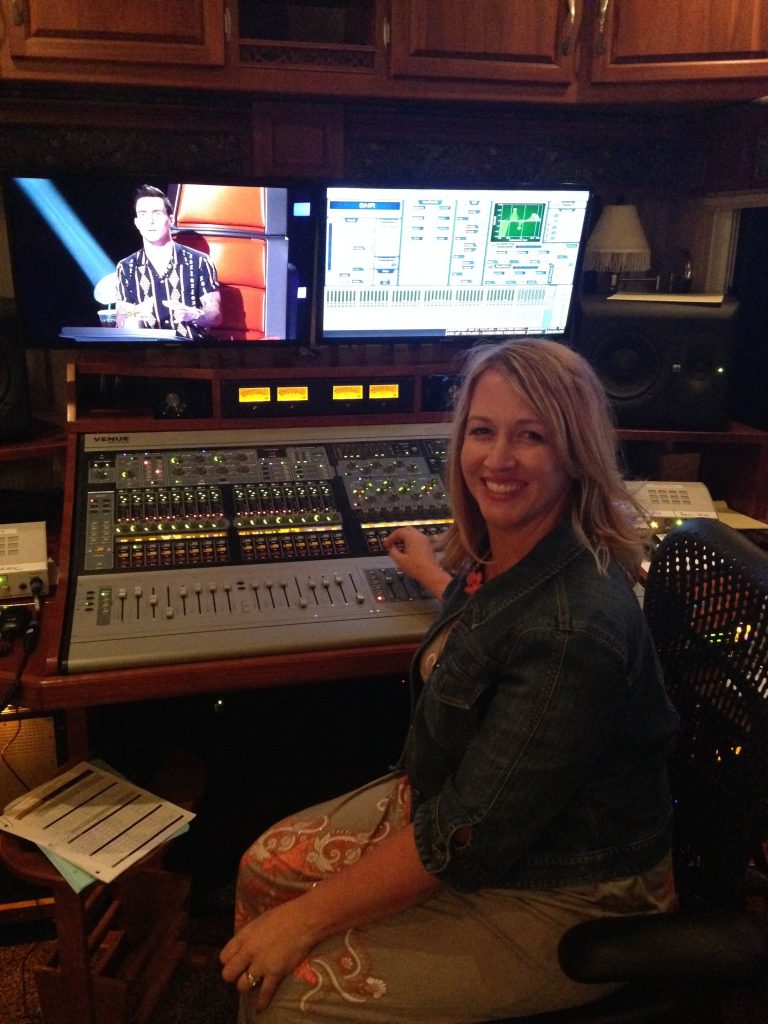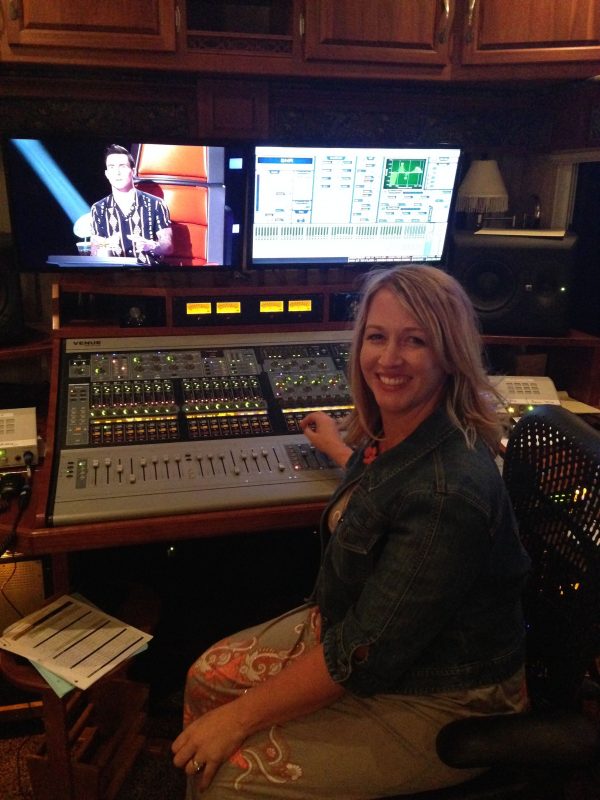 Next, Tim took us inside the studio to see where all the action takes place. We got to see all 4 judges being interviewed – and we were close – and I was so excited. I assumed that was as close to the judges we would get, and I was totally happy with that. The stage of The Voice seems so much smaller than it does on TV. We ate dinner from the Craft Services table and enjoyed coffee from the Starbucks booth on set you see on TV. Everything seemed so tiny and plain in person… verses how showy it seems on TV!
We went back to the RV for a bit and watched them tape the show. I think we saw maybe 7 auditions before they decided to stop for the night, around 10pm. They had been filming since 10am that morning, so they have really long working days on taping days! After they finished taping, Tim took us back inside the studio. Everyone had cleared out and Amanda and I had the chance to sit in the famous red judges chairs (no… we didn't push the button but I wish we would have now). We decided to head out and go home… I was on cloud 9!
As we were leaving the studio, we came out a door into a dark alley and there was a black escalade there. "That Escalade has to belong to one of the judges," said Amanda. I said it could belong to anyone… we were in Hollywood, afterall! She said "No… look at that bodyguard. Not just anyone needs a bodyguard like that. Let's wait!" I wasn't going to argue.
I had my back to the escalade and two minutes later Amanda said "You are not going to believe who just came out the door. Adam Levine is standing right behind you!" I turned around and sure enough… just a few feet away stood Adam Levine looking sexy as ever in jeans and a white t-shirt. My first instinct (and this was with all the celebrities we met) was to turn and run the other way! Amanda grabbed my arm and said "Let's go meet him!". We headed towards Adam and his bodyguard put his body in between us with his hands up. That's when we heard from Adam "No, it's ok! Let them through." At that point Adam stepped forward, held his hand out and said "Hey, I'm Adam!"…and shook our hands. That is pretty much when I just about died. I said some stupid fangirl stuff to him and he was extremely nice and gracious! He also has the softest hands, ever. We chatted for about 5 minutes about them coming to Kansas City on tour and other random stuff then we left. As we turned to walk away, he blew us a kiss. Again, dying.
I know not everyone is an Adam fan, but for those of you who are… he's incredibly nice and kind and looks just as good up close in person as he does in magazines and on stage! We were bummed we couldn't get a picture, but I will never forget this night!
Becoming #FacebookLegit with Jimmy Kimmel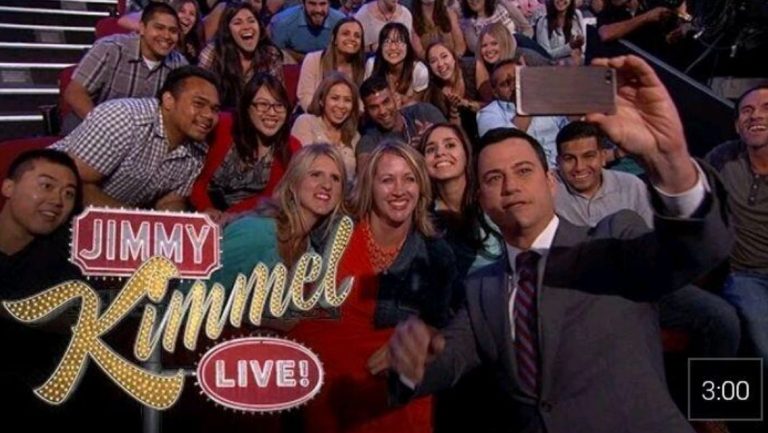 Harrison is pretty much the coolest guy ever (not to mention the nicest) so when he worked with another good friend to get us front row seats to Jimmy Kimmel Live the next day, we were wowed. Just like the set of The Voice, Jimmy Kimmel's stage seems so small compared to what we see on TV. When Jimmy was doing his act, he was just a few feet in front of us. It was so much fun! Naturally we were completely and totally blown away when Jimmy decided to do his very first show selfie that night and came right over to our row to do it! You can watch the video of it here… as if I wasn't insecure enough, let's just take a selfie on TV and put it on national television!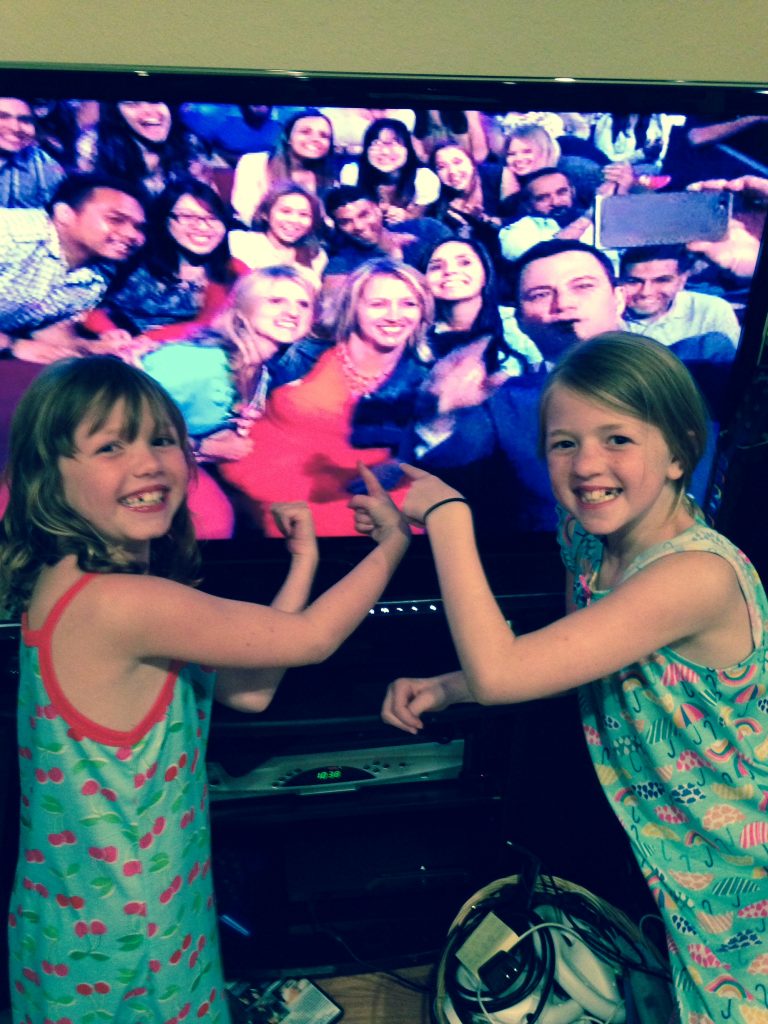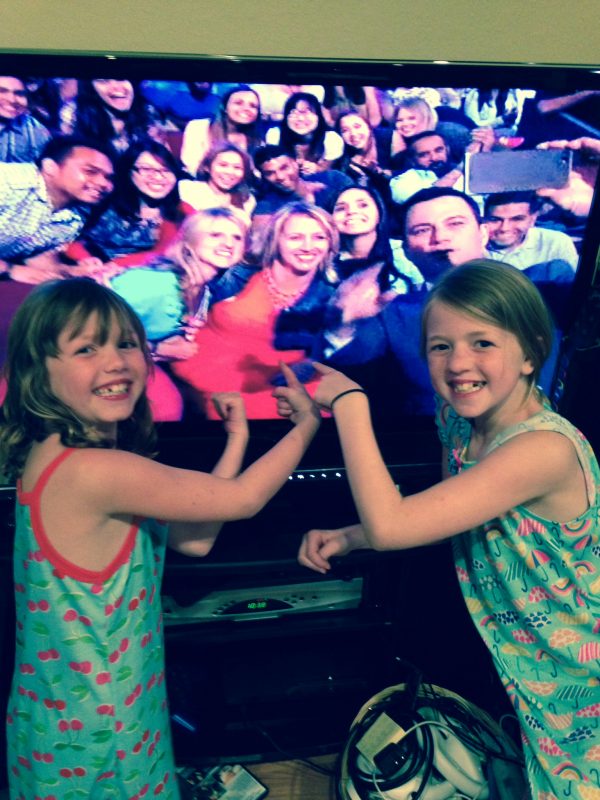 You know who didn't care that maybe I've gained a few pounds and had a super shiny face (what was up with that?)? My kids! They thought it was pretty darn cool, and so did I! That night ended with a Brad Paisley concert and my first experience with Korean BBQ which I can't wait to have again! So much fun!
Tweeting, Hugging and Picture Taking with Scott Foley and Josh Malina
Before heading to LA, I had read that Scott Foley (Jake from Scandal…whom I have been a fan of since he was Henry on Grey's Anatomy) was one of the stars in a play in Westwood called The Country House. Both being fans, Amanda and I decided to get tickets. I love live theatre and the fact that it was a star studded cast made it even more exciting!
Amanda, Harrison and I had spent the day outside in the sun, lounging around a rooftop bar (I know, rough life, right?). We pretty much had the unmade up beach look down. We had planned on heading back to the hotel before the play, but discovered that with traffic it was going to be a 2 hour, roundtrip trek. We totally didn't have time for that and realized we were going to have to head to the play in what we were wearing, with no makeup and in the sun all day hair. (We did stop by Target and splashed on some body spray from a sample spritzer, so hopefully we at least didn't stink!).
Before we headed to Westwood, I had tweeted Scott Foley and Eric Lange, both stars of the play, to see if they had any recommendations on places to eat dinner around the theatre. You can bet I was just a tad bit excited when Scott tweeted back just a few minutes later…although his tweet had me a little concerned. Looks like auto correct got the best of him 🙂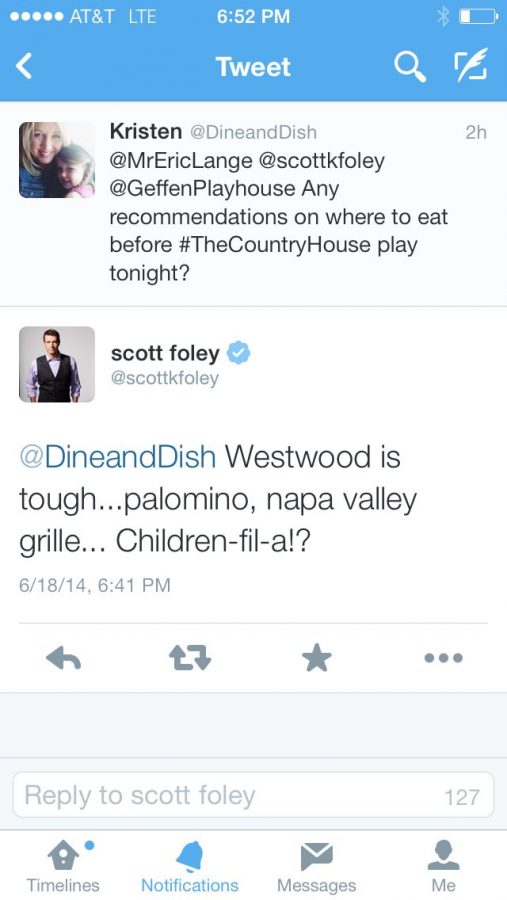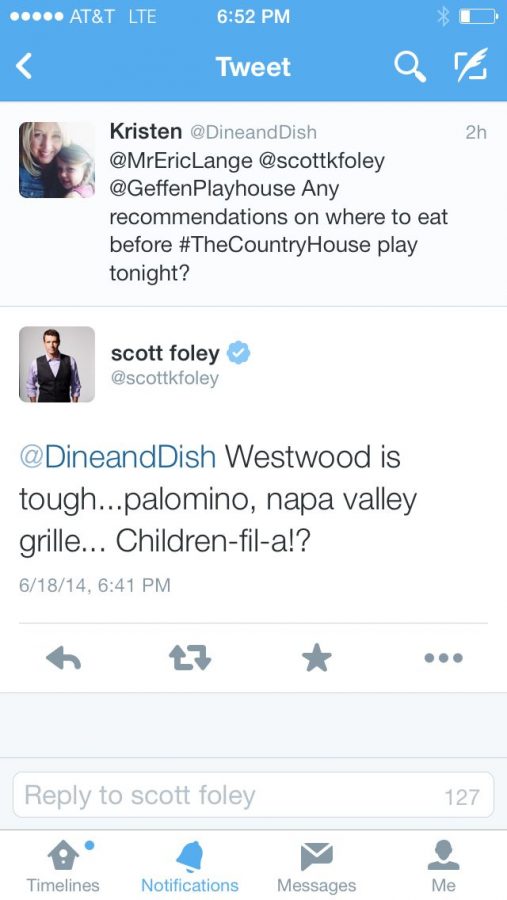 We arrived at the play and it was such a good show. It was a small ensemble cast, but each part was played so well. I laughed and then during the very emotional closing scene, bawled my eyes out. So you can probably imagine that by the end of the play I was looking pretty darn rough… puffy eyed, makeup free face. It was not a great look.
After the play was over, Amanda and I started to head out when we saw Eric Lange in the lobby. I had to stop and tell him how much we enjoyed the show and how touched I was by his emotional performance. He was really nice and such talent. The lobby was clearing out when we noticed another one of the actresses coming down some stairs. Amanda and I decided to hang around for just a few more minutes to see if the rest of the cast was going to come down.
Sure enough, a few minutes later Scott Foley came down the stairs (followed by Gwyneth Paltrow who was watching her mom, Blythe Danner, who also came down). Scott was walking towards us when we went to introduce ourselves. Before I could even say anything he said "Oh I totally know who you are… do NOT tell my wife I recommended a restaurant where they filet their children!" and laughed! I said stupid fangirl stuff like before. We talked about Scandal and the play and about being from Kansas City (which is where he's from). If Adam was incredibly nice, I can't even describe how nice Scott Foley was. Genuinely a super nice guy. Both Amanda and I got a hug and pictures with him (although Amanda's was blurry because I was shaking so much I was so excited! Sorry, Amanda!)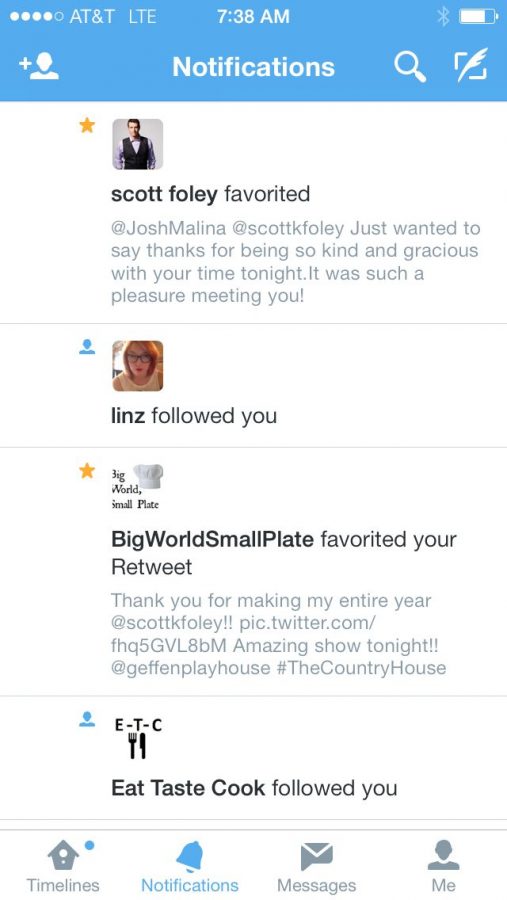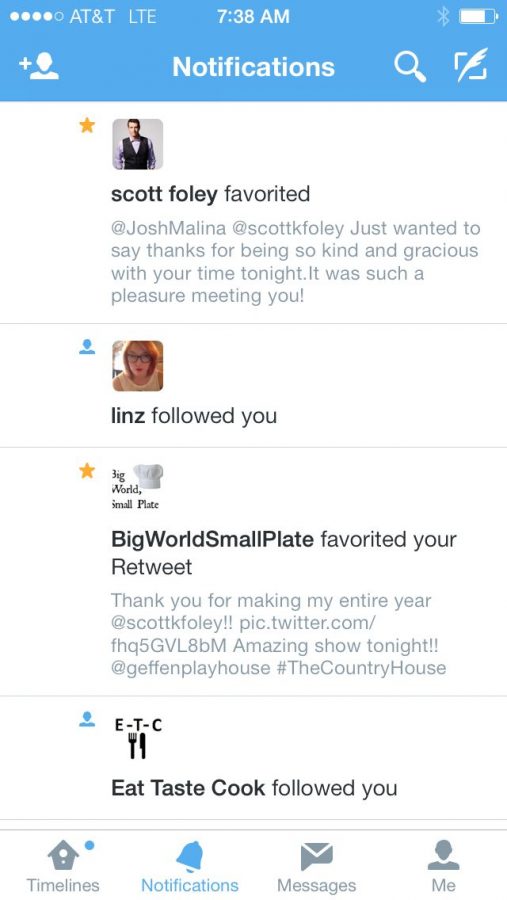 As Amanda and I were walking outside, Scott was walking back in and said "Thanks again ladies for coming!" I turned to say something to him and sure enough…Josh Malina was right there! I probably fangirled the most with Josh because I totally was not expecting to see him – seriously… how much better could our trip get? He was hilarious, as you'd expect, and also really nice! Most of the stars of Scandal have come to The Geffen Playhouse since then and have supported Scott, which I think is pretty cool!
Before we could head home, Amanda and I had to sit down and settle ourselves. I was shaking so hard I couldn't even text my friend Jenny to tell her what happened (so ended up calling her at 1am her time!). Amanda thought she was going to have a heart attack, her heart was beating so fast. We both, seriously, could not believe our luck over the three days we were together. It was pretty darn incredible! That Hollywood Magic Dust was totally in the air everywhere we went!
I hope I haven't bored you all to tears, but I wanted to at least write this down for me so I could remember it forever (seriously, how could I forget?). I have to thank Amanda, first of all, for inviting me along on this once in a lifetime kind of trip. My husband for being cool with me going to fangirl over my 2 biggest Hollywood crushes. My sister for watching my girls for me while I lived the glamorous life in LA. And finally, Harrison (Karen, Ivy & Tim too), for making it all happen…your generosity and kindness during the trip was like no other. Thank you so much for everything! I'm ready to come back 🙂
(Thank you all for reading… my full length picture with Scott Foley is now going to be my before/after weight lost picture when I get these pounds off. Not many people can say that… maybe I can go see him again when I'm back down to a healthy weight and he can be part of the after photo too!)