My Happiness Report is a weekly collection of things making me happy, for the week ending October 14th.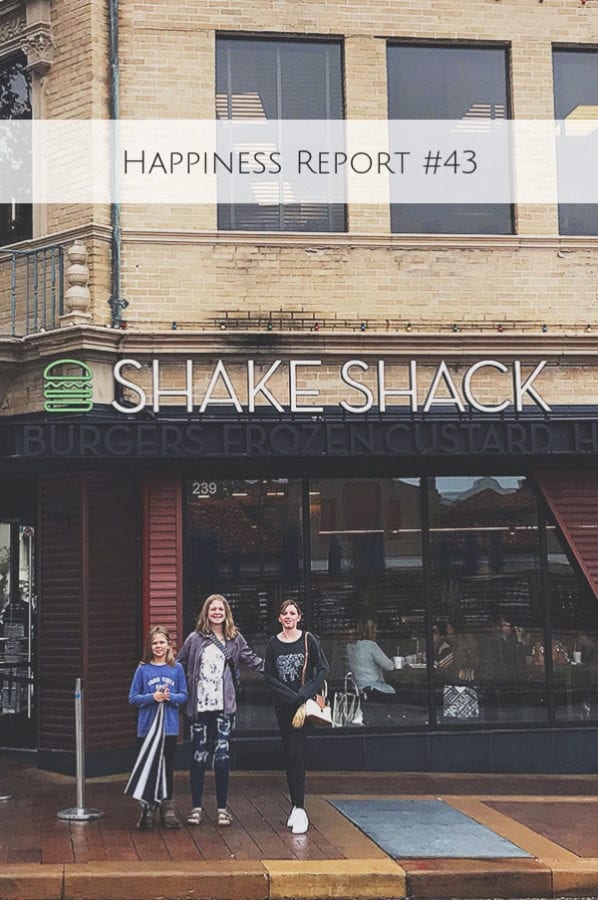 Dear friends,
Hello from rainy and cold Shawnee, Kansas. I feel like we have completely skipped fall and moved right onto winter. That doesn't make me happy, but I will admit to enjoying getting cozy indoors under my favorite rag sewn quilt and some good books.
I was sick this past week, which derailed plans for the girls and I to visit my aunt Rose in Hot Springs, Arkansas. Since they had a couple extra days off school this week and our travel plans were cancelled, I decided to surprise them by getting us a room on the plaza and having a girls weekend. We had the best time shopping, swimming, reading, ordering room service and eating junk food. Then we enjoyed a complete night of pampering as we turned our hotel room suite into a spa. It was such a fun and memorable couple of days.
Don't worry – Jacob wasn't totally left out. He and Nick already had plans to go watch our nephew play college football in South Dakota. They had their own boys weekend and had a great time too.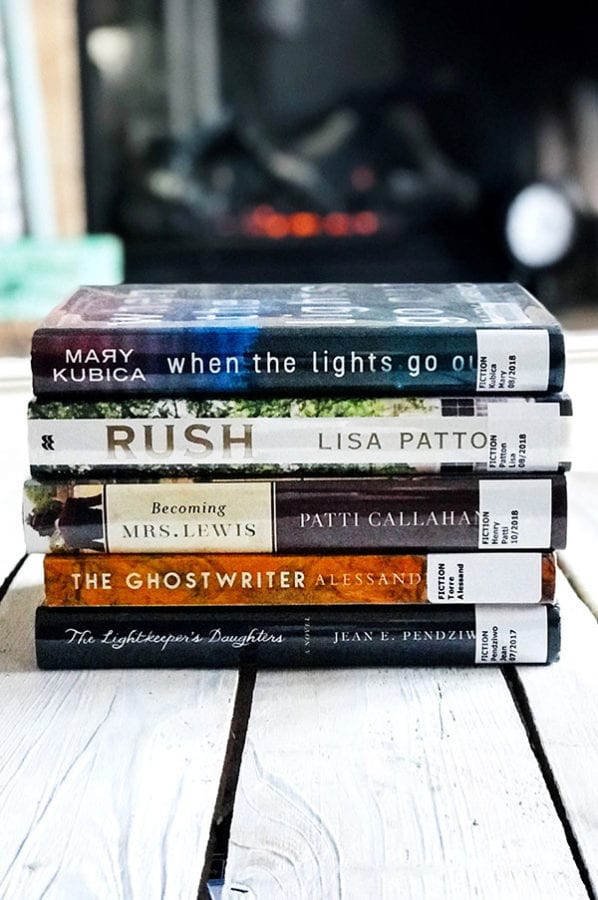 I hope you all have enjoyed your week as much as we have! Let's talk about some things making me happy this week:
Have you seen this movie yet? We saw it in theaters and couldn't wait until we could watch it over and over at home. LOVE it so much!
The stack of books in the picture above is my most recent library haul. It seems ALL of my holds always become available at once. Library books make me happy and the new library in our town makes me really happy. It has a drive through so I don't even have to get out of the car to pick up my holds. Although, check out how awesome our library is. I actually love getting out of my car to go in and could spend all day in there! (Am I the only one to geek out over libraries? Do any of you use your local library?)
Speaking of books, since my last Happiness Report, I've shared a blog post with my September reads and it includes a book that's moved up into my top ten favorites of all time. It made me feel ALL the feels.
I've watched this ten second clip a dozen times and can't stop laughing. Make sure to have your sound on.
Turn your sound on for this too. SO funny.
I'm pretty excited about this Etsy purchase. Hopefully I'll be a master doodler by the end of the year.
I'm over the moon for my dear friends new site design! What a gorgeous space, although knowing her, I'd expect nothing less.
One of the best things about it getting colder is I get to break out my favorite socks. If you don't have a pair (or ten) of these, you NEED them. Your feet will never be cozier.
I love Star's blog so much and this recipe is definitely going on our menu plan for this week.
"Up-Lit" may be my new favorite kind of lit. I like this trend. I think it's what the world needs right now.
This dip…Oh! This dip…it's pretty much the most perfect dip for fall.
Alright friends, that's it for my happiness report this week! When you get a chance, write me back and let me know what's making you happy lately (or just touch base and say hi!). I always love hearing from you 🙂
Have a great rest of your week and thanks for stopping by.