Hi friends! I know it has been quiet around here the last 2 weeks. For those of you who don't know, my beloved camera is in the shop, which to me has been like losing an appendage. I take my camera with me everywhere. I'm lucky to have some good friends who have jumped in during my time of need. Thank you Sara for the use of your camera during my deadline ridden weekend last week and thank you Heather for loaning me one of your cameras for a bit. I truly, truly appreciate it and now don't feel quite so lost.
I have so many things to be happy about this week! My first contributor post went up over at Simple Bites this week. If you want to know how to make linguine pasta without a pasta attachment (and get a great whiskey cream sauce recipe), head on over and check out my post. And, stay tuned for next week when I'll be partnering with KitchenAid to give one of their pasta attachments away to a lucky Dine & Dish Reader! Remember when I made homemade rigatoni pasta? I'll be giving away a pasta attachment just like the one I used! Stay tuned.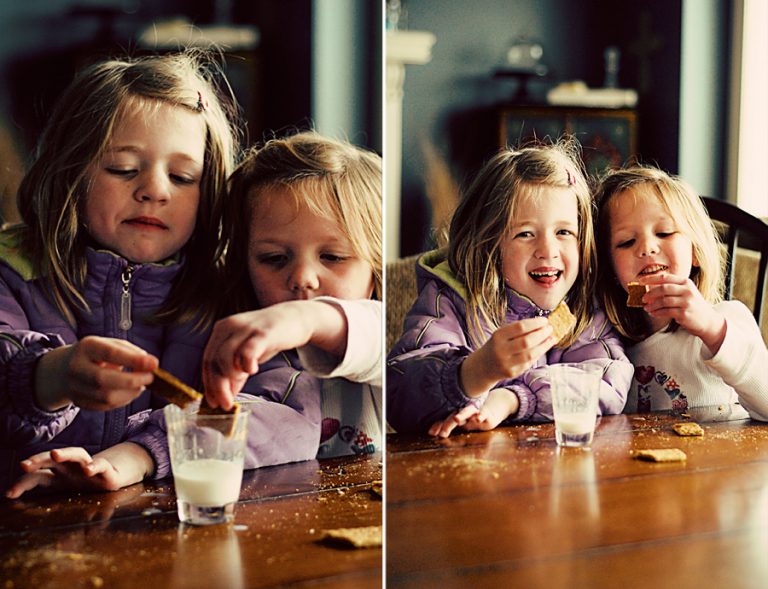 So, simple happiness… my girls have never had Graham Crackers dunked in milk. I couldn't believe it… that is the snack I grew up on! So, this week they were introduced to the fine art of dunking Graham Crackers. (And yes, it is an art!)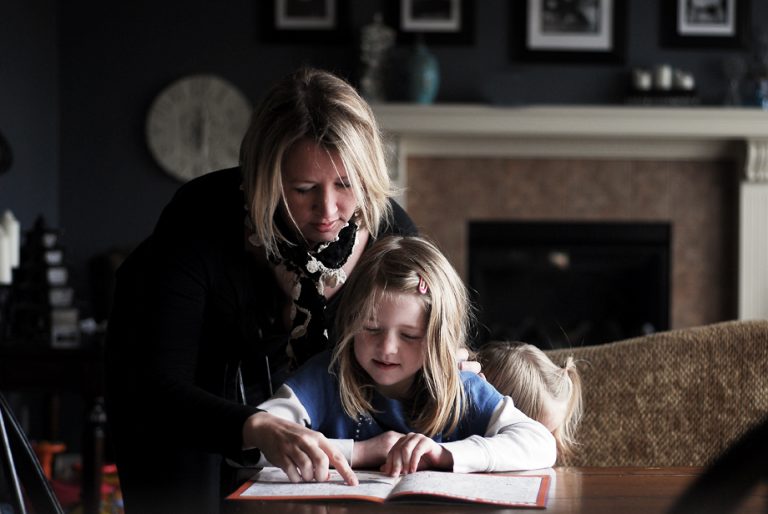 Do you see that? I'm in 2 pictures in this post and put more on the Dine & Dish Facebook page. Inspired by a couple of things, I've decided to try to "get in the shot" more often. There are so few pictures of me with my kids I'm afraid if something were to happen to me, there wouldn't be any pictorial evidence that I existed. Does it make me happy to be on the other side of the camera? Not so much. I look at each picture of myself and think I look old, or I'm too fat, or my hair needs cut, my skin tone is uneven or I need a fashion consultant, but you know what? Are my kids going to be thinking that about me down the road when they look back on these pictures? I don't think so.

One of my goals this year, and the reason I started my Photo Journey blog, was to improve my photography. I wanted to be able to capture everyday moments with beautiful photos. I am a self taught photographer, so I thought it might be good to finally get some actual training. Thanks to Cheryl, I was pointed in the direction of The Photgraphers' Workshop by Karen Russell. It doesn't start until May, but it makes me so happy to know this workshop is in my near future!
Finally, the kids and I got to experience two really fun things this past week. We were given tickets to the pre-screening of the movie Hop, which opens in theaters on April 1st. I can tell you that this is a must see movie if you have kids (and heck… even if you don't, it was really entertaining!) We also received tickets to see Disney Toy Story on Ice, which was another night to remember! Even though my husband was out of town this past week, I braved the Sprint Center alone with my four kiddos and we survived and had a GREAT time! All of that made me really quite happy.
I know this was a long one… if you are still with me,thank you!
What made you happy this past week?
Disclosure: This blog post contains affiliate links. As an Amazon Associate, I earn from qualifying purchases.