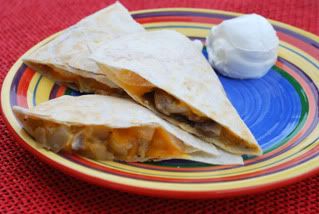 May I be frank for a moment? Since we are in the middle of Adopt-a-Blogger, I thought that this might be the perfect time to write about something that has been on my mind for quite some time. The Hazards of Blogging. No… I don't mean getting flour on your camera and cake batter on your laptop. I mean the physical and emotional hazards of blogging. You are probably thinking, "Well, that sounds silly. What kind of physical and emotional hazards could take their toll on a person blogging?"
Blogging, like any other hobby, can turn into something that is a bit more obsessive and can take over portions of your life. When people turn to me for blogging advice, one of the first things I ask them is to share their goals with me. 99.9% of the time, people want to attract more visitors and more comments to their blog. This is a very common desire. If you enjoy blogging, having visitors come to your blog and then having people leave comments on your post tends to give you that extra push of confidence you are seeking. You know, through comments, that people are listening and their comments help to validate the purpose of your blog. Most people start out blogging for themselves, but then easily get caught up in the desire for comments, links, and higher visitor stats.
I remember when I first started Dine & Dish way back when there weren't nearly the number of food bloggers that there are now and getting your blog noticed among the pack wasn't as difficult as it is now.  I would always pride myself in the fact that I tried to remain on a personal level with the visitors to my blog. I would always respond to their comments as well as visit their blogs. Dine & Dish grew and grew some more and keeping up that promise to myself has become more and more difficult. Visiting and commenting on other blogs is extremely important if you want to keep your blog in front of others. Responding to or acknowledging comments is something I personally wanted to do. By keeping up with all of the comments and blog reading, I one day recently realized that my blogging time was starting to take over my life. Balance was something I have always had trouble with, but more so now than ever.
This past weekend my husband and I went to a movie called Fireproof. It is a Christian based movie about marriage and it was probably one of the most eye opening, moving movies I have seen in a very long time and I highly recommend anyone (Christian or not) who is married to see it. During one scene, the husband (who had an addiction to internet porn) took his computer outside and crushed it with a bat. It was at that moment in my head that I thought "Wow… sometimes that would be so nice… to be able to just get rid of technology for awhile." It was then that I realized blogging, commenting, reading other blogs had taken a place in my life that was not healthy. I was spending less time with my family and more time with my laptop. Between writing my blog posts, cooking for my blog, photographing what I cooked, reading comments, reading other blogs, writing posts on Twitter about my blog, etc. I realized that Dine & Dish was getting more attention than some of the most important people in my life, and that was unacceptable.
I wanted to write this post to all the new bloggers out there. Some of you can balance this and balance it well. Others may have a more difficult time with it. When you are blogging, I want you to remember the sole reason you are blogging…for me that reason is to document my life for me… for my children… and for my family. Everything else (the friendships, the connections, the information), which I appreciate so much from each and every one of you, is just icing on the cake. Live your life and then blog about it. Don't let your blog become your life.
Because this is a food blog, I'm adding a recipe. I made this a long time ago for the 3-A-Day Blogher campaign, but thought the photo was not stellar so didn't blog about it. Well, I've decided…who cares if the photo isn't great? You are going to get the recipe anyway!
Chicken, Mushroom and Cheese Quesadillas from Cooking Light Magazine
45 min | 15 min prep
SERVES 4
Heat olive oil in a large nonstick skillet over medium-high heat.

Combine ground cumin, 1/8 teaspoon salt, and 1/8 teaspoon black pepper; sprinkle over chicken.

Add chicken to pan, and sauté 5 minutes or until browned. Remove chicken from pan; set aside.

Add onion, mushrooms, garlic, 1/8 teaspoon salt, and 1/8 teaspoon black pepper to pan; sauté 5 minutes.

Remove from pan; let stand 5 minutes. Wipe pan with paper towels.

Heat pan over medium heat. Sprinkle each tortilla with about 1/3 cup cheese.

Arrange 1/2 cup mushroom mixture over one-half of each tortilla.

Arrange chicken evenly over mushroom mixture.

Carefully fold each tortilla in half. Add 2 quesadillas to pan; cook 2 minutes on each side or until lightly browned and cheese melts.

Repeat procedure with remaining quesadillas. Serve immediately.