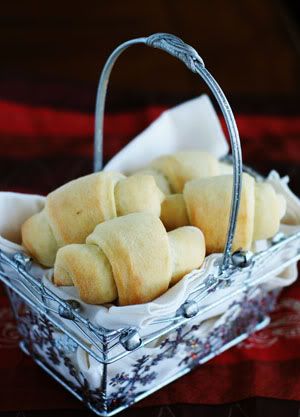 Quick note… if you missed this post and are a parent, head over to it now for the chance to win the parenting book every parent in this age of "Extreme Parenting" needs to read.
I think I was in about the 7th grade when my mom discovered the joy of making homemade bread. She had purchased one of those big Bosch mixers and once that mixer entered into our life, so did homemade bread. I can remember her grinding wheat to make homemade wheat bread (my dad's favorite… the heartier the better). I personally loved it when she would make white bread and then would also make homemade honey butter. There was many a Sunday afternoon where she would make a loaf of bread with honey butter and we would have the entire loaf gone by the end of the day. In fact, there were some days where that is what we would have for dinner… fresh from the oven bread and butter!
I first started making bread around 6 years ago. I bought a bread machined to aid in the process. My first few attempts were using the Krusteaz bread machine mixes. Once I got comfortable with those, I graduated to recipes that came in my bread machine manual. Eventually I was able to master just about any standard bread machine recipe I came across. With the aid of my bread maker dough cycle doing most of the work, I soon discovered how simple bread baking could be. Now days, my bread machine is the most used small appliance in my kitchen (I only use the dough cycle and never actually bake my bread in the bread machine). I make homemade bread so often that my spoiled kids think nothing of sitting down to dinner with a loaf of homemade bread on the table.
I know there are many of you out there who are scared of baking with yeast. I hope that you will take my word for it when I say there is absolutely nothing to be scared of. If you own a bread machine, take it out of storage and start playing around with it. If you follow your bread machine instructions you will see how easy bread making can be (for my machine I add liquid first, dry ingredients next (with flour next to last)… make a well in the flour and add the yeast).
If you want to dip into bread making, but want some encouragement or some advice, send me an email. I'd be happy to support you along the way 🙂
Old Fashioned Buttermilk Dinner Rolls (from Recipezaar, posted by Burgundy Damsel)
Click on the recipe title to see my review, including my adaptations
2½ hours | 2 hours prep
SERVES 16 , 16 rolls
Place 1/4 cup of the warm water in a small bowl; stir in yeast. Let stand 10 min or until yeast is dissolved and foamy.

Meanwhile, whisk remaining 1/2 cup water, buttermilk, egg, butter, sugar and salt in large bowl. Whisk in yeast mixture to combine.

Slowly stir in 3 1/2 cups of flour, using hands if necessary, until soft dough forms. Slowly add up to 1/4 cup additional flour if needed to form soft dough that pulls away from sides of bowl.

On lightly floured surface, knead dough 7 to 10 min or until smooth and elastic. Place dough in lightly buttered large bowl; turn to coat all sides with butter.

Cover with plastic wrap and towel; let rise in warm place until doubled in size, about 1 hour.

Line baking sheet with parchment paper. Gently punch down dough; turn out onto lightly floured surface. Divide dough in half; cut each half into 8 pieces.

Roll each piece into desired shape; place on baking sheet. Spray plastic wrap with cooking spray, cover rolls. Let rise in warm place 30 to 40 min or until double in size. (To make ahead, shape rolls, place on baking sheet and cover with greased plastic wrap. Refridgerate 4 hours or overnight. When ready to bake, let stand at room temperature 30 min before baking.).

Heat oven to 375*. Bake 15 to 18 min or until light golden brown.
Do you want to experiment with more homemade bread recipes? Check out what other food bloggers have been baking up:
Have you entered your favorite family recipe and story into the Viva Diva Cafe Recipe Contest yet? Deadline is December 15th so you'd better hurry! Remember you can win $1000 Williams Sonoma shopping spree!