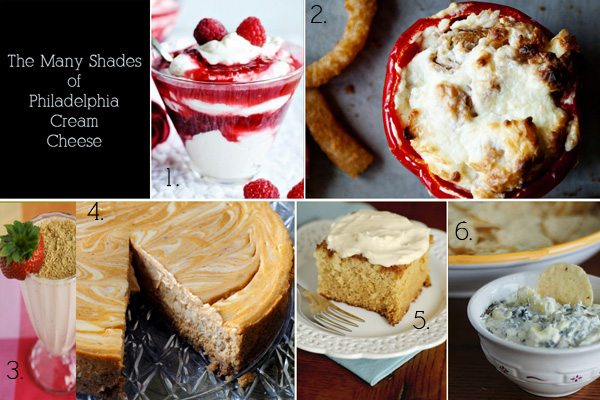 (1) Raspberry Parfaits (2) Baked Onion Ring Dip (3) Strawberry Cheesecake Milkshake (4) Pumpkin Swirl Cheesecake (5) Zucchini Bars with Cream Cheese Frosting (6) Monterrey Spinach Artichoke Dip
I'm kind of a big fan of things with Philadelphia Cream Cheese in them. I was looking through past recipes in my blog archives the other day and found more recipes than I remembered having featuring cream cheese in them. Above are just a few of my favorites. Make sure to check them out (especially that Philadelphia Pumpkin Swirl Cheesecake up there… sooo good for this time of year!).

Speaking of Philadelphia Cream Cheese – remember the Real Women of Philadelphia? Well, they have a wonderful new giveaway going! Every Monday, Wednesday and Friday from now through November 9th, they are giving away a new KitchenAid Mixer in an ingredient inspired color! That's 9 mixers in all and entering to win is easy. All you have to do is head over to the Real Women of Philadelphia website and leave a comment on their site with a link to your favorite Real Women of Philadelphia recipe, and you could land you your very own KitchenAid Stand Mixer. Head Real Women of Philadelphia to learn more!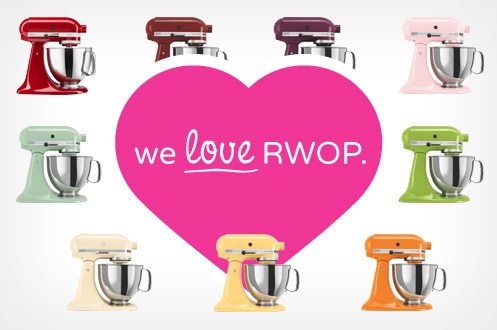 All those colors up there sure beat my boring old grey KitchenAid. Which color KitchenAid Mixer is your favorite? I wouldn't turn any of them away, how about you?
Make sure to head over to the Real Women of Philadelphia page to find out more info and to enter to win!
Disclosure: I am honored to be working with Kraft Foods on promoting their Real Women of Philadelphia site. I have been compensated for my participation but all opinions are my own.