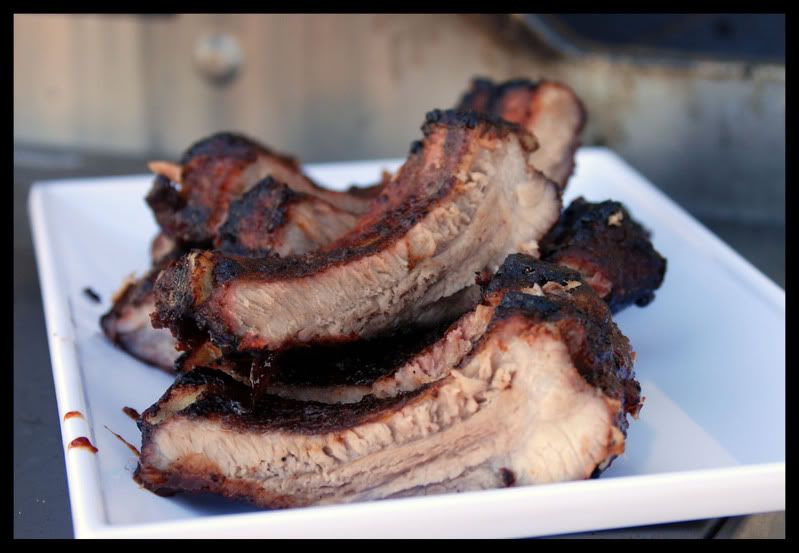 If you are from Kansas City, like I am, then you can attest to this. One can't go anywhere in the city and talk about food without someone bringing up barbecue. The debate typically is who has the best? Is it KC Masterpiece, Arthur Bryants, Jack Stack, etc? My favorite Kansas City barbecue, by a long shot, is Oklahoma Joes. I love everything about that place and their ribs are seasoned and cooked to perfection. The meat literally melts in your mouth. My second choice for great Kansas City barbecue is a little joint not many have heard of. It is a place where you can find the most delicious pulled pork sandwiches, fall of the bone tender ribs and great company. This little place is called….my house. Yep. I can get fantastic Kansas City style barbecue without even getting out of my PJ"s, courtesy of my husband and his mega smoker.
It is great to have a husband who can cook such great barbecue. It eliminates our need to go out and face all of the restaurants with three kids in tow. There is one problem with it though. My husband has one perfected barbecue rib recipe, and being the creature of habit that he is, he refuses to change it up at all.
A few months ago when I was browsing through the recipe section of Food & Wines website, I stumbled across a recipe for Asian style ribs. The recipe sounded fantastic, but I am not the rib cooker in the family so I figured that I would never get to try ribs this way. I held on to the recipe though, just in case. Last weekend my husband announced that he was going to make ribs on Saturday and when he did, the Asian style rib recipe popped into my mind. Could I somehow convince my husband to stray from the norm, to branch out and try something new? Long story short, with a lot of nudging, begging and cajoling, I was able to convince him to try something different. We had all the ingredients on hand to make the Asian ribs from Food & Wine and my hubby set out on his adventure of trying something new.
These ribs, although not even close to comparable to Kansas City style barbecue, were phenomenal. The flavor was perfectly "Asian"…they were exactly what I hoped they would be like. I am thankful too because if my husband would have had to stray from his "perfected" recipe to have the ribs be awful, I would be the one to blame.
If you are looking for a different way to make your barbecue ribs, this recipe is a must try. A complete hit from Food & Wine.
Asian Ribs with Five-Spice Rub and Hoisin Glaze
Perfect Ribs for a warm summer night filled with BBQ.
Ingredients
4

pounds

pork spareribs

1/3

cup

Asian Five-Spice Rub

1/2

cup

hoisin sauce

2

tablespoons

ketchup

Vegetable oil

for brushing

3

tablespoons

Chinese five-spice powder

1

tablespoon

light brown sugar

1

tablespoon

kosher salt

1

teaspoon

cayenne pepper

1/2

teaspoon

garlic powder
Instructions
Using a sharp knife, make 1/4-inch-deep slashes in the rib meat between the bones, without cutting through. Spread all but 1 tablespoon of the spice rub over the ribs and into the slashes and let stand for 5 minutes.

Meanwhile, in a small saucepan, combine the hoisin sauce, ketchup and the remaining 1 tablespoon of spice rub and bring to a boil. Cook for 1 minute, then transfer to a bowl.

Light a grill. Lightly brush the ribs with oil and grill over a moderately high fire, turning frequently, until the ribs are sizzling and cooked through, about 25 minutes. Brush the ribs with half of the hoisin glaze and grill for 2 minutes longer. Transfer the ribs to a cutting board and cut in between the bones. Serve the ribs with the remaining hoisin glaze on the side.

Asian Five-Spice Rub

Chinese five-spice rub is a bold mix of cinnamon, clove, fennel seed, star anise and Sichuan peppercorn. Grace Parisi loves the way these exotic, fragrant spices flavor fabulously sticky spareribs glazed with sweet hoisin sauce.

In a small bowl, combine all of the ingredients, pressing out any lumps of brown sugar.