This caramel apple tart is a much easier version of apple pie!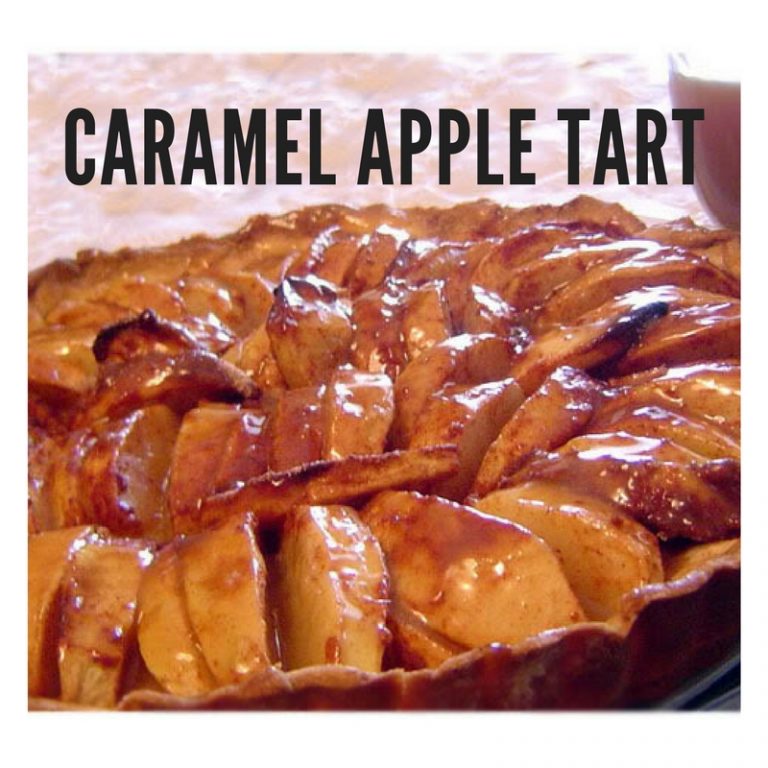 I am so tired of making apple pies. My husband loves apple pie. Every weekend he always asks "are you making me an apple pie this weekend?" He's even willing to do the daunting task of peeling and slicing the apples if I make the crust and pie. I usually give in to his apple pie cravings and make him his precious pie. Sometimes I vary and try out new recipes, but they are still apple pies.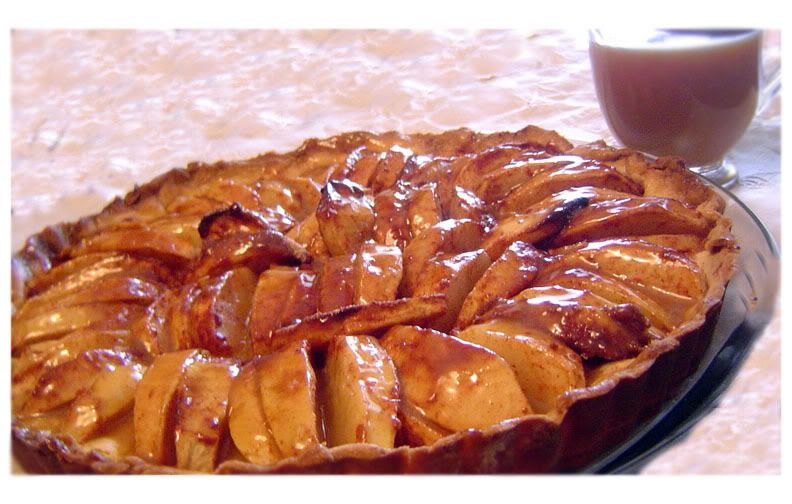 This weekend I put my foot down. I was tired of making apple pies. I needed some variety in my life…a change from the mundane. I didn't want to disappoint him, but I also didn't want to make yet another apple pie.
I've mentioned to you before that I'm a sucker for advertising, and that little epicurious widget at the bottom of my blog is getting the best of me. When I saw the photo of the Caramel Apple Tart pop up, it called my name. My plan to deviate from the norm started churning in my head.  What would happen if I made an apple tart instead of the apple pie? Would my husband revolt? Would he sulk and pout in disappointment that I did something different? Or, would he discover something incredibly delicious? Would he find out that there is more to the world than apple pie? With trepidation, I was set to find out.
As the tart was baking, my husband came downstairs and I saw the delight in his eyes at the aroma of baked apples and cinnamon in the air. When the timer went off and I pulled the tart out of the oven to cool,  he came over and looked stumped. I explained to him that I made an apple tart instead of an apple pie and that I really think he was going to like it. I could tell he wasn't convinced. He looked a little disappointed that his usual weekend apple pie wasn't what I pulled out of the oven. When the tart cooled, I made a slice, poured some of the warmed caramel sauce over it and presented it to him. I left him alone with the tart wanting their first meeting to be without me hovering over him, wondering what he thought. After his first bite he exclaimed "This is sooooo good!" This comment may not mean much to you all, but it was a victory in my mind. My husband hardly ever "exclaims"… his normal comments are "I'd eat this again" or "You don't have to make this again".
The proof that he really loved the tart was the fact that this morning when I came downstairs to go to church, I noticed the tart pan empty and washed sitting in the dish drainer. Aside from the one slice I had yesterday and the slice my friend Kathy had, Nick had eaten the entire tart.
I now see in my future alternating weekends of apple pie and apple tart. Variety is a wonderful thing!
Caramel Apple Tart
Much easier than apple pie, this caramel apple tart recipe will satisfy the pie lover in all of you! From epicurious.
Ingredients
Caramel sauce:

1 1/2

cups

packed dark brown sugar

1 1/2

cups

heavy whipping cream

6

tablespoons

3/4 stick unsalted butter

Crust:

1 1/4

cups

unbleached all purpose flour

3/4

cup

powdered sugar

1/4

teaspoon

coarse kosher salt

1/2

cup

1 stick chilled unsalted butter, diced

2

large egg yolks

Filling:

2

tablespoons

sugar

1

tablespoon

unbleached all purpose flour

1/2

teaspoon

ground cinnamon

1/2

teaspoon

ground cardamom

6

large McIntosh or Golden Delicious apples

about 2 3/4 pounds, peeled, quartered, cored
Instructions
For caramel sauce:

Bring sugar, cream, and butter to boil in heavy medium saucepan over medium-high heat, whisking constantly until sugar dissolves. Boil until caramel thickens enough to coat spoon thickly, whisking often, about 10 minutes. DO AHEAD Caramel sauce can be made 5 days ahead. Cover; chill. Whisk over low heat until warm before using.

For crust:

Blend flour, powdered sugar, and salt in processor. Add butter and blend until coarse meal forms. Add egg yolks. Pulse until moist clumps form. Gather dough into ball; flatten into disk. Wrap and chill at least 1 hour. DO AHEAD Dough for tart crust can be made 1 day ahead. Keep chilled.

For filling:

Whisk first 4 ingredients in large bowl to blend. Add apples and toss until evenly coated.

Preheat oven to 375°F. Roll out dough on lightly floured surface to 13-inch round. Transfer to 9-inch-diameter tart pan with removable bottom. Cut overhang even with top of pan sides. Press sides of dough to bring 1/4 inch above sides of pan. Arrange apple quarters, cut side down, in circle around outer edge of pan, fitting snugly. Cut remaining apple quarters lengthwise in half; stand in center of tart, fitting snugly.

Bake tart until apples are tender, about 1 hour 15 minutes. Remove tart from oven; brush with some of caramel sauce. Cool tart to room temperature. Rewarm remaining caramel sauce. Drizzle tart lightly with sauce. Serve, passing remaining sauce separately.