A classic Top Shelf Margarita recipe, a must have cocktail!
Whew – it has been a long week! I spent this past week teaching preschool crafts to 100 3 and 4 your olds for our church Vacation Bible School program. Yes…100 three and four year old children came through our classroom each day to learn a message and do a craft each day. I am used to being around my own kids, but these three hours of other peoples children every day wore me out. I came home in the afternoon and could not wait to get a nap in. It did not help that my husband was in New York all week on business either. I had to be in full-time Mommy mode 24/7.
By Friday night I was ready to pull my hair out and knew I needed something strong to help me relax into weekend mode. I needed an adult beverage. Something as far away from kid friendly as possible. I had a bottle of Grand Mariner and remember seeing an ad in Gourmet magazine awhile back for a Grand Mariner margarita. It was a simple recipe.. one part Grand Mariner and lime juice and two parts tequila. You shake it all up in an ice filled cocktail shaker and then strain it into a salt rimmed margarita glass. Soon after Nick was home, I made my Grand Mariner margarita. When I took my first sip I was completely disappointed. It just was not what I was looking for. I finished it (of course!) and then set out to find another recipe.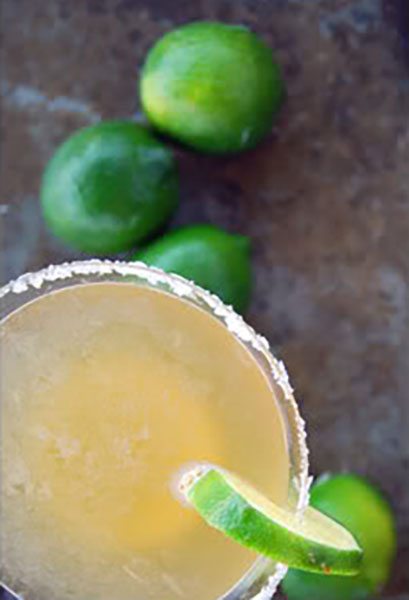 I hopped onto Recipezaar and did a search by ingredients…Grand Mariner and Tequila. I found this recipe for a Top Shelf Margarita. We had the ingredients necessary to make this yummy beverage and I anticipated that it would be little sweeter than the straight up Grand Mariner margarita.
This margarita was the perfect end to a crazy week. The flavors melded together wonderfully. It was just sweet enough and it packed just enough punch to put me into full weekend mode. We finished the evening with an impromptu gathering in our front yard. My husband got the fire pit out and several neighbors came over. We hung out into the late hours of the night, with our children falling asleep on our laps and us enjoying the fire and conversation. This was the type of night that summers are made of.
Top Shelf Margarita Recipe
A classic Top Shelf Margarita recipe.
Ingredients
1/2

ounce

Cointreau liqueur

1/2

ounce

Grand Marnier or gran gala

2 1/2

ounces

prepared sweet-and-sour mix

1

ounce

lime juice

1 1/2

ounces

tequila
Instructions
Fill mixing glass with ice.

Pour in all ingredients.

Shake well.

Pour into salt rimmed glass.

Add lime wedge or wheel.
On a side note, I have missed reading all of my favorite blogs this week! I cannot wait to catch up with you all to see what wonderful recipes  you have in store for me.