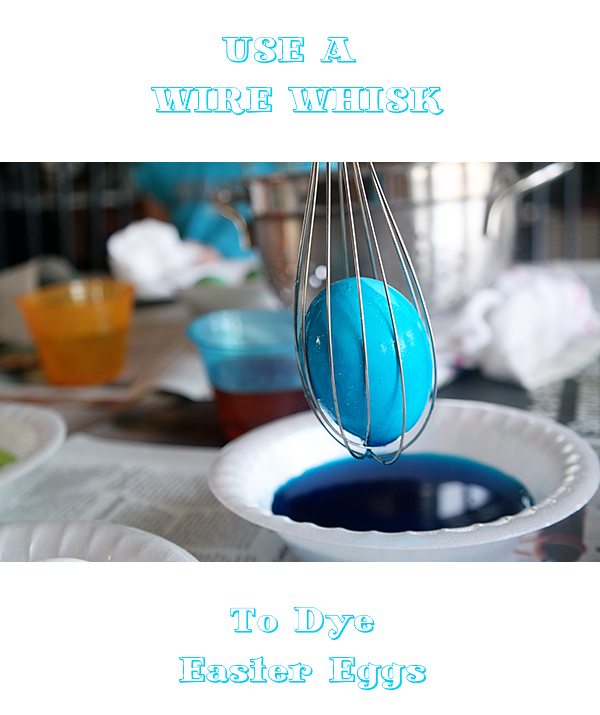 I'm a horrible blogger… I am always so late to the game, sharing holiday stuff AFTER the holidays. The reason? I don't do holiday things ahead of time. I do my holiday preparations, tablescapes, crafts, food for my family, when we celebrate the holidays.
With that said, often times the things that would be helpful to you either don't get on Dine & Dish or they come way after they are needed. For example, I am certain 90% of you have already dyed your eggs for Easter. There might be a handful of you, who like me, just got around to dying Easter eggs with your kids today and a few more of you who still have eggs to dye. Well, this post is for you, my fellow last minute friends!
My mom called the other day and said "I have a tip for you! You can use a wire whisk as a holder when you are dying easter eggs! Just separate the wires a bit and put the egg inside, then dip it in the dye using the handle of the whisk to hold onto it." Is that brilliant or what? She read the tip in her local newspaper, and I'm so glad she shared it with me! It was the cleanest egg dying experience we've ever had!
Also, Leah wanted to share her tip with you.. Here's her video on how to crack a hard boiled egg (PS… Simply Recipes has the best recipe for making perfect hard boiled eggs…no fail every time!).

Anyway – I hope you all have a happy Easter and I hope at least one of you finds this tip helpful!