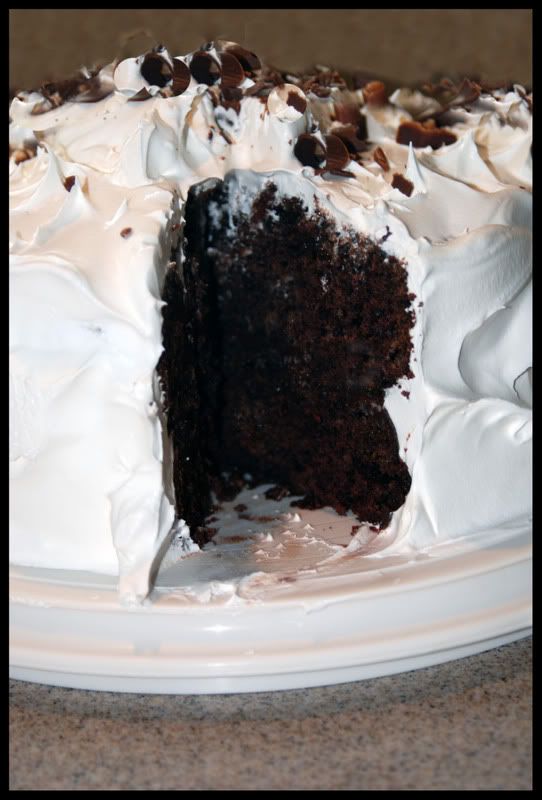 What kind of mom am I? I dare to say that I, Kristen…mother of three, am a very selfish mom. My youngest daughter turned one this past Sunday. The weekend before we had a family birthday party for her and my good friend Sara made her a gorgeous individual cake to dig her little hands into for the occasion.
The week between the birthday party and her actual birthday, my Taste of Home magazine arrived. As I was flipping through the magazine a recipe for French Chocolate Cake caught my eye. The description written above the recipe had my mouth watering. Described as "A decadent fudge filling and a rum flavored glaze spread between the layers of this luscious chocolate cake…" I had to make this cake soon and with Ella's birthday coming up, I had just the occasion.
Rum flavored glaze is probably not the top choice of flavors for a one year old? She would probably appreciate something a bit more simple, you say?  Is this cake really for Ella or for you, you ask? I agree with you 100%. This is not a 1st birthday cake at all. Maybe I should make something else, or maybe I should just ignore you and make it anyway. So…that is what I did. I ignored the little guy on my shoulder trying to talk me out of making this cake for her first birthday and made it despite the ongoing commentary about how inappropriate it was for a one year old.
That makes me pretty selfish, doesn't it? Well… this is just the beginning. This pushes me over on the selfish scale because Ella didn't even get to have a piece of the cake.  First of all, we spent the morning of her birthday at the doctor's office because Ella was running a 103 degree fever. By the time we had everything figured out, med's prescribed, etc., the little angel was tuckered out and wanted nothing at all to do with any food whatsoever, let alone cake. This cake was prime and ready to be eaten, so we cut into it without the birthday girl present. It was amazing…the cool whipped cream topping was the perfect accompaniment to the rich chocolate cake. The ganache filling provided the cake with a wonderful texture and the rum glaze gave you little unique bursts of flavor with each bite. This was the kind of cake that I knew I could not keep around the house. I knew I would find myself sneaking bites here and there and before I would know it the cake would be gone and my hips would be that much larger. I decided to share some of the cake with my neighbors (as I firmly believe that if I'm going to get fat, everyone else needs to get fat with me!). I took part of the cake to two sets of neighbors and left a good hunk of cake for Ella to have when she woke up.
Well, Ella never had any of the cake. I tried to give her some when she woke up but she did not want anything to do with the cake or any other food all day. Her sippy cup of milk, her pink blanket, and a lap to snuggle on was all she wanted.
I have already started therapy funds for my kids as I know that they will most likely need it by the time I am through raising them. Hopefully the "selfish mommy cake incident" won't be remembered, but just in case I put an extra $20 in Ella's fund today.
French Chocolate Cake (Taste of Home Magazine June/July 2007)
This French Chocolate Cake with Rum Glaze is from the Taste of Home Magazine June/July 2007
Ingredients
1/2

cup

butter

softened

2

cups

packed brown sugar

2

egg yolks

2

teaspoons

vanilla extract

6

squares

1 ounce each semisweet chocolate, melted and cooled

1

cup

cold strong brewed coffee

3

cups

all-purpose flour

1-1/2

teaspoons

salt

1-1/2

teaspoons

baking soda

1

cup

buttermilk
RUM GLAZE:
2/3

cup

sugar

1/2

cup

milk

1/4

cup

butter

cubed

1

teaspoon

rum extract
FILLING:
1

cup

6 ounces semisweet chocolate chips

1/4

cup

milk

1

carton

8 ounces frozen whipped topping, thawed

Chocolate curls
Instructions
Line two greased 9-in. round baking pans with waxed paper and grease the paper; set aside.

In a large mixing bowl, beat butter and brown sugar until crumbly. Beat in egg yolks and vanilla. Stir in chocolate and coffee. Combine flour, salt and baking soda; add to chocolate mixture alternately with buttermilk (batter will be thick).

Pour into prepared pans. Bake at 350° for 25-30 minutes or until a toothpick comes out clean. Cool for 10 minutes.

Meanwhile, in a small saucepan, bring sugar, milk and butter to a gentle boil; cook and stir for 2 minutes or until sugar is dissolved. Remove from the heat; stir in extract.

Invert cakes onto wire racks; drizzle with glaze. Cool completely. In a microwave-safe bowl, melt chocolate chips with milk; stir until smooth. Refrigerate until spreadable, stirring occasionally.

Place one cake on a serving plate; spread with filling. Top with remaining cake. Spread whipped topping over top and sides of cake. Store in the refrigerator. Garnish with chocolate curls. Yield: 12 servings.