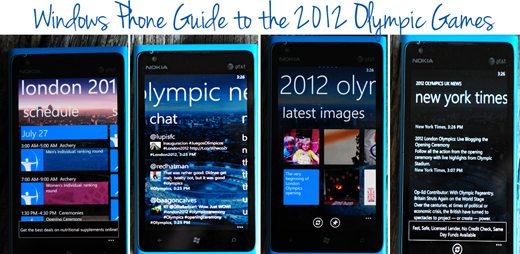 As many of you are aware, the opening ceremonies for the 2012 Summer Olympic Games airs tonight. We are a big Olympic family and always look forward to gathering around the TV each day to watch our favorite Olympians compete for the gold.
The issue with the 2012 Olympics is it falls right, smack dab in the middle of our summer  family vacation. We'll be either on the road or in the mountains without television access most of the time. We've all been wondering how we were going to keep up with the Olympics without television coverage?
Luckily, I did some exploring on my new Nokia Lumina 900 Windows Phone and quickly found several apps that will keep us up to date, even without TV coverage. And thanks to the genius design of the Windows Phone I was able to pin my favorite 2012 Olympic apps right to the front for easy access.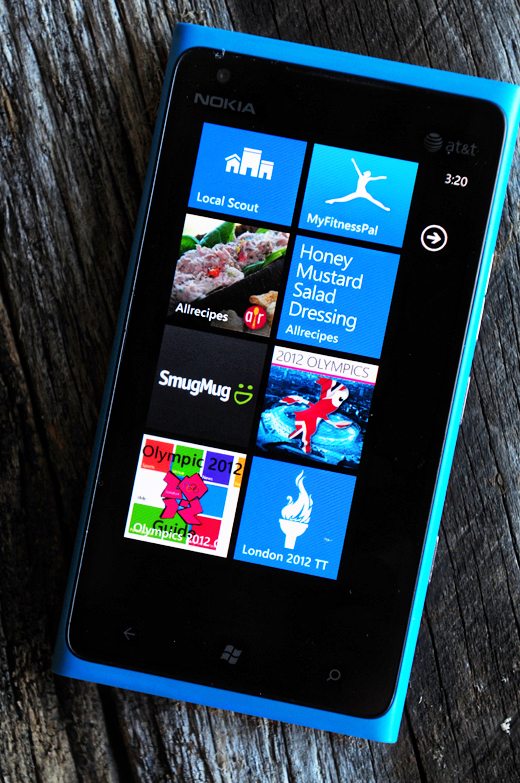 So far the apps I like most to keep us up to date are:
London 2012 TT (timetable) – This is a visually appealing app with lots of thought in the details. Users can find the schedule, get updates based on the sports they are interested in, get a preview of what's coming up next, read the current 2012 Olympic news, and more.
Olympic 2012 Guide – With this app, users have the option of choosing many of the same things as the above app, but there is also an option to read and do Olympic trivia. I think our family would have a blast learning different Olympic facts while we travel down the highway.
London 2012 Olympic Game News: I think this is my favorite of the three apps, mostly because in addition to the above apps, this particular app has a "current images section" as well the most recent tweets on Twitter. In addition, you can pull in the most recent news articles from media outlets like The New York Times, The Guardian, USA Today,  and more.
Will you be following along closely as the 2012 Olympic games unfold in London? If so, what are some of the ways you plan on keeping in touch with current news? I think this is the year that social media and various other outlets start to take over the traditional television coverage. I can't wait to experience The Olympics in a whole new format!
We're going to settle in this evening with some Zesty Peach Glazed Chicken Wings, my Windows Phone and all the apps I've downloaded, and the coverage on television. Go team!
Zesty Peach Glazed Chicken Wings
A unique use for Peach Pie filling, combined with a kick of hot sauce and Zatarains Big and Zesty Original Seasoning make these chicken wings a surprising winning combination.
Ingredients
1 1/2

pounds

chicken wings

1 21

ounce

can Lucky Leaf Peach Pie Filling

1

teaspoon

Tobasco sauce

more or less to taste

1

teaspoon

Zatarains Big and Zesty Original Seasoning

more or less to taste

1/2

teaspoon

Kosher Salt

Cracked black pepper
Instructions
Preheat oven to 400° F

Line a baking sheet with foil. Spray lightly with cooking spray and place chicken wings side by side on foil. Sprinkle with Kosher salt and cracked black pepper. Place in the oven and bake for 20 minutes.

In the meantime, add Peach Pie Filling, Tabasco Sauce and Zatarain's Big and Zesty Seasoning to a food processor. Blend until smooth.

Once the original 20 minutes are up, remove the pan of chicken wings from the oven. Brush each wing with peach glaze. Return to the oven and bake for 10 more minutes.

After 10 minutes, remove again, rotate wings and brush glaze on the other side. Bake for an additional 10 minutes.

Switch oven temperature to Broil. Allow wings to sit under the broiler for 3-5 minutes, or until light brown on the outside.

Serve with additional glaze if desired.
Disclosure: Microsoft gave me the the new Nokia Lumia 900 Windows Phone to test drive. I am being compensated for this review, however all opinions are all my own.