This Chicken Enchilada Recipe made with potatoes and butternut squash is a seasonal twist on a family favorite!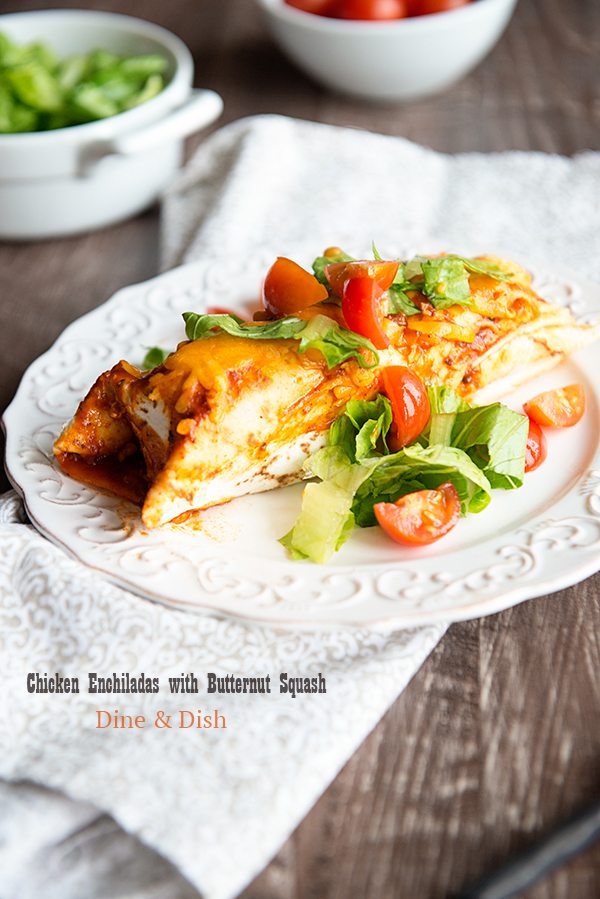 Do any of you get a little anxiety ridden this time of year about finances? I swear, for the past 3 Decembers in a row, our cars have decided to come up with random problems… a couple thousand dollar shop repairs kind of problems. I know it's never a good time to have car problems, but I wish our cars would hold off on the issues until after Christmas!
In an effort to be more budget conscious, I've been trying to find different ways to save money. I've been coloring my hair at home. I menu plan, which means we've been eating out a lot less. I've been using our public library a lot more instead of buying books. If there is a way to save a dollar or two, I'm at least attempting it.
I believe coupon cutting and hunting down deals would be a great way to save money, but I'm not a coupon clipper, at all. I've tried to be, but I think it's just a talent I don't have… (coupon clipping is a talent, don't you think? Or at least coupon USING is…I can cut out coupons until the cows come home. Using them once they are cut is a completely different story). That's why I love apps like the Target Cartwheel App! Simply by scanning a personalized bar code on my smart phone, I am able to save big bucks on hundreds of products (food, electronics, home, toys, clothing…everything) at Target! And I don't need to keep track of coupons to do it!
Have you used the Target Cartwheel app yet? Let me tell you what I love about it…
No coupon clipping (yeah!) All the savings are tied back to the barcode on your phone (or you can print out your barcode and bring it to the store too)
You can stack the coupons on top of Weekly Ad savings, manufacturer coupons, all other Target coupons – so if you are blessed with the gift of using coupons, you can go ahead and use those on top of your Cartwheel App savings!
If you are pinching pennies for holiday baking and gift buying, they have over 900 changing offers on the app, so you can save on many of the items on your shopping list!
I feel like coupons are often for pre-packaged products and name brand items. The Cartwheel app has offers for name brand things, and also savings on fresh produce, their store brand items and more. Everything I used to make this chicken enchilada recipe had a Cartwheel savings attached to it! You can't beat that!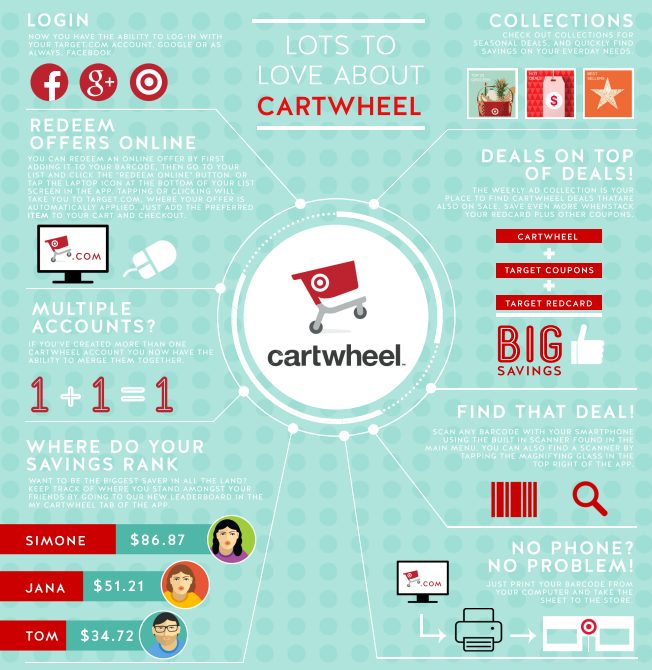 Download the Cartwheel app HERE to save on all your holiday baking, gifting, and everyday needs! It's easy and you can start saving today!
Now, let's talk about this chicken enchilada recipe. My sister-in-law makes the most amazing beef enchiladas…they have carrots and potatoes in them and are one of my absolute favorite foods. I mean, I like just about any kind of enchiladas but hers are the best! I decided to change up her recipe just a bit…by adding chicken and butternut squash! The result was something just a little bit different but almost just as good. (I'll never come up with something AS good as Ginger's enchiladas!).
What I love most about this recipe is that it's one of those penny pincher kind of recipes…you can make it once and eat two meals out of it. The reheated leftovers taste even better than the fresh out of the oven creation! Plus, every ingredient in this chicken enchilada recipe is tied to a savings amount in the Target Cartwheel app! You can't beat that!
If you love to shop at Target, and love saving money (who doesn't on both of those?) then download the Target Cartwheel app today. Then, go shopping for the ingredients for this chicken enchilada recipe, and make it today! Enjoy!
Disclosure: This sponsored conversation and chicken enchilada recipe is being shared on behalf of Target. All opinions expressed are my own. Thank you so much for supporting the brands who make Dine & Dish possible! I appreciate it!
Chicken Enchilada Recipe with Butternut Squash
A comforting and filling Chicken Enchilada with Butternut Squash recipe!
Ingredients
2

Tablespoons

Olive Oil

1

pound

boneless

skinless chicken breast tenderloins, cut into bite sized pieces

2

Idaho Russet Potatoes

peeled and cut into bite size cubes

12

ounces

cubed Butternut Squash

8 10-

inch

flour tortillas

2

cups

red enchilada sauce

2

cups

shredded cheddar cheese

salt and pepper to taste

Shredded lettuce and diced tomatoes

optional
Instructions
Preheat oven to 350°F.

Heat skillet to medium. Add 2 Tablespoons olive oil and heat through.

Carefully add chicken pieces to the oil. Cook for 7-8 minutes, stirring occasionally, until chicken is cooked through and no longer pink. Set aside.

In the meantime add cubed potatoes and butternut squash to a stock pot filled with water. Bring to a boil, cooking for approximately 8-10 minutes, or until tender.

Drain water from the stock pot. Combine chicken with potatoes and squash. Add 1 cup shredded cheese. Stir together. Salt and pepper to taste.

Add 1/4 cup filling to each tortilla, rolling up and tucking ends under. Place in a large casserole dish.

Continue to do this until all tortillas are filled and in the pan (the pan will be tightly full).

Pour enchilada sauce over the enchiladas. Top with remaining 1 cup of cheese.

Bake at 350°F for 20-25 minutes, or until cheese is melted.

Serve alone or top with shredded lettuce and tomatoes.