This enchiladas recipe is almost just as good as my sister-in-laws 100% homemade version!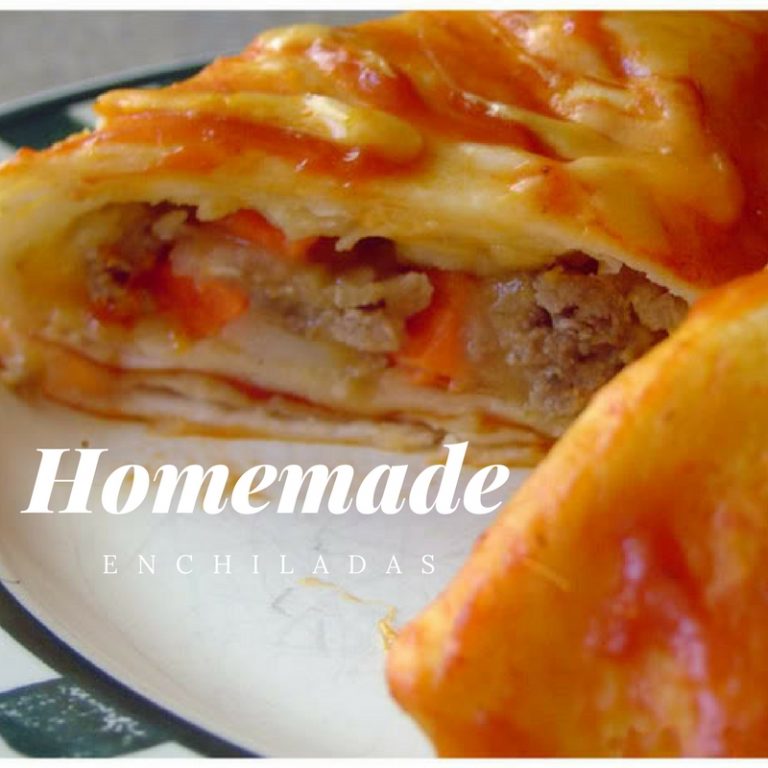 There are a few foods that I think of that I equate to the word comfort. My mom's homemade Mac & Cheese is one.
Her homemade chicken and noodles are another. Add to that her homemade spaghetti and meatballs and I am transported back to the days where home was comfort…sitting around the dinner table every night, laughing about something goofy one of us did. Back to the days when my biggest worries were missing an episode of Growing Pains and making sure my dog and cats were getting enough attention.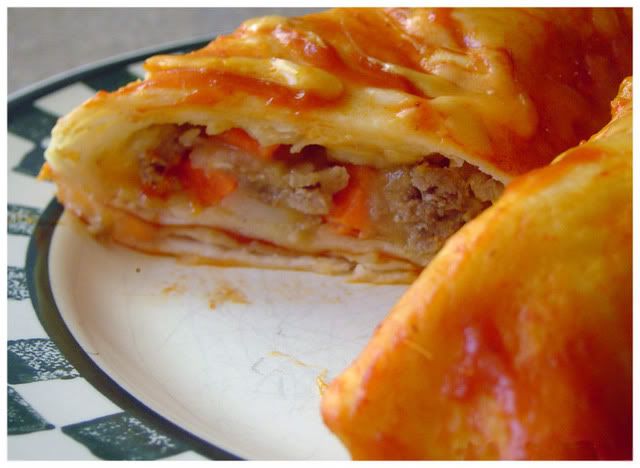 The only food that brings me comfort that is not from my mom comes from my sister-in-law, Ginger. Ginger makes the most amazing enchiladas. Her enchiladas are 100% homemade…all the way down to the tortillas (unless she's making them in bulk and then store bought tortillas will have to do). Since Ginger lives over 10 hours away, we don't get to see her very often, and therefore don't get to eat her enchiladas nearly enough. My sister Kathy decided to call her one time to get the recipe from her. This is Kathy's adaptation… not as delicious as Ginger's 100% homemade enchiladas, but a wonderful substitute for the times in between our visits to see Ginger.
Kind of like Ginger's Enchiladas
Kind of like Ginger's Enchiladas
Ingredients
1

pound

lean ground beef

browned and drained

3

Idaho russet potatoes

peeled and diced

3

large carrots

peeled and diced

4

cups

Mexican blend cheese

divided

8

burrito size flour tortillas

2 14

oz

cans of Enchilada Sauce

we use mild

Salt

to taste
Instructions
) Boil diced carrots and potatoes in water until tender. Drain.

) In a large bowl, mix together ground beef, potatoes, carrots and 2 cups of cheese. Salt to taste.

) Place the tortillas in between two damp paper towels. Place in the microwave for 15-30 seconds until soft.

) With a large serving spoon, place one heaping spoonful of meat/veggie/cheese mixture in the center of each tortilla. Roll each tortilla up tightly and place in a 9 x 13 casserole dish. This will be a tight fit, but squeeze them together so they all fit.

) Pour both cans of enchilada sauce over the enchiladas, making certain each tortilla is covered in sauce.

) Place in a pre heated 350 degree oven for 25 minutes.

) Pull from the oven and top with remaining shredded cheese. Place back in the oven and bake an additional 5 minutes, or until cheese is melted.

**These freeze very well and are great to pull out and reheat for a quick and easy lunch**