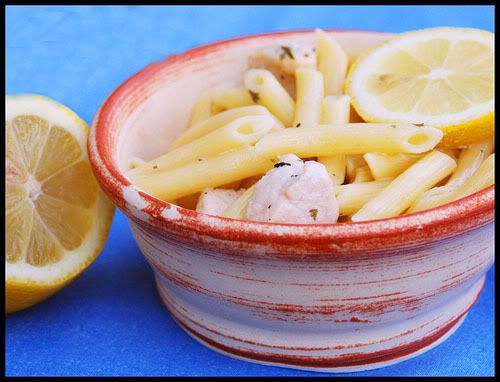 Recently, I have had a large number of hits on my blog from people who have found my little slice of the web by Googling things such as "Losing the Baby Fat". Next to my Monkey Bread post from long ago, the two posts I made about attempting to lose the baby weight have brought the largest number of Google hits to my site. I hate to break the news to those of you looking for advice on weight loss, but Dine and Dish is probably not the place you want to turn to for weight loss guidance. With posts about a delicious chocolate cake roll filled with a marvelous heavy whipping cream concoction, cakes with a richness only gained by using 5 sticks of butter, and scrumptious dishes such as this one…laced with heavy cream, my blog is the type that will make you gain weight just by reading it.
Chicken in Lemon Cream with Penne from Everyday Pasta (Giada de Laurentis)
Great pasta dinner to feed the whole family.
Ingredients
1

pound

penne pasta

3

tablespoons

extra-virgin olive oil

2

boneless skinless chicken breast halves

diced in to 1-inch cubes

1

teaspoon

herbes du Provence

1

pinch

of salt

plus 1/2 teaspoon

1

pinch

of freshly ground black pepper

plus 1/4 teaspoon

1

cup

reduced-sodium chicken broth

2

cups

heavy cream

Zest of 1 lemon

1

pinch

of cayenne pepper

1/4

cup

fresh flat-leaf parsley

1

tablespoon

freshly squeezed lemon juice
Instructions
Bring a large pot of salted water to a boil over high heat. Add the pasta and cook until tender but still firm to the bite, stirring occasionally, 8 to 10 minutes. Drain.

Meanwhile, heat the oil in a large, heavy skillet over medium-high heat. Season the cubed chicken breast with the herbs de Provence and a pinch of salt and pepper. Cook the chicken until golden brown, about 5 minutes. Using a slotted spoon, remove the chicken and set aside. Pour off any excess oil from the pan. Add the chicken broth to the pan and cook over medium-high heat, using a wooden spoon to scrape the brown bits off the bottom of the pan. Add the cream, lemon zest, and cayenne. Reduce the heat to medium low and simmer for about 10 minutes.

Add the pasta, chicken, 1/2 teaspoon salt, 1/4 teaspoon pepper, chopped parsley, and lemon juice. Toss to coat the pasta and chicken with the sauce and serve.