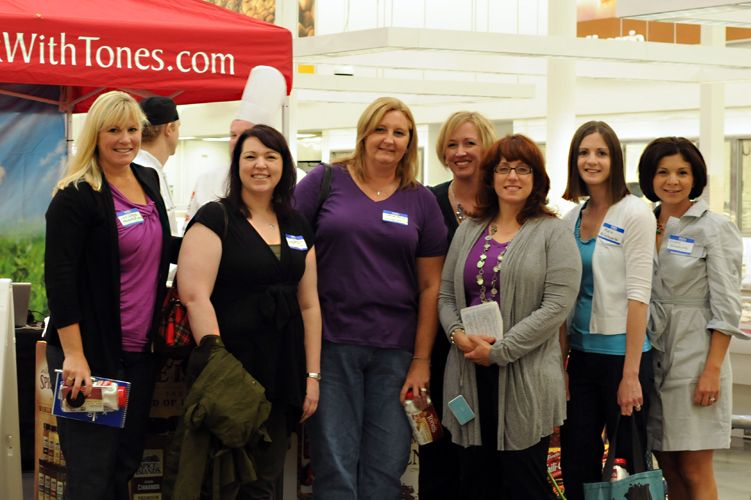 A talented and fun group of food bloggers joined me at this Sam's Club bloggers event. From Left to Right: Lori from Recipe Girl, Peabody from Culinary Concoctions by Peabody, Amanda from Amanda's Cookin', me, Ann Marie aka This Mama Cooks, Maria from Two Peas and Their Pod, and Estela from Weekly Bite.
I had the opportunity to spend a couple of days last week at the Sam's Club headquarters in Bentonville, AR. I'm going to preface this post by saying I am not a Sam's Club member currently. The Sam's Club visit was an enjoyable and eye opening experience. There are several things I did not know that surprised me and impressed me. I know that many of my readers choose to shop at other warehouse stores over Sam's Club. I thought I'd share with you the enlightening things I learned while I was on my trip that have quite possibly changed my mind about where my membership loyalty will go next time I have to renew. Here is my list of the Top 10 Things You Should Know About Sam's Club: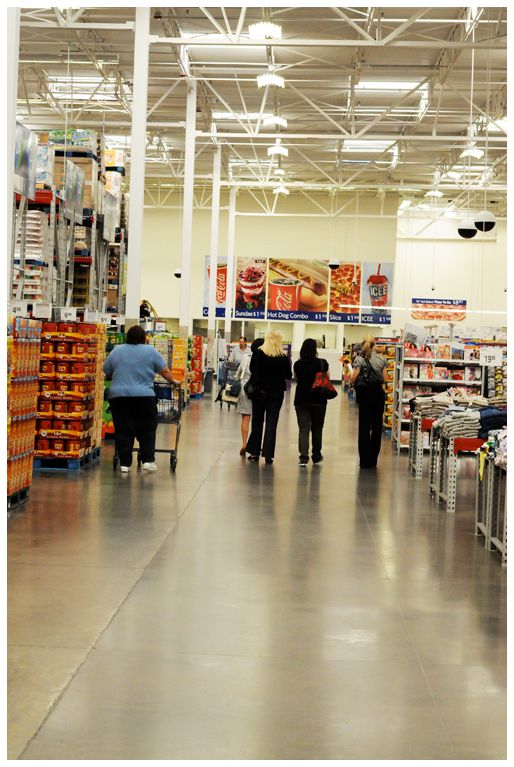 1. Sam's Club has worked hard to enhance their image, including the look and feel of their stores. Wider aisles, more organized departments, and an overall clean, bright feel makes Sam's Club feel less like a warehouse and more like an enjoyable shopping experience.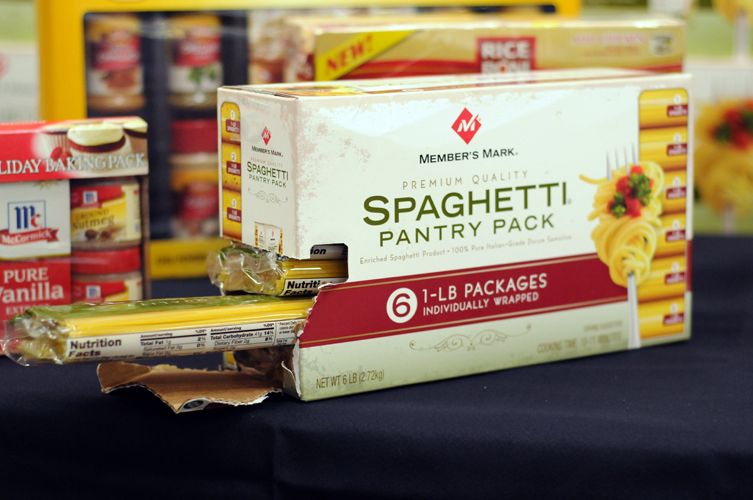 2. Sam's Club is thinking more like the home cook. Buying in bulk now has new meaning because Sam's Club is changing the way they package many of their items. You'll find large packages with individual packages inside instead of just one large package that will go bad or spoil by the time you get through it!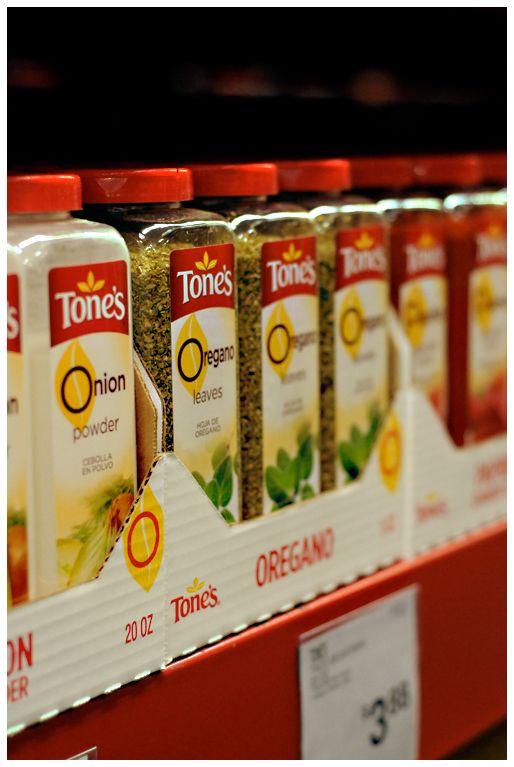 3.  Shopping is made easier with more organized shelves, signage and labels. Tone's spices, for example, are now organized alphabetically with a large label indicating what the spice is. No more hunting and searching for the right spice. You can now walk right up and get what you need without a bunch of hunting around. Seems like a no-brainer doesn't it? I know that many of you can relate to going to your local grocery store and searching and searching for the right spice! Having them alphabetized makes shopping a cinch.
4. Did you know that Sam's Club puts every food product that is on their shelves through a blind taste test at their corporate headquarters? If it doesn't get a 7.5 or higher out of 9, it doesn't get sold at Sam's Club. They take what goes onto their shelves very seriously and are extremely particular about quality and value alike. Read this article, The Taste of Science Behind Sam's Club, to get a great view of how seriously Sam's Club takes what is put on their shelves.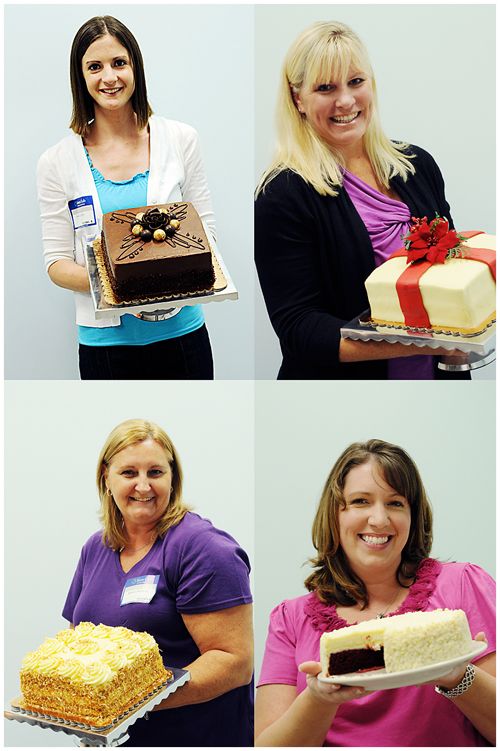 Maria, Lori, Amanda and Michelle show off just a few of the delicious cakes that will be available at Sam's Club for the holidays.
5.  Gorgeous holiday cakes and cheesecakes for an unbelievable low price…delicious. Need I say more? (Plus, when you see me at BlogHer food and I'm 15 pounds heavier, I'm blaming it on Sam's Club and all the delicious food we were forced to eat.)
6. The focus on cost savings for the customer goes all the way down to the Sam's Club corporate employees. They are all in charge of cleaning their own cubicles and emptying out their own trash cans which means they spend less money on cleaning services to do the job.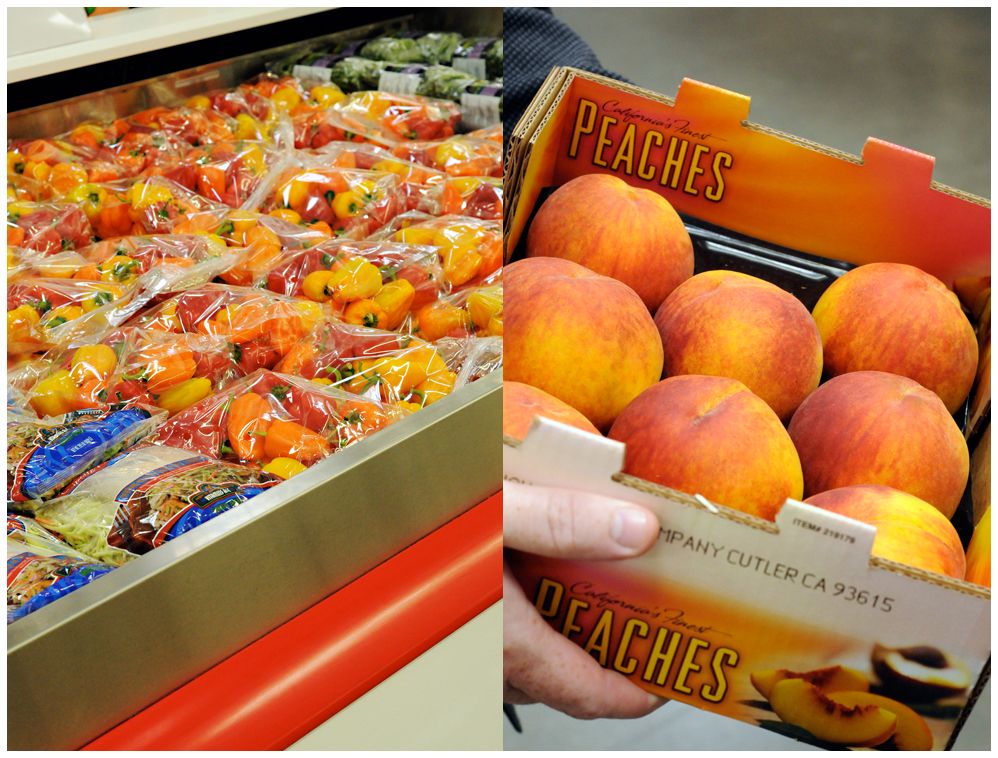 7. My biggest "a-ha" moment came at the produce section of the Sam's Club we visited. Gorgeous, fresh, bountiful, delicious produce. Sam's Club is very picky about what growers they work with and really work hard with the farmer's to ensure that only the best quality produce is on the shelves at a great price for their consumers. Seeing and tasting their produce was enough to get me thinking about making the switch over to Sam's Club!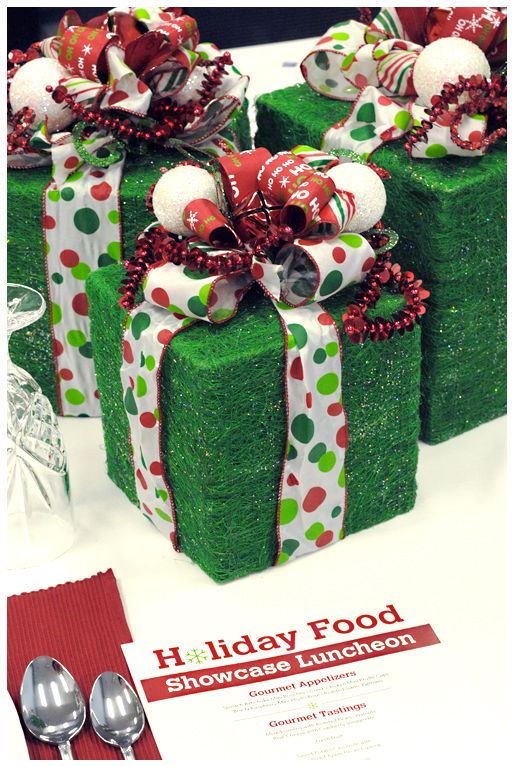 8. I know it is too early to think about the holidays, however, once you do get in the mood to decorate, head to Sam's Club. They have an amazing assortment of beautiful home and table decorations at unbelievable prices!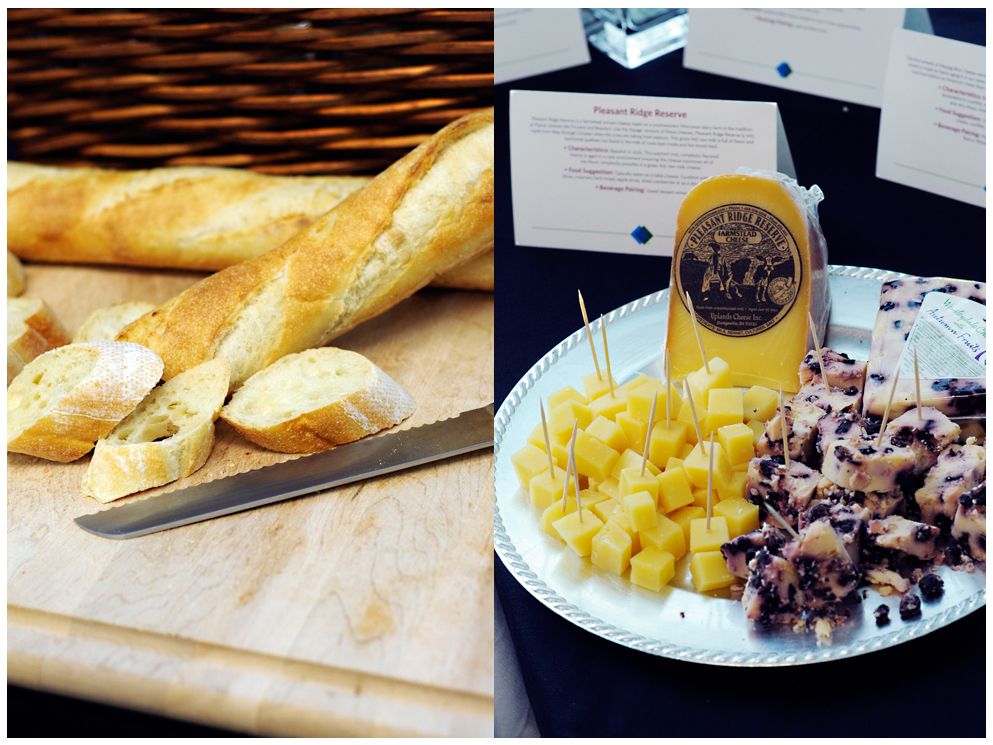 9. Did you know that Sam's Club now has a large assortment of artisan cheeses and artisan breads? They travel the world to find the best cheeses for their members, working directly with the producers. Oh, and don't get me started on the Irish Butter that I tried. I've never tasted a butter like it… yummmm!
10. Finally, if you are like me and have some pre-conceived notions or past impressions of Sam's Club, I would highly encourage you to give them another chance. They have, in my opinion, come leaps and bounds and are worthy of you taking another look!
A special thanks to Sam's Club for their hospitality. Sam's Club provided meals (and by meals, I mean seriously… I gained 15 pounds), transportation and lodging for the trip. I was not paid for my opinion. What is stated in this post are my own impressions.