A simple twist on a favorite cocktail… this Pineapple Hard Cider Recipe is certain to keep you warm from the inside, out!
Hi friends! I just wanted to take a moment out of the holiday weekend to say I hope you all had a truly wonderful, family and friends filled, Thanksgiving. As I counted my blessings this week, you were among those – right up near the top. I am so thankful to each and every one of you who make Dine & Dish – the recipes, travel, and full on life posts – a part of your own life. It truly means the world to me every time you click through, leave a comment, send an email, or share one of my posts with your friends.
For those of you who survived the craziness of Black Friday shopping, or for those of you who made it through Thanksgiving without ticking off someone in your family, I have a special recipe for you! This Pineapple Hard Cider recipe will keep you warm from the inside out – and has just enough of a little kick to to help you relax after the hustle and bustle of the day.
I recently did a project with Dole and although this wasn't part of it, I was so inspired by this recipe when I saw it in their recipe database that I had to try it immediately! First of all, the aroma that will weave its way through your home as this simmers on the stove is incredible. It smells just like the holidays! Then, once you take your first sip of this warm cider, you'll want to cozy in with a good book, blanket and sit by the fire. It's just that kind of drink.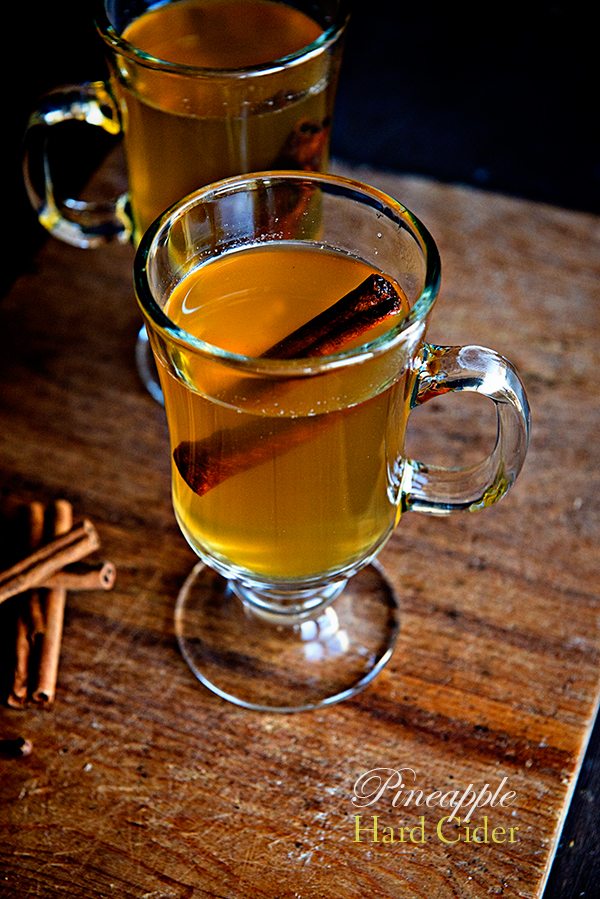 I adapted this recipe ever so slightly based on what I had on hand. You can find the original Pineapple Hard Cider recipe here, along with many other recipes featuring Dole 100% Pineapple Juice.
Enjoy the cocktail as well as the rest of your holiday break, and again, thank you so much for everything!
Pineapple Hard Cider Recipe
A warm and comforting cocktail with a twist. Pineapple Hard Cider is just the cocktail you want to sip by the fire!
Ingredients
1/4

cup

2 oz. 100% DOLE Canned Pineapple Juice

1/4

cup

2 oz. apple cider

1/2

oz

orange flavored liqueur

I used Patron Orange Liqueur

1/4

cup

2 oz. brandy

1/2

oz.

cinnamon and clove simple syrup

see instructions below

1/2

tsp

grated lemon peel
Instructions
Combine pineapple juice, cider, brandy, liqueur, simple syrup and lemon peel in small sauce pan. Heat until just simmering, do not boil. Strain to remove lemon peel.

Cinnamon and Clove Simple Syrup: Combine 1/2 cup water and 1/2 sugar in sauce pan, heat until sugar dissolves. Add 1 cinnamon stick and 4 whole cloves; reduce heat and simmer 5 minutes. Cool. Strain to remove cinnamon and cloves. (This can be stored in your refrigerator for 1-2 weeks)